GlobalWA 6th Annual Conference


Join us December 3, 2014 at the Bell Harbor Conference Center in Seattle, WA for GlobalWA's 6th Annual Conference!
Register before September 30 to receive our early bird rate:
Members: $125 – enter member discount code at check out. (Email Pratima Stanton, pratima@globalwa.org, to receive your member discount code.)
Non-Members and Individual Ambassadors: $175
Rates after September 30:
Members: $175
Non-Members and Individual Ambassadors: $250
Global Washington's annual conference is well known and well respected for convening the international development community on the west coast. Participants include NGO practitioners, CSR business executives, research experts, philanthropists and others working on global issues. Conference sessions will highlight successful partnerships, groundbreaking innovations and productive failures within global development.  For more information, please visit our 2014 Conference Page!
New Member Orientation
New to GlobalWA? Wondering how to take advantage of your member benefits? Attend New Member Orientation to connect with our staff and learn more about your membership.
Who: New GlobalWA Members
Where: GlobalWA Office // 500 Union Street, Conference Room – 9th floor // Seattle, WA 98101
When: Wednesday, Nov 12  // 9:00am-10:00am
If you are interested in calling in to participate remotely, please contact Pratima Stanton at pratima@globalwa.org
Networking Happy Hour with Friends of GlobalWA, Humanosphere and World Affairs Council
Meet others in the Seattle area who are engaged with or interested in international development.

Who: Friends of GlobalWA, Humanosphere and World Affairs Council
Where: Assembly Hall // 2121 6th Ave// Seattle, WA 98121
When: Thursday, Oct 23// 6:00pm-8:00pm
Cost: Free to attend & no RSVP required!
Ghana's Oil for Food Initiative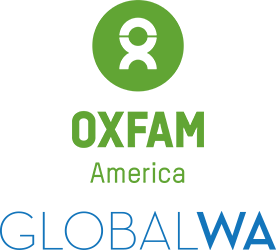 Oxfam America, Global Washington, and Seattle University's Poverty Education Center invite you to a panel discussion in celebration of World Food Day 2014.
More than one quarter of Ghana's population lives in poverty, with rates of poverty particularly high among smallholder farmers, especially women. These farmers represent 60 percent of the population of Ghana, though too often their perspectives are not considered in policy decisions regarding resource allocation.
That was, until last November, when a remarkable breakthrough occurred.
Last year a coalition of farmers and civil society groups in Ghana successfully petitioned the government to commit 15 percent of its oil revenues to agriculture in the 2014 budget. In November 2013 more than 100 farmers marched to Parliament to deliver 20,000 petitions. Under the government's new pledge the largest share of the agriculture budget – 94.5 percent – will be allocated towards agricultural initiatives that alleviate poverty for small-scale farmers.
Ghana's oil exports are expected to generate an average of $1 billion USD in government revenue per year for the next 20 years. The Oil for Food initiative represents a major improvement over the previous distribution of oil revenues and could significantly impact the livelihoods of thousands of small-scale farmers in Ghana.
Come hear from some of the people who helped make Oil for Food happen and are monitoring the implementation of this new program. Is it working? Are oil revenues reaching smallholder farmers? What are the lessons for oil revenue management in other countries?
Our panel will include the following guests:
Mohammed Amin Adam, Executive Director, Africa Center for Energy Policy
Victoria Adongo, Program Coordinator, Peasant Farmers Association of Ghana
Ian Gary, Senior Policy Advisor – Extractive Industries, Oxfam America
Moderator: Dr. Benjamin Curtis, PhD, Director of the Poverty Education Center and Assistant Professor, Matteo Ricci College, Seattle University
Executive Director Roundtable
Brown bag discussions that convene Executive Directors and senior executives to explore various leadership and management topics.
Who: GlobalWA Members ONLY
Where: GlobalWA Office // 500 Union Street, Suite 801 // Seattle, WA 98101
When:  Thursday, Oct 9, 2014 // 12:00pm-1:00pm
If you are interested in calling in to participate remotely, please contact Pratima Stanton at pratima@globalwa.org
Save the Date for future ED Roundtable Sessions:
Thursday, Nov 13, 2014: RSVP