Women's Land Rights: A Transformational Tool for Agency and Empowerment
---
Event Description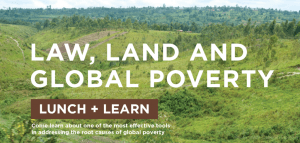 Come learn about one of the most effective and transformative tools in addressing the root causes of global poverty.
Join Landesa CEO Chris Jochnick and a panel of international law and development experts for an inspiring, informative, and engaging discussion on the role law and land play in empowering millions of families around the world.
"When ordinary people have a say in their own future, then your land can't just be taken away from you. And that's why reforms must ensure that people can have that most fundamental of possessions — the right to own the title to the land on which you live and on which you work." — Barack Obama
More information and registration can be found HERE.
Who:
Everyone
Where:
Global Washington
Westlake Tower
1601 Fifth Ave, Suite 1900
Seattle WA 98101
When:
Wednesday, February 20, 2019
Time:
Registration & Lunch: 11:30am
Program: 12noon – 1:00pm
Cost:
Free
---
Event Details
Who:
Everyone
Where:
Global Washington Event Space
When:
February 20, 2019
Time:
12 noon (registration and lunch starts at 11:30am) - 1pm
Address:
1601 Fifth Ave, Suite 1900
Seattle WA 98133
Cost:
Members: Free
Non-Members: Free