Effective Partnership In Global Health
---
Event Description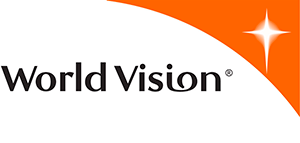 We are honored to host Rotary International's first female President Jennifer Jones and CEO John Hewko to Seattle in July. Rotary International has a long history in supporting global health in low and middle income countries. They have been instrumental in the fight to eradicate polio for the past 30 years. More recently, The Rotary Foundation awarded $2 million to Partners for a Malaria-Free Zambia, a Disease Prevention and Treatment program led by Rotary clubs in the U.S. and Zambia that is using the grant to build more capacity over the next three to five years to protect 1.2 million people in Zambia from the devastating effects of malaria. Partners in this program include the Gates Foundation and World Vision U.S. who are each co-investing another $2 million to the program, as well as PATH and Malaria Partners International. Join us on July 13 to learn about effective partnerships to improve global health outcomes around the world.
Who:
Everyone
Where:
Sold Out. Email events@globalwa.org to be put on the wait list.
When:
Wednesday, July 13, 2022
2:30pm – 4:00pm
(with networking before and after event)
Registration Starts at 2:00pm
Speakers
(in alphabetical order)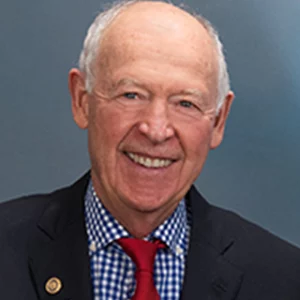 Bill Feldt
Chair, Partners for a Malaria-Free Zambia, Board Member, Malaria Partners International
Bill Feldt has been a Rotarian for 33 years, the last 22 of which have been with the Rotary Club of Federal Way. He has served as primary international sponsor on nine Rotary grants including four in Zambia, three in Bolivia and one each in Namibia and Nicaragua, traveling frequently to program sites around the world. Bill is currently the lead Rotarian in Rotary's first Program of Scale, Partners for a Malaria-Free Zambia. Bill has also served as District 5030 International Service Chair and has been active with Malaria Partners International since 2010.  Bill graduated from Carleton College where he served for 16 years on its board of trustees and also served as the President of Carleton's Alumni Association. Bill received his M.B.A. from Harvard University and served with the United States Foreign Service with postings in Germany, Iran and the State Department in Washington DC.  Over the last 33 years, when not engaged with Rotary projects, Bill also found time to serve in executive positions with Weyerhaeuser Company, and was majority owner and CEO Flohr Metal Fabricators.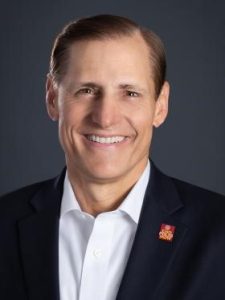 John Hewko
General Secretary and CEO
Rotary International
John Hewko is the general secretary and chief executive officer of Rotary International and The Rotary Foundation. From 2004 to 2009, Hewko was vice president for operations and compact development for the Millennium Challenge Corporation (MCC), a U.S. government agency established in 2004 to deliver foreign assistance to the world's poorest countries. At MCC, he was the principal United States negotiator for foreign assistance agreements to 26 countries in Africa, Asia, South America, the Middle East, and the former Soviet Union. During his tenure, he completed the negotiation of assistance agreements totaling $6.3 billion to 18 countries for infrastructure, agriculture, water and sanitation, health, and education projects.
Prior to joining MCC, Hewko was an international partner with the law firm Baker & McKenzie, specializing in international corporate transactions in emerging markets. He helped establish the firm's Moscow office and was the managing partner of its offices in Kyiv and Prague.
While working in Ukraine in the early 1990s, Hewko assisted the working group that prepared the initial draft of the new Ukrainian post-Soviet constitution and was a charter member of the first Rotary club in Kyiv.
Hewko has been a public policy scholar at the Woodrow Wilson International Center for Scholars, an adjunct professor of law at Georgetown University, and a visiting scholar at the Carnegie Endowment for International Peace. He has published papers and articles in leading U.S. and international publications, and he has spoken extensively on political and business issues dealing with the former Soviet Union, Central Europe, Africa, and Latin America. He is also a member of the Council of Foreign Relations.
Hewko holds a law degree from Harvard University, a master's in modern history from Oxford University (where he studied as a Marshall Scholar), and a bachelor's in government and Soviet studies from Hamilton College in New York.
As general secretary, Hewko leads a diverse staff of 800 at Rotary International's World Headquarters in Evanston, Illinois, USA, and seven international offices. He and his partner, Marga, are major donors to the Foundation. They live in Evanston.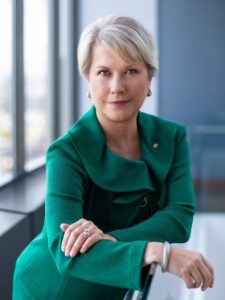 Jennifer Jones
President
Rotary International
Jones is founder and president of Media Street Productions Inc., an award-winning media company in Windsor. She was chair of the board of governors of the University of Windsor and chair of the Windsor-Essex Regional Chamber of Commerce. She has been recognized for her service with the YMCA Peace Medallion, the Queen's Diamond Jubilee Medal, and Wayne State University's Peacemaker of the Year Award, a first for a Canadian. Jones holds a Doctor of Laws (LL.D.).
As the first woman to be elected president, Jones understands how important it is to follow through on Rotary's Diversity, Equity, and Inclusion (DEI) Statement. "I believe that diversity, equity, and inclusion … begins at the top and for us to realize growth in female membership and members under the age of forty — these demographics need to see their own reflection in leadership," Jones said. "I will champion double-digit growth in both categories while never losing sight of our entire family."
Jones has been a Rotary member since 1997 and has served Rotary as RI vice president, director, training leader, committee chair, moderator, and district governor. She played a lead role in Rotary's rebranding effort by serving as chair of the Strengthening Rotary Advisory Group. She is the co-chair of the End Polio Now Countdown to History Campaign Committee, which aims to raise $150 million for polio eradication efforts. She also led the successful #RotaryResponds telethon in 2020, which raised critical funds for COVID-19 relief and was viewed by more than 65,000 people.
Jones has also received Rotary International's Service Above Self Award and The Rotary Foundation Citation for Meritorious Service. She and her husband, Nick Krayacich, are members of The Rotary Foundation's Arch Klumph Society, Paul Harris Society, and the Bequest Society.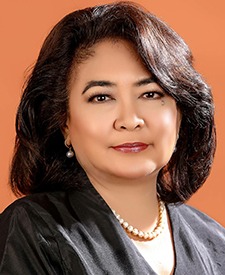 Sandii Lwin
Senior Program Officer for Malaria Policy, Advocacy and Communications, Global Policy and Advocacy
Bill & Melinda Gates Foundation
Sandii Lwin is an international public health specialist and has worked in more than 20 countries across 6 regions. She has worked on communicable diseases, global and regional strategic planning, policy development, technical assistance coordination, global health advocacy, establishing public private partnerships, and in managing large multilateral programs. She founded the Myanmar Health and Development Consortium in 2012 managing over 80 health sector programs and research projects. She previously worked for a number of organizations including the Global Fund to Fight AIDS, Tuberculosis and Malaria, the World Bank, and UNDP. She served on the Roll Back Malaria Partnership Board (2005-2008), and on the WHO Global Technical Steering Committee for the development of Global Technical Strategy for Malaria (2016-2030).
Sandii is also a Rotarian serving as Assistant Governor for Rotary District 3350 and Chair of the National PolioPlus Committee for Rotary in Myanmar. She served as Assistant to Empowering Girls Ambassador for Zone 10B and 10C and as Past President for Rotary Club of Yangon.
April McCoy
Health Director for Program Quality
World Vision US
April McCoy is the Health Director for Program Quality and Impact in World Vision US. She is a key leader ensuring World Vision Health projects are implemented with the highest levels of quality and impact. She leads a team of program managers that support an over $600 million global portfolio of public and privately-funded Health projects addressing maternal, newborn and child health, malaria, HIV, polio, nutrition, tuberculosis, health systems strengthening and more.
April has managed some of WV's largest and most challenging projects, including the Global Fund grants in Democratic Republic of Congo, Central African Republic, Malawi, Angola, Mali, and Mozambique. She also brings experience working with partners include DFID, GAC, European Union (EU), ECHO, USAID/OFDA, CDC, UNICEF, UNFPA, PEPFAR, Department of Defense, World Bank, Bill and Melinda Gates Foundation, and private donors.
Before joining WVUS, April worked for WV South Sudan where she was a Senior Program Officer (SPO) managing several fragile projects across the country. Prior to joining WV, she worked for IMA World Health where she served as a technical backstop to projects in South Sudan and Tanzania as well as managed their Non-Communicable Disease and Health Systems Strengthening portfolio. April has a Bachelor of Science in Healthcare Management from Howard University and a Master of Science in Global Health from George Mason University.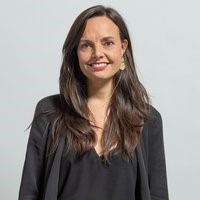 Kammerle Schneider
Program leader, Malaria and Neglected Tropical Diseases; Director, Center for Malaria Control and Elimination
PATH
Kammerle Schneider is the leader of PATH's Malaria and Neglected Tropical Diseases program and the director of PATH's Center for Malaria Control and Elimination. Building on our unparalleled portfolio of malaria tools, approaches, and expertise, she directs our work to eliminate and ultimately eradicate both Plasmodium falciparum and Plasmodium vivax malaria. She also oversees part of a coordinated global effort to stamp out 17 neglected tropical diseases, including onchocerciasis and soil-transmitted helminths.
Kammerle joined PATH in 2011 as a senior policy officer for PATH's Malaria Control and Elimination Partnership in Africa (MACEPA) and then took on the role of deputy director of the program. She also served as deputy director of PATH's Center for Malaria Control and Elimination, which encompasses the entirety of PATH's work in malaria—from insecticide-treated bednets to groundbreaking vaccines to improved diagnostics and drug treatments. During this time, she worked extensively to help build the malaria portfolio and to oversee MACEPA's policy and analytics team. She was responsible for analyzing and influencing changes in policy, strategy, and systems to accelerate the introduction and scale up of new tools and approaches for malaria burden reduction and elimination.
Before joining PATH, Kammerle worked with the International AIDS Vaccine Initiative where she managed policy research and advocacy activities to accelerate the development of, and future global access to, a preventive AIDS vaccine. She also served as the assistant director of the Global Health Program at the Council on Foreign Relations.
Kammerle holds a master of international affairs degree from Columbia University and a bachelor of arts from the University of Washington. She is currently a PhD candidate at the London School of Hygiene & Tropical Medicine.
---
Event Details
Who:
Everyone
Where:
Sold Out. Email events@globalwa.org to be put on the wait list
When:
2:30pm – 4:00pm
Time:
2:30pm (registration starts at 2pm) - 4:00pm (networking time afterwards)
Cost:
Members: This event is sold out. Please email events@globalwa.org to be put on the waitlist.
Non-Members: This event is sold out. Please email events@globalwa.org to be put on the waitlist.