January 24: Escaping the Fragility Trap: Effective Approaches to Sustainable Development in Fragile Contexts
---
Event Description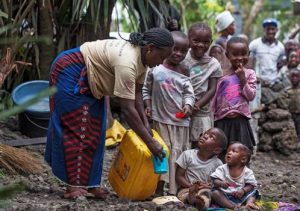 Goma, DRC (July 10, 2018) Banyere Vumilia, a 56-year-old grandmother, pours clean water for two of her grandchildren. (Photo: Elizabeth Dalziel for Mercy Corps).
With just twelve years left to reach the UN Sustainable Development Goals, development experts are sounding the alarm that those living in fragile contexts remain the furthest behind. In addition, because fragility tends to magnify the impacts of natural disasters, these and other crises can affect more people for much longer than in areas where there is greater resilience.
While progress has been made, the fragility trap remains all too real. As Bill and Melinda Gates have noted, more than a billion people overcame poverty in the last 25 years. And yet, the number of people in extreme poverty is projected to stagnate at over 500 million, and may even reverse course.
The OECD States of Fragility 2018 report lays bare how causes and consequences of fragility are intricately linked – from violent extremism and famine, to conflict and forced displacement. According to Mercy Corps, "the world is experiencing a 25-year peak in violence" which has reversed some hard-won development gains and increased fragility in many places.
Effective intervention in such contexts requires balancing short and long-term goals. Working with local governments to increase education and economic opportunities is critical. At the same time, development must also focus on peace building, civilian protection and access to justice to counter conflict and violent extremism, both of which arise from and exacerbate existing challenges.
Join us for a panel discussion about how to nurture greater resilience in fragile states.
SPEAKERS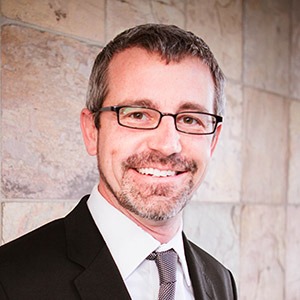 Cameron Birge
Senior Program Manager: Humanitarian Response & Innovative Tech
Microsoft Philanthropies
Having joined Microsoft Philanthropies in 2016, Cameron Birge manages how the company responds to sudden-onset humanitarian emergencies through the provision of resources to responding agencies. In addition, he also works with non-profits in the application of transformative technologies to address humanitarian challenges through such programs as the AI for Humanitarian Action initiative. Before landing at Microsoft, he was with the United Nations World Food Programme for 10 years, working predominantly in South Sudan. And that came after five years with the US Army. He now resides in Seattle where he thinks the rain is just dandy.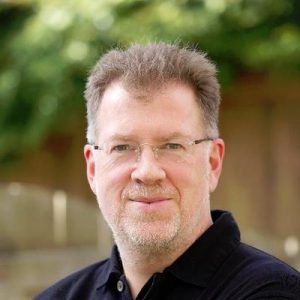 John Norris
Deputy Director, Policy and Strategic Insight
Bill and Melinda Gates Foundation
John Norris is the Deputy Director for Policy and Strategic Insight at the Gates Foundation, where his work focusses on the emerging trends most likely to impact the foundation's programs. John has served in a number of senior roles in government, international institutions, and nonprofits. In 2014, John was appointed by President Barack Obama to the President's Global Development Council, a body charged with advising the administration on effective development practices.
John previously served as a Senior Fellow at the Center for American Progress and the Executive Director of the Enough Project. He was also the chief of political affairs for the United Nations Mission in Nepal. John also served as the Washington chief of staff for the International Crisis Group, and as the director of communications for U.S. Deputy Secretary of State Strobe Talbott. He also worked as a speechwriter and field disaster expert at the U.S. Agency for International Development.
John is the author of several books, including a biography of the late journalist Mary McGrory which was a finalist for the LA Times Book Prize.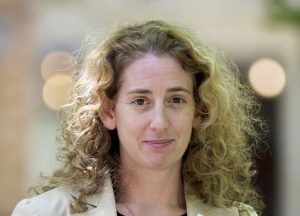 Rebecca Wolfe
Director of Evidence and Influence
Mercy Corps
Dr. Rebecca J. Wolfe is a leading expert on political violence, conflict and violent extremism. Currently, she is the Director of Evidence and Influence for Mercy Corps and an affiliate at NYU's Steinhardt School. Dr. Wolfe is able to draw on her practitioner and academic backgrounds to effectively research important development issues, design interventions that are theoretically grounded and evidence based, and communicate to multiple audiences. Over her career, she has developed conflict prevention and violence reduction programs globally, including Kenya's largest youth development program, gang violence prevention in Guatemala City, countering violent extremism programs in Nigeria and Yemen, and community-based conflict management interventions in Iraq, Syria, Sri Lanka, Indonesia and Tajikistan. She has also published research on why young people engage in violence and how development interventions can be designed to reduce this support. She was recently a Fellow at Yale University's Political Violence Field Lab. Dr. Wolfe has taught at Princeton University's Woodrow Wilson School for Public and International Affairs and at the Wagner School for Public Service at New York University. She received her PhD in Social Psychology from Harvard University.
Who:
Everyone
Where:
Please note that this event is in Redmond and not the Seattle GlobalWA offices.
Building 43/Adams, Microsoft Campus
One Microsoft Way, Redmond, WA 98052
When:
Thursday, January 24, 2019
10:00am – 11:30am
Registration starts at 9:30am
Cost:
Members: $25 // Non-Members: $35
Email pratima@globalwa.org for member code
---
Who:
Everyone
Where:
Building 43/Adams
When:
January 24, 2019
Time:
10:00am (Registration starts at 9:30am) - 11:30am
Address:
One Microsoft Way
Redmond WA 98052
Cost:
Members: $25 (email pratima@globalwa.org for member rate)
Non-Members: $35