Welcome to the December 2019 issue of the Global Washington newsletter.
Celebrating the 2019 Kick-Off of 'Goalmakers'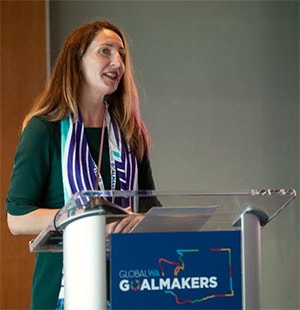 Throughout 2019 Global Washington linked our members' work to the UN Sustainable Development Goals (SDGs), a set of 17 interconnected and indivisible goals intended to set the world on a better course by 2030.
Not only are we hearing from donors that the SDGs are a useful way to think about the kinds of efforts that they want to support, but it's also a helpful way to visualize where the gaps are, and strategize how our network can accelerate solutions to the Global Goals.
With this in mind, we decided to rename our annual conference this year the Goalmakers Conference, in order to recognize the important role each of us – practitioners, funders, researchers, and partners – has to play in making these goals a reality.
We welcomed over 370 attendees to this year's conference, and hosted speakers such as Raj Kumar, author, president and editor-in-chief of Devex; senior leaders at multi-media social change organizations, such as Girl Rising, Vulcan Productions, and Breakthrough; and experts in data tracking for the Global Goals from Brookings Institution, the Bill & Melinda Gates Foundation, Landesa, Microsoft, and PwC UK.
You can read about all the topics we covered in the conference report and check out photos from throughout the day. And be sure to Save the Date for next year's conference: December 10, 2020.
In addition to the conference, Global Washington elevated 10 topics related to the SDGs throughout the year, and I invite you to take a look below at our 2019 Year in Review. You can also explore all of our past events, feature articles, and videos on our website.
Next have a look at what's coming up with our 2020 Editorial Calendar (sub-topics and more details will be released in advance of each campaign).  Please be sure to let us know how you want to get involved in 2020!
And if you want to chat with us about upcoming campaigns in person, you will find us at Optimism Brewing on December 18, together with the World Affairs Council and WGHA, for a co-hosted networking happy hour.
All my best,


Kristen Dailey
Executive Director
---
Global Washington: 2019 Issue Campaigns
Year in Review
January: Resilience & Fragile States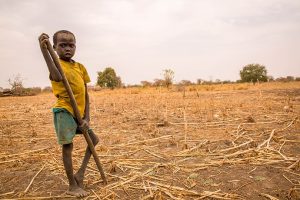 Many development experts see fragile states / fragile contexts as one of the greatest barriers to achieving the SDGs. We launched our 2019 monthly campaigns with this important topic, inviting representatives from the Bill & Melinda Gates Foundation, Mercy Corps, and Microsoft Philanthropies to offer up their perspectives. The issue campaign event, Escaping the Fragility Trap, was hosted at Microsoft campus in Redmond. In addition, we rounded out the conversation with a video interview with Jonathan Papoulidis, World Vision's executive advisor on fragile states. Our January newsletter included a feature story on World Vision, as well as a profile of Mercy Corps' director of evidence and influence, Rebecca Wolfe.
---
February: Economic Empowerment of Women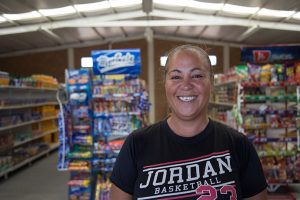 Our second campaign of the year focused on women in developing countries who increased their income and as a result, gained greater agency and decision-making in their communities. The issue-specific event, "Her Money, Her Voice," featured speakers from Fair Trade USA, Oxfam America, and CARE. Our newsletter included a profile of Fair Trade USA, as well as a feature story on Abby Maxman, Oxfam America's President and CEO. Abby Maxman also traveled to Seattle for a private roundtable hosted by GlobalWA.
Also in February we marked World Cancer Day (2/4) with an issue brief and round-up of all our members who are invested in cancer prevention and treatment globally. Additionally, you can read our interviews with Dr. Tom Uldrick, the new deputy head of Global Oncology at Fred Hutch, Pat Garcia-Gonzalez, co-founder and CEO of The Max Foundation, and Ambassador Sally Cowal, SVP Global Health, American Cancer Society.
---
March: Gender Equity – Ending Child Marriage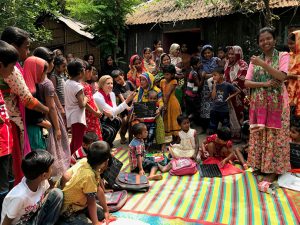 In March we focused on efforts to end child marriage globally, one of the targets in SDG 5: Gender Equality. Reaching this goal by 2030 means that progress must happen 12 times faster than over the past decade. Our issue-related event, "A Vow to End Child Marriage by 2030" featured speakers from the Seattle International Foundation (CAMY Fund), World Concern, and UNICEF USA. The March newsletter included a feature story on World Concern, as well as a profile of Perla Vazquez, CAMY Fund's deputy program director. In March, we also promoted and co-hosted a reception for a documentary called Brave Girl Rising, a new chapter for the organization Girl Rising to promote gender equity.
---
April: Clean Water – Failing Fast Forward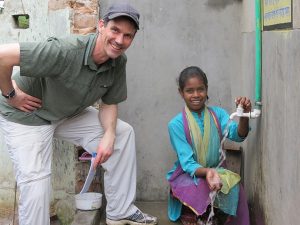 According to UNICEF, somewhere between 30 and 50 percent of water, sanitation and hygiene (WASH) projects fail after just two to five years. It should be noted that many development efforts face challenges of sustainability, not just WASH, but for our April campaign we wanted to invite Global Washington members that have iterated and improved upon their water projects to identify approaches that help drive success. The April newsletter included a feature story on WaterAid and a profile of Kirk Anderson, the director of international programs for Water1st. We also included an article from our blog written by Splash about their program, Project WISE (WASH-in-Schools for Everyone). Our issue-related event "Failing Fast Forward: Learning to Build Water Systems that Last," included speakers from Water1st, Splash, MSR Global Health, and WaterAid. We also invited members to bring interactive displays of their interventions and explain how they work.
Also in April, we held a one-day issue campaign around World Malaria Day (4/25) highlighting progress on multiple fronts, including data tracking, a promising experimental vaccine, AI-equipped diagnostics, and better awareness-raising efforts.
---
May: Global Health – Investing in Birth Attendants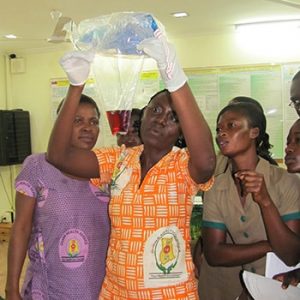 For our May global health theme, we explored the role of trained birth attendants in reducing maternal and newborn deaths. The theme coincided with the annual Women Deliver conference in Vancouver, B.C. that focused on equity issues in global health. The May newsletter included a feature story about the Maternal, Newborn, Child Health & Nutrition Program at PATH, as well as a profile of Heidi Breeze-Harris, the executive director of PRONTO International. The related event Mother, Baby, Provider: Completing the Triangle included speakers from PRONTO International, Worldwide Fistula Fund, Health Alliance International, and Kati Collective. A video of the event can be found here.  As part of this campaign, we also did a video interview with Dr. Eleanor Nwadinobi, a steering committee member for Every Woman Treaty.
---
June: – How Can Wildlife Conservation Support Human Development?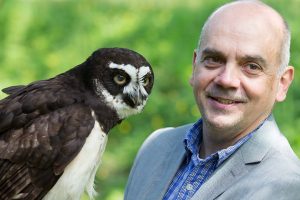 Conservation and human development are often presented as two separate issues with little overlap. But after a UN assessment found that a million plant and animal species are at risk of extinction within decades, we decided to focus our June campaign around how these two issues are inextricably linked. The June newsletter included a feature story on Vulcan as well as a profile of Alejandro Grajal, the president and CEO of Woodland Park Zoo. We hosted a VIP Roundtable with Alejandro to discuss the global movement for wildlife conservation. GlobalWA also co-promoted a related event hosted by the World Affairs Council on Illegal Wildlife Trafficking: Local Efforts on a Global Threat.
In June we also marked World Refugee Day (6/20) by focusing on "Climate Refugees" and how our members are increasing the resilience of communities at risk, as well as helping to relocate climate migrants. Check out this video interview on the issues with Fatema Sumar, VP of Global Programs at Oxfam America.
---
July: Human Rights – Ending Human Trafficking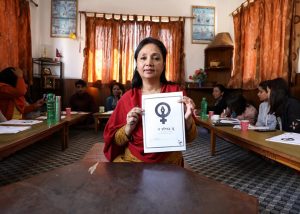 Our July issue campaign focused on the ways in which our members are working to end human trafficking and modern slavery. The July newsletter included a feature story on the group Every Woman Treaty as well as a profile of Veronica Fynn Bruey, an affiliated-faculty member at Seattle University School of Law. The issue-related event Tackling Trafficking included speakers from FRDM.co, International Rescue Committee – Seattle, Every Woman Treaty, and Resonance. In July, GlobalWA also hosted a VIP Roundtable with Michelle Nunn, CEO of CARE who gave an overview of her work, including access to education for girls to prevent trafficking.
---
August: Education – Global Citizens and Ethical Leaders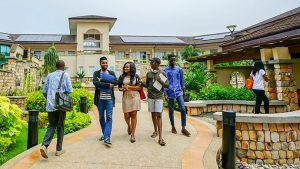 Quality education is an important enabler for many Sustainable Development Goals, including good health, reducing inequalities, tackling climate change and building peace. Our August campaign looked at the ways in which GlobalWA members are cultivating ethical leadership as a foundation for sustainable development. Our August newsletter included a feature story on Ashesi University Foundation and a profile of Mahnaz Javid, president & CEO of Mona Foundation.
---
September: Access to Finance – Beyond Microcredit
Our September campaign explored how microcredit has become an integral part of an evolving suite of financial tools designed for people with limited financial resources, including impact investing, digital payments, and job creation programs. The September newsletter featured new member, Einstein Rising, and also profiled Uma Sekar, the Director of Impact and Fund Manager Advancement at Capria. We also included a story from our blog by Upaya. In a campaign-related event, we hosted an invitation-only roundtable discussion on financial inclusion through digital payments and crypto-currencies with Mercy Corps, Dalberg, DIAL, and the Bill & Melinda Gates Foundation.
---
October: Food Security – Community-led Development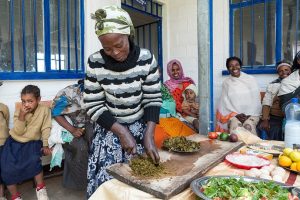 Our October campaign examined what it takes to involve communities in establishing long-term food security, including establishing effective collaboration and integrated approaches. The related campaign event included speakers from Agros International, The Hunger Project, and World Vision.The October newsletter featured The Hunger Project's Movement for Community Led Development, and a profile of Pierre Ferrari, the president and CEO of Heifer International. Additional articles included a piece on Landesa's ambitious "Stand for Her Land" multi-stakeholder advocacy campaign, as well as an article about new food and agriculture innovations in development by Global Good. And finally, we recorded a video interview with Heifer International's Chief of Mission Effectiveness, Hilary Haddigan.