Welcome to the August 2020 issue of the Global Washington newsletter.
IN THIS ISSUE
Letter from our Executive Director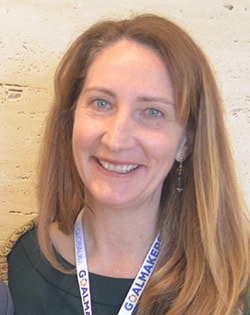 I have two children in Seattle Public Schools, so like many families across the U.S., I am filled with mixed emotions about online learning, rather than in-person classrooms. However, I am grateful that we have an online option and that the school district is working to donate computers to students who need them.  For most children in low- and middle-income countries, online learning via computer is not a viable solution. Fortunately, several Global Washington members are working with local governments and schools to come up with creative alternatives, such as delivering educational curriculum to cell phones, as well as using radio and TV broadcasting.
As a parent, I also know that schools provide so much more than just education for children. Again, several Global Washington members are shifting their operations to address the immediate needs of the COVID-19 crisis and are delivering care packages to students' homes, including feminine hygiene products, soap, and protective masks. Members are also reaching out to female students in particular to assess their safety because reports have shown an increase in domestic violence during the pandemic.
Education is a foundational element of many of the Sustainable Development Goals (SDGs), including economic development, gender equity, and global health. I'm inspired by Global Washington members who have stepped up to this current challenge, ensuring that COVID-19 does not erase all the progress we've made in supporting education in developing countries.
In this month's newsletter, you can read more about this issue. You'll learn how Pilgrim Africa is keeping students in Uganda safe and making sure they have what they need to continue learning at home. You will also meet an inspiring Goalmaker, Judithe Registre, who is the VP of Programs at Girl Rising, and a firm believer in the power of stories to shape the future. Please also join me on August 21 for an online conversation with Girl Rising, Rwanda Girls Initiative, and Sahar.

Kristen Dailey
Executive Director
---
Issue Brief
Educators Experiment with Online and Offline Solutions to Distance Learning Around the World
By Joanne Lu
COVID-19 has caused the biggest disruption in history to education systems around the world, according to the UN. Globally, 94 percent of students have been impacted by school closures – 99 percent in low- and lower-middle income countries – and experts are warning that global education has been pushed back to levels not seen since the 1980s.
Although the start of the school year is upon us, many countries, districts and institutions are still grappling with the best way to re-open schools amid a global pandemic. It is simultaneously critical that schools do their part to suppress transmission of the virus and continue to provide an education, which is not only a fundamental human right but also a key driver of long-term progress for every country. Educated youth are every country's future potential for growth, and without them, it is impossible to achieve any of the Sustainable Development Goals.
Right now, the UN estimates that 23.8 million children and youth may drop out or not have access to school next year because of the pandemic's economic impact. Additionally, for many children around the world, school is where they receive their most nutritious daily meal. School closures have also affected the ability of many parents to work and has increased the risk of violence at home, particularly for women and girls.
Amid this historic disruption, many experts, policy makers, schools, organizations and companies are turning to tech and digital solutions to ensure the pandemic doesn't cause us to fall too far behind. Some institutions, like Northeastern University Seattle have gone completely virtual since March, offering only online classes. Others, like Seattle Pacific University and Seattle University, are adopting a hybrid format, with online and limited in-person classes so that students can benefit from both formats.
Globally, ministries of education and organizations are rolling out online curricula to keep children, particularly those in low- and lower-middle income countries, from dropping out. The pandemic's impact on poverty means that dropping-out now may result in millions of children never returning to school, according to Save the Children. ChildFund International's $56 million plan to help 6.3 million children and their family members remain healthy, educated and safe during the pandemic includes online tutoring sessions and activities. The organization is also staying "vigilant and prepared" to address the increased risk of online sexual abuse as more kids are exposed to the internet.
However, especially in low- and lower-income countries, not everyone has access to devices, the internet or even electricity. In India, for example, Girl Rising reports that only 11 percent of all Indians own a computer, and only 8 percent of all households have both a computer and an internet connection. This means that the existing digital divide – the gap between those who have access to computers and the internet, and those who don't – could exacerbate education inequalities, as only students with more resources are able to keep up with their studies, while the rest fall further behind or drop out. That's why ChildFund International is also offering activities and lessons by radio and distributing home-learning kits with materials and guidelines for how to use them.
It's also important to note that the digital divide – and the pandemic's impact on education as a whole – disproportionately affects women and girls. According to a 2018 report by the Organization for Economic Co-operation and Development, 327 million fewer women than men worldwide have a smartphone and can access the mobile internet. In addition, for girls in many countries, school is where they are safe from violence, where they have access to menstrual hygiene products and a where they can create a future for themselves that lowers their chances of becoming victims of child marriage and adolescent pregnancy. A UN study found that in Sierra Leone, teenage pregnancy increased by 65 percent during the Ebola crisis, as girls were forced to stay out of school and became more vulnerable to sexual exploitation, assault and rape.
Girl Rising works with local partners around the world to provide curricula and tools that empower girls and change attitudes and social norms regarding gender in entire communities. While schools are closed, the organization and its partners are continuing their messaging and education through various means, as well as providing essential supplies like food and sanitary towels. In Guatemala, for example, they've adapted the Girl Rising curriculum online, but girls are also helping to produce radio programs to share what they're going through during this time. Girl Rising's Kenya partner, Sunflower Global, has developed and is distributing monthly and weekly at-home learning packets to keep students on track with their studies. Meanwhile, in India, Girl Rising is partnering with five state governments to create art curricula for social and emotional learning that can be delivered over basic cell phones.
While so much learning has been moved online, to radio and to mobile formats, it's still important to make sure that when schools reopen, there are good schools for children to attend. That's why buildOn has continued to build schools in communities around the world. They've reduced the number of community members on worksites to allow for appropriate social distancing, but the work continues.
The UN also says it's essential to continue investing in teachers as they navigate the changing landscape of education during this time. Pilgrim Africa, which runs a boarding school called Beacon of Hope in Uganda, has managed to pay its teachers their full salaries while the school has been closed. In turn, the teachers are continuing to check on the wellbeing of their students, especially the girls, at home and are providing books and other learning materials. Beacon of Hope has also managed to provide its older students with tablets and online learning tools so that they'll still be able to take their qualifying exams for university.
Closing the digital divide could not only leave fewer students behind during this pandemic, but it could also create new opportunities for education and work moving forward. For example, in June, Microsoft launched an initiative that will equip 25 million people around the world with the digital skills they need to work in a COVID-19 economy, as well as in an increasingly digital world.
According to a UN report, if all countries in a human development group (low, medium, high or very high development) are able to have the same internet access rate as the top country in their respective group, the rate of out-of-school students this year would drop from 20 percent to 12 percent. And, closing the gap in internet access for low- and middle-income countries wouldn't be expensive at all: It would only cost 1 percent of the amount of money the world has committed so far to respond to the pandemic. Not only would it increase student's access to online learning, but it would also allow more people to work from home and access tele-health services.
Until the digital divide is closed, technology and digital solutions cannot be the world's sole response to education during a global pandemic. But as long as we continue to find ways to reach kids who don't have access to online learning and simultaneously work to close the digital divide, the world could come out the other side of this crisis with more equitable access to education and a more resilient economy.
# # #
The following Global Washington members are finding creative ways to continue supporting education during the COVID-19 pandemic.
Ashesi University remains committed to educating a new generation of ethical and entrepreneurial leaders in Africa. As a result of the COVID-19 pandemic, Ashesi successfully navigated a temporary campus closure and transition to online learning. Accounting for students' diverse needs, Ashesi has provided travel support to international and local students; stipends for unexpected student costs; data packages in partnership with telecom partners; laptop acquisition and delivery; resources for online learning; and counseling for individual students. Starting August 31st the first semester of the 2020/2021 academic year will operate entirely online and all university activities will be conducted remotely. The connections and experiences shared at Ashesi will not be easily replicated online, but the university is excited about the chance to strengthen the spirit of innovative action that defines it and to pursue ideas that may have seemed far away in the past. The decisions made now have the potential to redefine the Ashesi experience and will impact many generations of students to come. Read more about the Ashesi community response to COVID-19  and learn about the university's current funding priorities.
ChildFund works in 24 countries throughout Asia, Africa and the Americas – including the United States – to create connections that drive lasting, positive change for children wherever they are. Its programs address the underlying conditions that prevent any child from achieving their full potential. In the Americas, ChildFund has been focused on making sure young people have an opportunity to continue their educations during the COVID-19 pandemic. The organization has produced guides on educational and recreational activities for home use, developed trainings for parents and teachers, hosted virtual training sessions, and developed radio shows with educational content. ChildFund is also supporting schools' capacity to prevent the spread of the virus. In addition, ChildFund is providing cash-based aid, food, hygiene, and recreation kits to families with young children.
Girl Rising envisions a world in which girls thrive with dignity and vast possibilities. The organization's mission is to advance the rights of girls and promote gender equality around the world. At the heart of its work are stories. Girl Rising staff include filmmakers, journalists and international development professionals who have seen the power of stories to transform attitudes, beliefs, and behaviors.  They want girls everywhere to be able to go to school, stay in school and have a future of their own choosing. As the world collectively faces COVID-19, the future of millions of girls and their education is uncertain. With in-person learning curtailed, the organization and its partners are distributing educational materials and sharing stories through alternative channels, including cell phones, radio programs, and at-home learning guides.
For more than two decades, buildOn has mobilized rural communities to build schools in some of the poorest countries on earth. With the ongoing COVID-19 pandemic, buildOn has continued construction of schools, though the number of community members on worksites has been reduced to enable sufficient physical distancing. To date, buildOn has built 1,323 schools.
By supporting the cost of boarding at public schools, Fanikia Foundation ensures that disadvantaged girls have access to quality education in rural Tanzania. As in much of the world, schools across Tanzania were closed due to COVID-19, and most students, especially in rural areas, were unable to access remote schooling due to the lack of equipment for both teachers and students. For almost fourteen weeks students in Tanzania missed school at the beginning of the year. As a result, they will need to stay in school longer to compensate for the time they missed. The students that Fanikia supports are now back at their boarding schools and continuing their studies. The global pandemic has caused food to become scarce in parts of Tanzania, especially in rural areas, which in turn has led to an increase in food prices. Fanikia hopes that the situation will not negatively affect the girls' studies.
In Guatemala, the first case of COVID-19 was detected on March 13. Youth in Guatemala were already struggling to access education due to various limitations and a lack of structure in the educational system; the pandemic further aggravated these challenges once the government closed the schools as part of the emergency response. Global Visionaries understands and prioritizes people-centered and inclusive educational programs, and considers them essential for engaging young leaders to create a just, sustainable, democratic and peaceful society. Global Visionaries' youth education and leadership program continues to engage Guatemalan youth through the Zoom platform, with internet accessibility provided to students in need. The program focuses on recovering historical memory (because traditional education in Guatemala does not adequately address the true history), as well as learning about planet earth, analyzing current government decisions, and understanding how to use one's voice to make positive changes in society. Global Visionaries has also made space for students to be in community (online) with each other and explore their own frustrations and hardships brought on during this difficult time of isolation. Additionally, staff have been connecting with students individually to address their needs or concerns, such as home safety concerns and mental health.
Human Rights Watch works around the clock to protect the rights of people who face the greatest risks during the Covid-19 pandemic, particularly children. More than 1.5 billion students are out of school, and widespread job losses and economic insecurity will likely lead to increased rates of child labor, sexual exploitation, abuse, and child marriage. Building on its deep expertise documenting and campaigning for access to education for all children, Human Rights Watch is working to ensure that distance education is provided for all children, with special efforts to reach girls, children with disabilities, and others less likely to access current programs. Human Rights Watch is pressing for greater protections for children's data and privacy online and expanding access to the internet. And it is urging governments to support children in returning to schools when they re-open, reaching out especially to children forced into hazardous work, child marriage, early pregnancy, or who were displaced.
Manos Unidas International provides professional development training, program support, and financial support for organizations serving children and youth in Latin America. In Peru, the government closed all schools due to the COVID-19 pandemic.  Manos Unidas has shifted to a virtual environment for its students and families – currently offered free of charge due to economic hardships in the Cusco community. Manos Unidas teachers designed online lesson plans according to the needs of each student group and the available technology – from Zoom to WhatsApp video calls to Google Meet. Each teacher works with 6-8 students, ranging in ages from 4-20 years old. For example, the early childhood autism classroom receives three individual phone calls a week for 30 minutes, and the teacher follows a sequence of learning materials with the families. She instructs the families on how to implement and teach the skill then does a follow-up call two days later. Manos Unidas teachers are also focused on teaching functional skills for independence, such as chores around the house. Older youth are meeting as a group and have been working on pre-recorded classroom sessions. The virtual program will continue on a weekly basis into next year. In addition, a pre-recorded virtual education library will be set up for teachers to share resources.
The COVID-19 pandemic has indiscriminately impacted our entire planet and has changed the way we live, work and play. To that is now added a global cry for elimination of systemic racism, and renewed calls for equal justice under law. The pandemic has also brought to light the universal truth that what impacts one, impacts all, and that education is the key driver to eradicating poverty, prejudice, violence and other social ills that afflict our communities, including this disease.  But for education to be transformative, it needs to be transformed – teaching lessons of equality, ethics and service alongside math, sciences, and humanities. The field experience of the Mona Foundation's 19 partner projects in 12 countries in the past few months has confirmed yet again that this view of education is the key lever in creating and sustaining positive change and building healthy, prosperous and just communities for all. The scope of their current activities is considerable and complex. Every partner has transitioned its educational programs online, while also saving lives – providing COVID-19 prevention kits (masks and soap), delivering food, and preventing violence against women. Read the Mona Foundation blog for more information.
Pilgrim Africa's mission is to challenge despair, love boldly, and help African people create a future of prosperity and health. In 2005 the organization founded a rural boarding school in Uganda, called Beacon of Hope, for former child soldiers and other children recovering from war. It became one of the first schools outside of the country's capital, Kampala, to focus on STEAM education: science, technology, engineering, arts, and math. In 2014, the last child soldiers graduated, but the school has continued to open its doors to rural students who would otherwise not have access to high quality education. During the COVID-19 pandemic, Beacon of Hope has managed to pay its teachers their full salaries, even while the school has been closed. In turn, the teachers check in on their students at home, and provide books and other learning materials so that they can continue their studies. The school is also providing older students with tablets and online learning tools so that they will be prepared for their qualifying exams for university.
Rwanda Girls Initiative's mission is to educate and empower girls in Rwanda to reach their highest potential. The organization strives to cultivate inspired leaders with a love of learning and a sense of economic empowerment to strengthen their communities and foster Rwanda's growth. The Gashora Girls Academy of Science and Technology (GGAST) was opened in 2011 as an innovative and socio-economically diverse model upper-secondary school, designed to provide a "whole girl" education. GGAST provides a rigorous college prep academic program, combined with leadership training and extra-curricular activities that fill girls with confidence that they can pursue their dreams of university education and fulfilling and impactful vocations. After schools around Rwanda were closed in March due to COVID-19, the academy began providing its curriculum online, working with students in different parts of the country to resolve challenges with their internet access. GGAST is exploring ways to support the wider community, having received multiple requests from other students to join its distance learning program. One way has been to provide lessons online through a newly launched YouTube channel. In addition the 42-acre teaching farm that provided food to students and teachers at GGAST is now providing food to the most vulnerable people in the wider community.
As with many organizations, Sahar's work has been complicated by the ongoing COVID-19 pandemic. In March, Afghanistan's Ministry of Education closed schools and because many of Sahar's programs operate within Afghan public schools, this meant suspending in-person programming. Through a partner, Sahar has continued its programs remotely via WhatsApp. Sahar's Men as Partners in Change Program and Early Marriage Prevention Program now deliver training and COVID-19 response information online. In addition to adopting a remote model of programming, Sahar has also distributed care packages with COVID-19 necessities like hand sanitizer and face masks. Looking forward Sahar sees addressing gender equality as fundamental to recovering from the pandemic. In Afghanistan, many girls likely will not return to school in the fall. There are growing concerns that many girls will face early marriage due to their families' financial struggles. Furthermore gender-based violence globally has increased, as women have been forced into lockdown with their abusers. Sahar sees gender as a challenge of COVID-19 response, as well as an opportunity. Girls are an invaluable resource to their families, communities, and countries. By promoting the right of girls to receive an education (even and especially within a pandemic), Sahar is promoting the development of a peaceful and resilient Afghanistan.
---
Organization Profile
More than 20 Years After Founding a School for Former Child Soldiers in Rural Uganda, Pilgrim Africa Continues to Respond to Children's Needs During Global Pandemic
By Joanne Lu
Calvin Echodu was a reporter in Uganda in the mid-1990s when he decided he had to do more to help. Joseph Kony's Lord's Resistance Army (LRA) rebel group was sweeping through northern Uganda, brutalizing civilians, abducting children to become child soldiers and sex slaves and forcing families to flee their homes and become refugees in their own country.
Echodu and some friends solicited help from churches so that he could bring relief supplies to displaced families in camps every time he went to report in the north. Thus, Pilgrim Africa was unofficially born in 1998. In 2001 it was officially registered as a non-governmental organization, continuing to carry out relief work in northern Uganda, especially providing trauma support for abducted children and former child soldiers.
From its very inception, Pilgrim Africa has responded to the needs on the ground. As those needs have changed, so has Pilgrim Africa, constantly evolving to meet the needs expressed by community members. For example, as the war in northern Uganda settled down, Pilgrim Africa transitioned from relief work to helping more than 1,000 families resettle back into their villages that many of them hadn't seen in a decade because of the war. And in 2005, they founded a secondary school in Soroti, called Beacon of Hope, for children recovering from the war.
Initially, Beacon of Hope was founded as a remedial boarding school for former child soldiers, abductees or victims of rape camps. According to Echodu, who directly oversees the school's operations, a considerable number of children, who were directly victimized by the war, were too far behind in their schooling to jump back into regular secondary schools. But they were also too old for primary school. So, with the support of donors, Beacon of Hope offered these students free, quality education, with an agreement that the students would complete extra coursework to catch up with their peers.
Echodu says that in the first four to five years, Beacon of Hope served about 2,000 students. In addition to providing a quality education and a safe place to live and grow, they made sure to provide trauma support to both their students and the community, with social workers, counselors, and a medical facility inside the school.
In 2014, the last child soldiers graduated, but by then Beacon of Hope had opened its doors to other students, continuing to offer free boarding education to students who otherwise would not have access to schooling of that quality. In particular, girls always make up about half of the student body. The school provides career guidance and counselors specifically for girls, to address their needs through a gender lens, empower them, guide them and ensure they are in a safe environment to reach their full potential.
Beacon of Hope was also one of the first schools outside of the country's capital, Kampala, to focus on STEAM education: science, technology, engineering, arts, and math. Echodu says that because Uganda is a young country in terms of industry and development, STEAM education sets up both their students and the country for future success. "We train kids in that direction so they will be innovators and provide the solutions, jobs and development that the country needs," says Echodu.
Echodu says they've already seen some of that success in action. As of the end of last year, Beacon of Hope has educated more than 5,400 students since its founding, many of whom have gone on to serve their community and country. Some have become teachers and engineers, and several have gone on to become medical doctors, including a few who work at the local hospital. Last year, the school's robotics team won two gold medals at an international competition.
But running a school like Beacon of Hope hasn't been without its significant challenges, says Echodu. First, there has always been the academic challenge, as many of the students come from poor academic backgrounds – and traumatic ones, too. It's up to Beacon of Hope's talented teaching staff (all of whom are Ugandan) to make each of their students academically competitive.
Second, he says, running a STEAM school in a rural part of the country has presented its fair share of obstacles, as well. For example, especially in their early days, they ran into problems with getting consistent and affordable access to electricity, adequate internet connectivity, logistics and infrastructure.
Third, there's always the challenge of funding. Up until two years ago, says Echodu, Beacon of Hope was able to raise enough support to provide full scholarships to all of its students. What that meant, in exchange, was that they had to accept fewer students because of funding constraints. These days they accept paying students; the high quality education they offer is in great demand.  Moving forward, they want to accept more students, increase their staff and adopt a more sustainable funding model, including encouraging successful alumni to participate in fundraising.
This year, the COVID-19 pandemic has brought its own set of challenges. Echodu says that Beacon of Hope is one of the few institutions that has been able to continue paying its teachers their full salaries – although, how long they'll be able to keep that up depends on fundraising. With the help of a $23,000 grant from The Allen Family Foundation, they've also been able to purchase tablets and internet access for all 80 of their A-level candidate students (those preparing for university) so they can participate in online classes. The Church of the Redeemer in Chestnut Hill, Boston, has also been a visionary supporter during the pandemic, providing a $28,000 grant for COVID-19 relief, faculty expansion, and other improvements to the Beacon of Hope library and IT lab. Meanwhile, teachers are checking up on the other students, especially girls, and making sure that they have access to books and other educational materials. "It has been a challenging period," says Echodu.
Thankfully, not everything has been put on hold by the pandemic. The school is still on track to purchase the property it had been leasing, and Pilgrim Africa has been able to continue some of its malaria programming, which it began in 2008. In addition, the organization has created a website and provided personal protective equipment to the national task force responding to the pandemic, as well as food and aid to families in lockdown. As it was from the beginning, Pilgrim Africa is responding to the needs on the ground.
---
Goalmaker
For Judithe Registre of Girl Rising, Stories Shape the Future
By Amber Cortes
I have this funny way of introducing myself," says Judithe Registre, Vice President of Programs at Girl Rising. "I describe myself as Haitian-born, American-made, and globally-centered."
As a child growing up in Haiti, she dreamed big.
"I was one of those people who kind of always knew, walking from school along the dusty Streets of Haiti, that I would travel the world!"
For Registre, that global journey started when she immigrated to the US at the age of 12, continued when she completed her post-graduate work in South Africa and began a career in international development. It has since brought her all over Africa and to over a dozen countries including Egypt, El Salvador, India, Indonesia, Nepal, and Vietnam.
It's also no surprise to Registre that she now works for Girl Rising, an organization that's harnessing the power of storytelling to change the way the world values girls and their education —because she's been fighting for girls' rights since she was eight years old.
"I joke about the idea that I've always been a feminist long before I understood what the word feminism was," she explains.
It all started one day in school when Registre and the other girls in her class were taught to learn how to wash—"with one exception, the boys didn't have to do that. And I remember being very confused about being asked to go learn how to wash my clothes when the boys didn't have to."
"And I became, I don't want to say adamant as much as I needed answers. And it wasn't enough to say well, that's just the way it is."
The moment turned out to be a defining one for Registre's life and work.
"It started to actually help me to really look at the world and the role that people were playing in it—how did they come to play this role? Did they accept it? Did they sign up for it? And then feeling like we have the freedom or the choice to play a different role."
In her higher academic work, Registre chose to study philosophy—a decision that surprised many around her. But for Registre, philosophy was a lens to understand the world more broadly—a tool combining economics, political science and anthropology that served as a framework to begin asking questions about the world.
As Registre began asking questions from a feminist perspective, she became more acutely aware of how educating girls at a young age empowers them to rise above their circumstances and shape their own future.
"Because those vulnerabilities start when they are a girl. And if you wait to invest in women and not in girls, you'll be fighting a battle for generations to come around this issue of gender inequity."
To that end, Girl Rising seeks to plant the seeds that can put a girl on a "lifelong path" to continued learning—even if their circumstances become limited by say, an arranged early marriage. But for Girl Rising, it's not enough for girls just to be educated. At the end of the day, says Registre, it's about affirming their basic humanity, like the struggle currently playing out globally as U.S. protests from the Black Lives Matter Movement gain international attention and momentum.
"If you look at women, or the Black experience, the experience of Indigenous people—just the experience of being excluded in any society, it is a historical struggle for existence, the right to live and the right to be considered as a person."
Registre recognizes that in a world where racism and the forces of inequity are everywhere, this struggle takes time, resources, and attention. "So, how do we build a world that values girls at the core of the humanity when the entire infrastructure, the ecosystem, the wallpaper, the oxygen in the air, reinforces the idea that you are not human? This is the challenge."
The COVID crisis has, of course, exacerbated this challenge, bringing disruptions at a global, community, and household level. The rug has been pulled from under our feet, and particularly vulnerable communities—those with "social pre-existing conditions," as Registre puts it, include women and girls.
Progress being made towards the UN's Sustainable Development Goals (SDGs) for education like in Kenya, where girls were increasing in school completion and enrollment rates, threatens to be rolled back with the closure of schools. Not long ago, female genital mutilation (FGM) and early marriage were on the decline. But now, domestic violence and child abuse are increasing.
In addition, Registre adds, the burden of the care economy is still very gendered, and responsibilities like tending the house or caring for the sick falls on women and girls, who occupied these roles before the pandemic.
But Girl Rising is thinking two steps ahead and keeping girls close to education even during a pandemic by supporting community-created solutions in the 11 countries where they deliver on-the-ground programming. For example, they're working with local mentors and teachers in Guatemala to redesign their programs to offer affordable and accessible educational radio programming in Guatemala.
They're also returning to the core of what they do—elevating the humanity of girls by empowering them to tell their own stories—in their own voices. In June Girl Rising launched the My Story Storytelling Challenge. The challenge is open to all, and the goal is to amplify the voices and experience of people in communities who are impacted by COVID-19, and inspired to help. It is important, says Registre, to be documenting this current historical moment as it happens, and not just as an afterthought.
The project already features several stories, from a dance school in Nigeria, to high school students in South Africa organizing to protest gender-based violence. Registre says the point is to highlight the hopes and aspirations of young people—since they're the ones who will be shaping the discourse and solutions to the impacts of the pandemic for years to come.
"The ideas of hope and optimism used to be elusive things. But in this curious moment, this strange new climate, we need dreamers, we need optimists. We need those who are hopeful because they will put the creative energy in to stay the course."
Registre is a firm believer in the power of stories: "When we talk about the software for the human operating system," she says, "I think that software is story." The stories we tell ourselves form who we are—and give power to those who get to tell them—like in religion, nation-building, and even the story of America, which is changing and unfolding even now into a much more complex story than many people learned in history class.
All her life, Registre's always heard stories that conflicted with the reality she knew and understood to be her own—like Haiti's reputation as the poorest country in the Western hemisphere, ravaged by earthquakes and AIDS, or Congo being dubbed the 'Rape Capitol of the World.' That's why she thinks it's crucial for people to shape their own stories of who they are and what their lived experience is.
"When we talk about racism and gender inequity, I started to realize how things are shaped for us, how it becomes this frame that we package an entire population of people in, not really displaying the humanity of who those people are."
Story equity is the practice of stepping back, of listening, and of questioning your role as a storyteller who is "a voice for the voiceless," and instead shifting that power dynamic to being a story facilitator—to finding ways to empower and support those who need to tell their own stories.
"And I always used to sort of ask that question when I was in the ground working in Congo: If I were this person, would this story show and display me in all my dignity? Would this be a story that I tell about myself?"
Narrative justice is the result of true story equity—"the creation of a cultural awakening that seeks to shift representation, voice, and agency," as Registre writes here.
When it comes to the international development sector, it's so easy to fall into the role of a well-meaning advocate, wanting to tell the story of a marginalized person or community.
"I think we tend to be default operators of systems because we never stopped to reflect and say, 'What was this designed to do? Does it still serve its purpose?"
"We need to be thinkers and designers of new systems," Registre insists. "We need to rethink international development to really ask ourselves, what is our role in the world? And what should we do to serve in that respect in our work. And what does that look like? Our engagement in the true meaning of partnership is that power is understood to be shared after all, right? "
Despite the threat of COVID-19 impacts, Registre keeps optimistic—in fact, she thinks the current challenge will force us to change in ways that are more sustainable in the long run, and this long-overdue shift is happening much faster than expected due to the pandemic.
"There's this kind of acceleration to change that is fast-tracking us to reconsider and redefine and reimagine. We're entering a completely different stage in our historical development as a human society globally, and the COVID-19 reality is helping us to see this."
---
Welcome New Members
Please welcome our newest Global Washington members. Take a moment to familiarize yourself with their work and consider opportunities for support and collaboration!
Friends of WPC Nepal
Friends of WPC Nepal is a fundraising organization that seeks to prevent human trafficking as well as protect and empower at-risk women and children in Nepal through awareness programs, education scholarships, job training and the Safe Home. Our strategy is focused on prevention, protection, and empowerment. We work in partnership with our sister organization, Women's Protection Center Nepal, which is strategically based in Hetauda near India where many victims are forced to work in brothels, households and circuses. friendsofwpcnepal.org
---
Member Events
August 13: Construction for Change Virtual Benefit
August 18: World Affairs Council: Europe in the Age of COVID-19: Public Health, Social Solidarity, and the Role of Government in a New International Environment – Virtual Program
August 21: Global Visionaries: Guatemalan Cook-along
August/September: Global Leadership Forum is still accepting applications for Fall 2020. Contact Kim Rakow Bernier for more information, rakow.bernier@gmail.com or (206) 250-6383,
September 2-3: Priority deadline to register for the Social Innovation Accelerator Program (AST 2020) through the UW Evans School of Public Policy & Governance
September 12: Friends of WPC Nepal: Hope For Freedom Gala 2020
---
Career Center
Marketing and Communications Manager // Splash
Program Lead – Capacity Development and Inclusion // Forest Stewardship Council (FSC)
Impact & Learning Associate // Days for Girls
---
Check out the GlobalWA Job Board for the latest openings.
---
GlobalWA Events
August 21: Education and COVID-19 in the Global South
September 16: Final Mile Event: Kicking off a US chapter of the International Association of Professional Health Logisticians (IAPHL) and the COVID-19 work of Restart Partners