Welcome to the September 2018 issue of the Global Washington newsletter.
IN THIS ISSUE
Letter from our Executive Director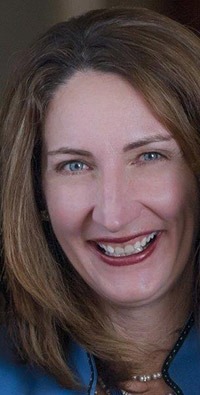 This year marks the 70th anniversary of the Universal Declaration on Human Rights, which recognizes the equal and inalienable rights of all as being "the foundation of freedom, justice and peace in the world."
Beyond declaring our rights, we also have to be willing to stand up for them. This month we are focused on those brave individuals who have been willing to sacrifice everything in defending human rights – and what we as a community can do to help defend them.
In this week's newsletter you'll learn more about Siri May, the United Nations Program Manager for OutRight Action International, who has dedicated her career to defending the rights of LGBTIQ people globally. You'll also find out how the World Justice Project's Rule of Law Index helps serve as a diagnostic tool for activists to promote good governance, as well as a tool for governments to assess their own performance.
Earlier this week we hosted an event with Siri May, along with UW School of Law professor, Anita Ramasastry; Partners Asia Executive Director, Eileen Moncoeur; and Weber Shandwick's VP of Social Impact, Radha Friedman. If you weren't able to join us you can watch the video recording here.
At our annual conference in December, we'll be revisiting all of the issues that we've been discussing throughout the year – from the refugee crisis and global health, to clean water and education, to food security and equitable access to finance. Also, I'm thrilled to announce that Sarah Hendriks, the Director for Gender Equality at the Bill & Melinda Gates Foundation, will be an additional keynote speaker for the conference.
The Early Bird pricing for our conference ends in one week – Sept. 20th – so sign up today to get the discount.
I hope to see you there.

Kristen Dailey
Executive Director
---
Issue Brief
Defending the Defenders: How the International Community Protects Human Rights Defenders
By Ulrike Hoessle
"I am always thinking about being killed or kidnapped. But I refuse to go into exile. I am a human rights fighter and I will not give up this fight."
– Berta Cáceres, cited by Amnesty International
Berta Cáceres, a human rights defender, indigenous leader, and environmental activist, knew the danger of her struggle against hydroelectric dams on the Gualcarque River in Honduras. She faced near-constant harassment and intimidation for her activities – until March 2016, when an armed gang entered her home and assassinated her. A year and a half later, an international team of lawyers issued a report implicating the leadership of the dam development company, and in March of this year, an executive from the company was arrested on charges of being an "intellectual author" of the crime – charges the company disputes.
The Deadliest Year for Human Rights Defenders
The UK-based watchdog Global Witness has called Honduras the deadliest country in the world to be an environmental activist. Sadly, Berta Cáceres' case is not unique, and violence against human rights defenders goes far beyond environmental activism. The issues human rights defenders are fighting for are as multifarious as women's rights, political, social, economic and cultural rights, LGBTIQ people's rights, and the rights of children.
According to the recent Amnesty International report, Human Rights Defenders Under Threat – A Shrinking Space For Civil Society, about 3,500 human rights activists have been murdered worldwide since the U.N. General Assembly adopted the Declaration on Human Rights Defenders in 1998. And the numbers are increasing. More than 300 activists were murdered in 2017, and it was the deadliest year for environmental and indigenous activists, transgender people and human rights defenders in Colombia.
A Year of Human Rights Milestones
2018 is a special year for human rights, as it marks three important milestones:
The Declaration on Human Rights Defenders is a landmark in human rights' history. It acknowledges that our freedoms depend on those who would fight for their protection. The Declaration has not only played an important role in affirming the right to defend human rights, it has also outlined the duties of states in this regard. As such, it legitimized the work of human rights activists and formed the basis of key protection mechanisms, such as national and regional guidelines for the protection of human rights defenders.
Since the Declaration was proclaimed by the United Nations General Assembly in Paris on December 10, 1948, the international community has taken further steps to celebrate, protect and recognize human rights defenders. For example, December 9 is now officially recognized as the International Day of the Human Rights Defender, and since 2000 a UN Special Rapporteur reports on the status of defenders globally.
Emergency Hotlines, Grants, and Non-Violent Accompaniment
Due to the increasing violence against human rights defenders, non-profits whose work defends the defenders are more important than ever. In 2017, Amnesty International launched an international campaign called Stand up for the Brave, which features human rights activists all over the world – from those who fight for transgender rights in Finland, to women's rights in Saudi Arabia and Pakistan, to political rights in Bahrain.
Another organization, ProtectDefenders.eu, established a 24/7 emergency helpline and a temporary relocation fund for human rights defenders who may be facing immediate risk. The Urgent Action Fund – For Women's Human Rights also maintains an open, online application process for rapid security grants.
Other groups increase the capacity of human rights activists and their organizations. Peace Brigades International sends international volunteers directly to conflict areas to non-violently accompany and protect activists. The World Organization Against Torture helps mobilize public opinion to counter abuses of power, while Protection International helps defenders develop security and protection strategies.
Technology Aids Protection of Human Rights Defenders
Information and Communication Technology is sometimes used by governments or corporations against human rights defenders to restrict, monitor or manipulate their mobile phones, computers and internet access. At the same time, these technologies enable defenders to gather, analyze and disseminate data locally and internationally about human rights abuses and allegations of abuse. There are multiple useful tools that protect them and facilitate their work.
Front Line Defenders assists activists in securing their computers and phones, in co-operation with the Berlin-based Tactical Tech, digital protection through security-in-a-box with open-source guides and tools available in 17 languages. Additionally, Front Line Defenders provides regional digital security training programs and consults with other human rights organizations to address changing digital security concerns.
The Geneva-based non-profit, Huridocs has also developed several data management systems, such as Uwasi, to publish documents; OpenEvsys, to understand patterns of human rights violations; and Casebox, to manage case documents securely.
While all of these tools were designed to support human rights defenders, their use is not without challenges. For example, sensitive data may require additional security, technology may not be appropriate to specific regional contexts, languages not written in Latin script may be incompatible, and the discontinuation of software tools can necessitate the transfer of huge amounts of sensitive data from one provider to another.
Human Rights Defenders' Crucial Work for Just and Inclusive Societies
Human rights defenders, such as Berta Cáceres and many others who have been threatened or killed, are the safeguards of liberal democracies. They play a vital role in shaping societies towards more tolerance, respect and inclusion, the bedrock of healthy democratic society. Human rights and their defenders form the core of a just society. Without them, there can be no sustainable development, no peace, and no hope of a dignified life for everyone.
***
The following Global Washington members are working to support and defend human rights activists around the globe.
Breakthrough is a global human rights organization working to drive the culture change needed to build a world in which all people live with dignity, equality, and respect. Working out of centers in the U.S. and India, Breakthrough uses a potent mix of media, arts, and tech to reach people where they are and inspire them to take bold action to challenge the status quo. The organization often views the most crucial issues of our time through the lens of gender, because it believes that promoting equality for all genders is a pathway to promoting the human rights, and the humanity, of all people. Since 1999, Breakthrough has also worked to promote immigrant rights, racial justice, and the rights of people living with HIV/AIDS.
As the leading US-based non-profit fighting for human rights for LGBTIQ people globally, OutRight Action International advances safety, dignity, freedom and equality in places where LGBTIQ people face extreme violence, discrimination, and persecution. OutRight documents human rights violations, supports grassroots activists on the frontlines, and holds governments accountable at the United Nations and beyond. For 28 years, OutRight has been working to change hearts, minds and laws all over the world.
Partners Asia supports emerging leaders and community-led initiatives to improve the lives of the most vulnerable people in Myanmar and along its borders: ethnic minorities, displaced populations, women, children, LGBTQIs, and students.
World Justice Project                                                                                  
The World Justice Project is an independent, multidisciplinary organization working to advance the rule of law around the world. Effective rule of law reduces corruption, combats poverty and disease, and protects people from injustices large and small. It is the foundation for communities of peace, equity, and opportunity—underpinning development, accountable government, and respect for fundamental rights.
---
Organization Profile
World Justice Project
By Joanne Lu
Rule of law is the cornerstone of society. Though it's not recognized, understood or appreciated enough, according to the World Justice Project, it is essential for development and human rights.
Bill Neukom, Microsoft's first general counsel, was the president of the American Bar Association when he founded the World Justice Project in 2006. It began as a presidential initiative and evolved after his tenure into the independent nonprofit it is today, with offices in Washington, D.C., Seattle, Singapore and Mexico City.
The idea for the organization sprang from Neukom's growing appreciation for rule of law as he traveled around the world for Microsoft and saw firsthand how important it was for development. Yet, not many people were working to promote it. There wasn't even a clear definition for the term, as many people used it to mean many different things.
So, that's where the World Justice Project began, by defining rule of law with four principles:
Accountability – Do mechanisms ensure that no one is above the law, including the government?
Just laws – Are the laws clear, publicized, stable, just and applied evenly? Do they protect fundamental rights?
Open government – Is the process for enacting, administering and enforcing laws accessible, fair and efficient?
Accessible & impartial dispute resolution – Is justice delivered in a timely manner by competent, ethical, independent and neutral parties? Do they have adequate resources and reflect the makeup of the communities they serve?
"The principles were our attempt at defining rule of law in a way that can be universally applicable around the world, not just to a specific form of government. You can have features of rule of law anywhere, at all levels of development and even beyond democracies," says Matthew Harman, director of communications at the World Justice Project.
But just defining rule of law wasn't enough. As Microsoft founder Bill Gates once said, "If you want to improve the rule of law, you need a way to measure it." So, they decided to do just that. They settled on eight measurable outcomes, which they call factors – constraints on government powers, absence of corruption, open government, fundamental rights, order and security, regulatory enforcement, civil justice and criminal justice. In addition, they added one immeasurable outcome: informal justice, which is the role of traditional, tribal and religious courts as well as community-based systems in resolving disputes.
Then, based on that framework of factors, the World Justice Project developed extensive household and expert surveys to measure rule of law in countries every year. The first WJP Rule of Law Index published in 2010 looked at 35 countries. This year, it looked at 113 countries. The next edition will look at 125.
To score each country, the World Justice Project conducts 1,000 household surveys per country that include both perception and experience questions, such as "How safe do you feel walking in your neighborhood at night?" (perception) or "How many times in the last three years has your house been broken into?" (experience). The data collected from these household surveys constitute half the country's score. The other half is from four types of expert surveys: civil and commercial law, criminal justice, labor law and public health. When household perceptions are swayed too much by politics or media, these expert surveys serve as a balancing mechanism. For example, they've found that when a government conducts an anti-corruption campaign, people tend to think there's more corruption in the country, because the issue is all over the news. In such a case, experience questions and expert surveys keep the country's corruption score true to reality.
According to Harman, the annual Index is a labor-intensive, time-intensive and money-intensive product. No one else, he says, is measuring rule of law this comprehensively using only primary data. And it has paid off.
"We are considered the leading source of original data on the rule of law," Harman says.
Transparency International's Corruption Perceptions Index, for example, utilizes the WJP's Rule of Law Index's corruption scores as a core data source, as do many businesses and governments."The index is supposed to be a diagnostic tool that activists can use, but so can governments to get a good look at their own performance along these lines," Harman explains. "It's not intended to shame and blame anybody."
After years of adding countries and refining the methodology, Harman says the 2018 Index, published on January 31, was the first time the World Justice Project was able to confidently compare year-on-year trends, and this is what they found:
Human rights is on the decline. Seventy-one out of 113 countries' fundamental rights score dropped. The U.S. was among them primarily because of an increase in discrimination. Checks on government powers was the second steepest decline, with 64 countries dropping.
Overall, Venezuela remained at the bottom of the rule-of-law rankings, while Denmark, Norway and Finland remained the top three – positions they've held since 2016. But the Philippines dropped "precipitously," as Harman described it, losing 18 places to 88th out of 113 countries, which some human rights organizations attributed to President Duterte's "war on drugs." To date, more than 20,000 people have been killed, according to some estimates.
Harman says the Philippines' drop elicited a lot of media coverage in the country when the Rule of Law Index was published. That's one example of how the Index contributes to progress – by giving reformers – politicians, activists and others – the data they need to push for reform.
"A core belief of ours is that you can't really improve rule of law from the top down – from a U.S.-based NGO pushing reforms in various countries," Harman says. "It has to come from the ground up."
That's why another key component to the World Justice Project's work is engagement, which includes fostering a global network, leading strategic convenings and incubating practical, locally-led programs. One program, for example, trained young women in Nepal who had survived sex trafficking to become certified paralegals. These women were then placed in rural police stations to provide frontline assistance for victims of crimes. Not only did the program empower these survivors to become agents of change, but it also reduced the risk of police corruption (like harassment) and improved reporting, because women felt safer reporting crimes to someone who understood their experience.
Another program incubated by the World Justice Project launched the first environmental news website of its kind in Peru. Actualidad Ambiental contributed immensely to the success of an Amazon village (Puerto Prado) getting their land protected as a private conservation area. It also paved the way for more mainstream coverage of environmental issues in the country. A few years later, one of the site's former executive directors, Manuel Pulgar-Vidal, became Peru's Minister of the Environment.
Since its founding 12 years ago, the World Justice Project has come a long way, incubating programs, gathering data and expanding the Rule of Law Index. Perhaps most importantly, they've seen their definition of rule of law being used more widely and more people are talking about it.
Over the next decade, their primary hope is for that conversation to continue. "We would like to see more people talk about the rule of law in an informed way and increase awareness of and appreciation for the rule of law as the foundation for a functioning society," Harman says.
But in order to do that, he says it's time for the World Justice Project to widen its focus from expanding the number of countries the Index covers to honing in on specific topics, demographics and even states within countries.
"The index has reached a critical mass," Harman says, "It's being reported on and people recognize it. But to get greater awareness for it, we need to move past the words 'rule of law' frankly, because not everybody realizes that human rights or prison reform is related to rule of law."
"We need to meet them where they're at, give them information that's interesting and then encourage them to see how it's connected to the larger framework."
---
Changemaker
Siri May, UN Program Coordinator, OutRight Action International
By Amanda Pain
For Siri May, advocating for marginalized communities has been a lesson in humility. When she started working in her early 20s she wanted to change the world, but today she draws on a valuable lesson from Australian Aboriginal activist Lilla Watson: "If you have come here to help me, you are wasting your time. But if you have come because your liberation is bound up with mine, then let us work together."
"If there is any hint of savior complex when you come from a place of privilege in this work, then you are immediately rendered part of the problem," May, an Australian native, explained. "The important lesson I continue to grapple with is how to simultaneously represent part of the problem and still participate in the solution."
May currently works as the United Nations (UN) program coordinator for OutRight Action International, an organization that seeks to advance human rights and opportunities for LGBTIQ (lesbian, gay, bisexual, transgender, intersex and queer) people around the world. She has over 15 years of experience engaging civil society, governments, and the private sector on issues related to social impact and change, public health and human rights. In fact it was her work in the public health arena that led her to return to school for a Masters in Human Rights Law.
"It is difficult to work in HIV and sexual health without bumping up against human right's based approaches," May said. "I became seduced by the promise of international human rights law; that everyone is born equal, and it is the obligation of States to upload those principles for their citizens."
A drive for advocacy
To May working as an advocate is about participating in the world, as well as equal parts learning and contribution. After coming out as a lesbian at age 15, she began to participate in LGBTIQ and social justice communities. She said early in her career she would become discouraged with advocacy work, mainly because she held unrealistic expectations.
"The truth is the work is equal parts inspiring and equal parts hard, and you learn by necessity that it is a marathon and not a sprint," May said. "You have to appreciate the small wins and realize you are contributing to something for which you may never see a positive outcome in your lifetime. For me, this is what participation in society looks like today."
May has been at OutRight for almost two years, where she works directly with UN member States, UN institutions, and other civil society organizations to spotlight human rights violations against the LGBTIQ community. She loves that her job is different every day, and when the UN is in session, working 15 hour days can be the norm. OutRight's UN program is designed to help LGBTIQ activists all over the world access the UN in New York, whether it's in person during OutRight's Advocacy Week and UN Fellowship Program, or through representing their voices in UN member State meetings.
OutRight is the only LGBTIQ organization with ECOSOC consultative status based at the UN in New York. Obtaining ECOSOC status provides non-governmental organizations with access to the UN system in New York and the various human rights mechanisms in Geneva. May said the competition to be heard among UN member States is made easier by the fact that OutRight works with an intersectional coalition of human rights, peace and security and social justice organizations that help push each other's agendas forward, and also because not a lot of organizations have the resources or capacity to obtain ECOSOC status and have a seat at the table.
"I feel an immense sense of obligation," May said. "When I am in those rooms I am representing a very diverse movement. We don't look at ourselves as leading on issues, we look at ourselves as reflecting on issues prioritized by the activists working on the ground, our work is to amplify national movement building at the international level."
Future Change
May said change at UN headquarters is slow, but it provides an arena to spotlight some of the grave violations the LGBTIQ community faces across the globe, such as murder, violence, torture, forced marriage, medically unnecessary nonconsensual surgeries including forced sterilization or arbitrary detentions. Often when activists come to the UN it is because they have no other recourse at the State level.
Two goals May would like to accomplish during her time at OutRight are one, building consensus among UN member States that extrajudicial violence is unacceptable, and two, increasing LGBTIQ activists' access to the UN system in New York.
"While it doesn't seem that condemning someone for killing a person extra-judicially for their real or perceived sexual orientation, gender identity or gender expression would be controversial, there is still no consensus on this between UN member States," May said. "Sometimes it feels like a low benchmark, but we continue to advocate to get to a place where all States agrees that this violence is unacceptable."
When May looks ten years down the road the only thing she knows for certain is that she still wants to be participating.
To do so, "requires intent, self-reflection and continuous work to remain relevant and useful," May said. "I would love to look back on my career and feel that I was of service to the collective."
---
Welcome New Members
Please welcome our newest Global Washington members. Take a moment to familiarize yourself with their work and consider opportunities for support and collaboration!
Kyle House Group
The Kyle House Group (KHG) provides hands-on and customized consulting services to a diverse portfolio of clients in the non-profit and commercial sectors. KHG operates at the nexus of government and the business and philanthropic communities, where its experienced team of professionals specializes in government relations, commercial advocacy, partnership development, policy analysis, and strategic communications. kylehousegroup.com
Seattle Aquarium
The Seattle Aquarium is the region's premier resource for hands-on marine experiences and conservation education. The ninth largest aquarium in the U.S. by attendance and among the top five paid visitor attractions in the Puget Sound region, the Seattle Aquarium has hosted over 22 million visitors and provided marine conservation education to over 1.6 million school children. seattleaquarium.org
---
Member Events
Sept 14: Sahar Education // How Does Design and the Built Environment Impact Global Education?
Sept 22: Spreeha Foundation // Spreeha Journey of Hope 2018 Fundraiser
Oct 5: Schools for Salone // 8th Annual Seattle Gala!
Oct 6: Path from Poverty // Harambee Gala – An Evening of Providing Hope
Oct 23: Peace Trees Vietnam // 23rd Anniversary Luncheon
Oct 27: Mission Africa // Mission Africa Benefit Luncheon 2018
---
Career Center
Junior Accountant Landesa
Administrative Assistant Snow Leopard Trust
Human Resources Generalist The Max Foundation
Employee Engagement and Workplace Giving Officer Mercy Corps
Chief Learning Officer Planned Parenthood of the Great Northwest and the Hawaiian Islands
---
Check out the GlobalWA Job Board for the latest openings.
---
GlobalWA Events
October 9: Feeding the World in a Changing Climate
October 17: Voices from the Field: Suyheang Kry, Cambodia's Women Peace Makers
December 6: GlobalWA Annual Conference Early Bird pricing ends soon!