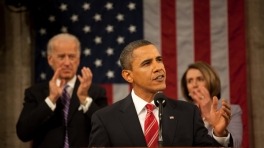 Last night, President Barack Obama delivered his first State of the Union address, after one year in office.  As expected, he discussed healthcare reform, the economic recovery, and national security.  He also went into great detail on the need to create more jobs in this country, and how we can do that through investing in green technology innovations, and expanding trade.
International development does not typically get much attention in a state of the union address.   President Obama did not give significantly more space to development than usual, but he did a nice job of articulating why the United States must continue to help people in faraway lands.  It's not just about security, or preventing the spread of disease- we do it because it is right. 
We do it because it is right.  This sentiment could be the opening paragraph to a national development strategy, which could improve U.S. foreign assistance greatly.  We need a national development strategy that strongly articulates the U.S. vision and goals for foreign assistance – without it, we're just shooting out money and programs and ideas from different U.S. government agencies to countries around the world, without any idea to bind it all together, without any way to even check that they meet U.S. goals.  Many of these programs and policies work, but sometimes they are in conflict with each other, and some of them really are just shots in the dark.  We need more coordination, and it has to start with a national strategy.
Here is the excerpt from President Obama's speech that addresses global engagement:
"That's the leadership that we are providing –- engagement that advances the common security and prosperity of all people. We're working through the G20 to sustain a lasting global recovery.  We're working with Muslim communities around the world to promote science and education and innovation.  We have gone from a bystander to a leader in the fight against climate change. We're helping developing countries to feed themselves, and continuing the fight against HIV/AIDS.  And we are launching a new initiative that will give us the capacity to respond faster and more effectively to bioterrorism or an infectious disease -– a plan that will counter threats at home and strengthen public health abroad.
As we have for over 60 years, America takes these actions because our destiny is connected to those beyond our shores.  But we also do it because it is right.  That's why, as we meet here tonight, over 10,000 Americans are working with many nations to help the people of Haiti recover and rebuild.  That's why we stand with the girl who yearns to go to school in Afghanistan; why we support the human rights of the women marching through the streets of Iran; why we advocate for the young man denied a job by corruption in Guinea.  For America must always stand on the side of freedom and human dignity."