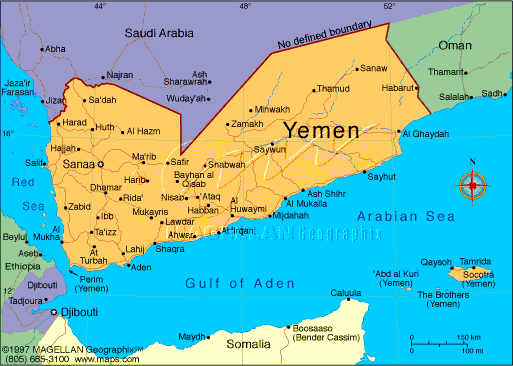 Yemen :  Following a failed attempt to blow up Flight 253 from Amsterdam to Detroit on Christmas Day, government officials from around the world met in London to coordinate international efforts to provide assistance to Yemen. Yemen is considered a terrorist hot spot, and is now in the global spotlight.  Officials are concerned about the growing Al Qaeda presence, and are considering using development assistance to thwart its efforts.
Hillary Clinton urges Yemen to 'take ownership' of its problems
Yemen Vows Better Use of Aid as Donors Focus on Al-Qaeda Fight
Yemen clashes continue, ceasefire offer rejected
House of Representatives Committee on Foreign Affairs holds hearing– Yemen on the Brink: Implications for U.S. Policy
World Economic Forum:  The World Economic Forum (WEF) is based in Geneva, Switzerland, and was incorporated as a foundation in 1971 under the supervision of the Swiss Federal Government. It is best known for its annual meeting in Davos and gathers intellectuals in addition to top leaders in business and international politics to discuss the most critical issues facing the world including health and the environment. The WEF is not-for-profit, non-partisan, and tied to no national interests.
Surprisingly both the bankers and politicians, who agree on pretty well nothing else, are all thinking globally for the future.
"There will be no return to 'business as usual.' . . . More intrusive regulation of the financial system is now inevitable."
Leaders in Davos Admit Drop in Trust.
The Bill & Melinda Gates Foundation announced at World Economic Forum in Switzerland that they will donate $10 billion over the next 10 years in the field of vaccine research and distribution.
Brazil's Silva chastised wealthy nations for triggering the global financial crisis, for not doing enough to help the globe's poor and for failing to redress historic wrongs.
For more World Economic Forum updates refer to their web site at:
http://www.weforum.org/en/index.htm
Haiti:
High-Level Haiti Commentary Touches on Foreign Assistance Reform Themes
Our foreign aid system is broken with our assistance programs fragmented across roughly 25 government departments and agencies.
The president will call for a three-year freeze on some categories of federal spending, excluding the military and homeland security, foreign aid, Social Security and more.
Americans detained in Haiti were 'trying to rescue children'
Other News from Around the World:
States renew vows to reduce greenhouse gas emissions
Senators Kerry and Lugar introduced a bill to authorize the State Department and make changes in U.S. foreign relations policy- including to increase the capacity of USAID and improve on its accountability.  This would be the first authorization of the State Department in many years.
African summit hears world ignoring Somalia crisis
US Arms Sales to Taiwan Latest Hit to Sino-American Ties
Land reform in Africa is not simple- many people have benefited from it, but it has also stirred up more conflict in some cases.
Thanks to Global Washington intern Luke Mohr for compiling this Policy News Roundup.