World Water Day: Pairing Innovation with Nature-Based Solutions
By Amanda Pain
March 2018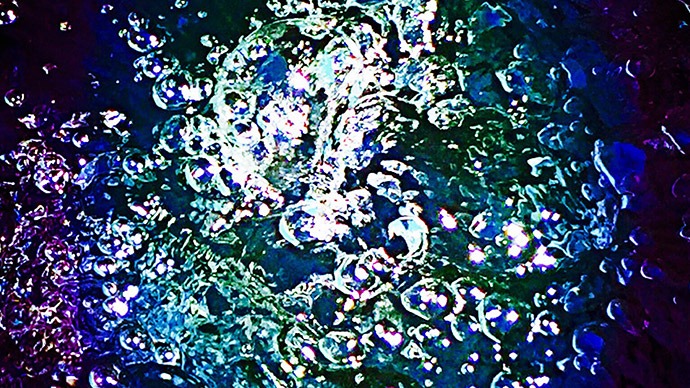 Individuals experience the effects of climate change most acutely through water – both in its excess (flooding) and its absence (drought).
Today 1.2 billion people are at risk of severe flooding, which can damage the quality of available water sources, leading to greatly increased risk of diarrhea and water-borne diseases. In addition, drought currently affects four out of every ten people globally, a figure that the UN predicts will reach 3 billion people by 2050. Without effective actions to migrate human-caused climate change, water scarce areas are likely to displace as many as 700 million people globally.
As more areas of the globe dry up, events such as "Day Zero" – the day when all the water was predicted to run out in Cape Town – are likely to become frequent occurrences. So far, Cape Town's amped up water conservation efforts have pushed back Day Zero, but a continued lack of rainfall to replenish drained reservoirs can only forestall it for so long.
Global development experts have increasingly made use of new technologies, tools, and innovations to ensure that people have access to clean water for drinking, hygiene and sanitation, as well as sufficient quantities for irrigation and livestock. This year's theme for World Water Day asks us to consider not only the value of the built environment to improve water quality and access, but also the role that natural systems can play.
World Water Day, held annually on March 22, was designated by the UN in 1993 to highlight the importance of clean water. While people living in the developed world may have serious concerns when it comes to turning on the tap, millions living in low-income countries, especially women, are severely impacted by a lack of clean, easily-accessible water.
This year's World Water Day theme, "Nature for Water," emphasizes utilizing nature-based solutions (NBS) for sustainably managing the world's freshwater resources. According to the International Union for Conservation of Nature, NBS are "actions to protect, sustainably manage, and restore natural and modified ecosystems that address societal challenges effectively and adaptively, simultaneously providing human well-being and biodiversity benefits."
In the context of water, NBS includes planting and regenerating forests, reconnecting rivers to floodplains, and restoring wetlands to rebalance the water cycle, mitigate climate change, and improve community health and well-being. Another important aspect of NBS is harmonizing "grey" infrastructure (human-built solutions, such as water filtration and treatment systems) with green infrastructure, such as forests, wetlands and other natural ecosystems that can help manage water quality and create healthier urban environments.
A recent report, Beyond the Source, explains why protecting water at its source is so critical. Many of the water-related crises today – including flooding, pollution and drought – stem from a combination of environmental damage and climate change. According to the report, 1.7 billion people living in the world's largest cities depend of water coming from source watersheds, and by 2050 these source watersheds will be reduced by roughly two-thirds. The report also found that not only are the watersheds depleting, but 40 percent of them have high to moderate levels of degradation and contamination from agricultural runoff.
The UN estimates that 1.8 billion people are currently affected by land degradation and desertification, with 65 percent of the world's forested land destroyed, and nearly 71 percent of wetlands depleted due to human activity.
Nature-based solutions can be a cost-effective way to achieve greater global water security, even as climate change ratchets up the challenges in this area.
While no single solution is a panacea, organizations that are working toward improved access to clean water understand the value of both nature-based solutions and human-engineered approaches that build on existing systems to preserve and protect clean water.
* * *
There are a number of Global Washington member organizations that are working to secure and improve water access in developing countries. You can find out more about them below, and if you feel so moved, donate to support their efforts.  You may also wish to contribute to the Global Impact "Clean Water Fund" at cleanwaterfund.charity.org
Friendly Water for the World
Founded in 2010, Friendly Water for the World is a dynamic, rapidly growing, 501(c)(3) non-profit organization based in Olympia, WA. Its mission is to expand global access to low-cost clean water technologies and information about health and sanitation through knowledge-sharing, training, applied research, community-building, peacemaking, and efforts at sustainability. The organization empowers communities abroad to take care of their own clean water needs, even as it empowers people in the U.S. to make a real difference. Friendly Water for the World currently works in 15 countries, and has assisted more than 160 marginalized and oppressed rural communities – including widows with HIV, people with albinism, survivors of war-time rape, victims of domestic violence and sexual assault, indigenous tribes, and unemployed youth – ensure their own safe drinking water while becoming employed in the process. friendlywater.net
Global Good
Global Good combines Intellectual Venture's unique invention prowess with the expertise of leading humanitarian organizations, forward-looking governments, and commercial partners that share our vision. Together with its partners, Global Good invents, develops, and deploys commercially-viable technologies that improve life in developing countries. With the goal of enabling millions of smallholder farmers to grow crops and keep their families going through dry seasons and drought, Global Good is working with various NGOs and other partners to explore the efficiency and other characteristics of inexpensive solar-powered water pumps, with the aim of making such starter pumps more available to the millions of farmers who are attempting to produce food over groundwater they currently cannot reach. globalgood.com
The Living Earth Institute
The Living Earth Institute (LEI) works to empower communities to protect their health and environment through sustainable water use, with the primary goals of ensuring clean water supply and improved sanitation. LEI adapts water projects to the needs of the community with projects for building family composting toilets and community water wells in Nepal. LEI has also created drinking water, rainwater catchment and hand washing stations in developing communities in other parts of the world. living-earth.org
MSR Global Health
MSR Global Health is a leading innovator and manufacturer of low-cost, field-proven products that improve access to basic human needs for people around the globe. With nearly 50 years of technical engineering and manufacturing expertise, MSR Global Health is developing technologies that increase access to vital needs such as clean water, food, and shelter. msrglobalhealth.com
PotaVida
PotaVida enables aid organizations to make better decisions by collecting accurate data from the field in real time and distilling it into actionable insights. To realize this, PotaVida creates technical solutions that work, are simple to use, and result in dramatic benefit to people in need. The company's first product, the Smart Solar Purifier, disinfects water using just sunlight for household use in disaster relief and refugee contexts. In addition to providing safe drinking water at a dramatically lower cost, every Smart Solar Purifier records its own usage data. This data is downloaded to mobile devices to provide instantaneous feedback in the field, and is also synced in the cloud, analyzed at the program level, and sent to decision makers. potavida.com
Splash
Splash is a nonprofit organization focused on clean water, clean hands and clean toilets for children living in urban poverty across Asia and Africa. They implement water, sanitation and hygiene (WASH) programs in child-serving institutions, including schools, hospitals, shelters and orphanages, in order to reach the greatest number of children cost-effectively and to bring about generational change. Splash's holistic approach to WASH includes high-quality water filtration systems, durable drinking and hand washing stations, toilet renovations, and hygiene clubs to ensure that kids learn healthy habits like handwashing.  To date, Splash has completed over 1,600 international projects and serves safe drinking water to over 400,000 children a day in eight countries (China, Cambodia, Bangladesh, Ethiopia, India, Nepal, Thailand, and Vietnam). Their goal is to reach one million children per day by 2023. splash.org
Water1st International
Water1st prides itself on funding sustainable water projects that involve local communities, local women, as well as a consistent funding stream. Since its founding in 2005, Water1st has provided clean water to over 188,000 people. While its projects focus on providing easy access to clean water, the organization also ensures that projects integrate toilets and hygiene education. Water1st's success centers on robust program evaluation of each of its funded projects to ensure that deliverables are effective and community needs are met. water1st.org
WaterAid
WaterAid is the #1 ranked international nonprofit dedicated to transforming lives through access to clean water, toilets and hygiene education. WaterAid has been helping communities around the globe become more resilient to extreme weather, natural hazards and changing environmental conditions for more than 30 years. From rainwater harvesting and gravity-fed water systems, to spring water protection, environmentally-friendly sanitation solutions, improved rainwater monitoring and dedicated climate advocacy, WaterAid works with local communities throughout Africa, Asia, the Caribbean, Latin America and the Pacific region to proactively identify the kinds of problems they face right now, and the ones they may face in the future. Since 1981, WaterAid has reached 24.9 million people with clean water and, since 2004, 24 million people with toilets and sanitation. wateraid.org/us
World Vision
World Vision is the leading NGO provider of clean drinking water, reaching one new person every 30 seconds. Focusing on the rural, ultra-poor, combining access to clean water with sanitation and hygiene interventions and engaging communities in sustainability efforts, World Vision and its partners are committed to expanding their reach to one new person every 10 seconds with clean water and sanitation by 2020. With the use of right-sized equipment, appropriate water sources, manual drilling, mechanized wells with solar pumps and over 500 WASH professionals who live and work in the communities where they lead efforts, nearly 80 percent of World Vision wells continue to function at a high level after 20 years. worldvision.org/our-impact/clean-water