Women Hold Up Half The Cup
Gender Imbalances in the Production of America's Most Popular Beverage
By Erika Koss
At least two dozen pairs of human hands are involved in the production of a single cup of coffee. And many of those hands belong to women. This month, in honor of the Global Coffee Expo—the Specialty Coffee Association of America's annual conference, held in Seattle from April 19-22—Global Washington has focused on an important issue within the coffee sector: Gender Equality.
In their internationally bestselling book Half the Sky: Turning Oppression into Opportunity for Women Worldwide, Nicholas Kristof and Sheryl WuDunn observe that if the moral challenge of the 19th century was slavery, and the 20th century's battle was against totalitarianism, then the 21st century's "moral challenge will be the struggle for gender equality around the world."
A recent Specialty Coffee Association of America (SCAA) paper, "A Blueprint for Gender Equality in the Coffeelands," summarizes some of the challenges that female farmer-producers face:  "Overall, women earn less income, own less land, control fewer assets, have less access to credit and market information, greater difficulty obtaining inputs, and fewer training and leadership opportunities."
All the world's coffee grows between Earth's imaginary lines of latitude, the Tropic of Cancer (235 North) and the Tropic of Capricorn (235 South). Coffee aficionados know this zone as the "Bean Belt." Within the more than 75 coffee-producing countries encompassed by the Bean Belt, there are significant economic disparities between male and female coffee producers.
The SCAA Sustainability Council finds that this gender gap in coffee value chains is most prevalent in four key areas: 1) distribution of labor, 2) income, 3) ownership, and 4) leadership and decision-making.
Many inequalities at the farm level are rooted in the "double burden" that women experience while managing both the farm and the household (which regularly includes at least several children and the elderly). Research shows that women perform most of the fieldwork, harvest work, and processing of coffee. Men often conduct the transport, export, and marketing of coffee—jobs that regularly provide a higher wage and take them away from the farms and their families.
One of the major challenges for rural women throughout Asia, Africa, and Latin America, are the customary land laws that prohibit women from owning their own land. As a Gender Issue Brief by Sweden's development agency explains, less than 20% of agricultural women own their land, which is a major challenge since land ownership is linked to food security and poverty reduction.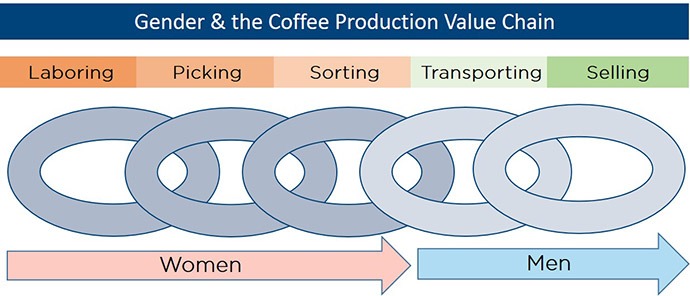 In addition to identifying the major challenges in gender disparities, the SCAA provides several recommendations for reducing inequities between men and women in coffee:
Include women and men equally in technical training: Traditionally, women in coffee have been excluded from technical trainings, but in recent years, this is starting to change thanks to organizations such as TWIN Trading. Their gender-inclusive approaches have proven successful in East Africa where mixed-gender programs focus on sustainable agriculture, financial management, and improving coffee quality.
Promote community-driven initiatives that encourage balanced households: Working directly with farmer households to build greater gender balance takes time, but it can lead to transformative and lasting change in coffee-growing communities.An excellent example of this is the Gender Action Learning System (GALS­), which was co-created by sociologist Linda Mayoux with a coffee cooperative in western Uganda, Bukonzo Joint. The methodology is designed to increase the visibility of female farmers along the coffee value chain and to enhance women's decision-making power at the household level.  GALS helps women gain greater control over assets and ensure they have more equal access to income within their households. Since the original project in 2004, GALS has been implemented in other coffee-growing communities including Colombia and Rwanda.
Empower women and men equally with access to financial resources: Economic empowerment can only be achieved through increasing women's access to land, income, and credit. If this can be achieved, it has the potential to dramatically improve coffee quality, increase productivity, and alleviate poverty.
Research gender equality in the coffee industry: There is much we still do not know about the best ways to elevate women's roles throughout the coffee supply chain. The International Women's Coffee Alliance is a non-profit organization founded in 2003 that organizes women in coffee-producing countries. Their Research Alliance works toward increased awareness and funding for much-needed research regarding gender and coffee. In the last few years, their newly formed data-gathering initiative estimates that in three coffee-producing countries (Costa Rica, El Salvador, and Rwanda), there are more than 135,000 female coffee producers, approximately 30 percent of the total.
Advocate for gender equality: We all have a role to play in helping address the gender pay gap in coffee production. In 2014, the Coffee Quality Institute founded the "Partnership for Gender Equity"—a set of principles created to guide the coffee industry forward.The women, whose hands nurture coffee seedlings, pick coffee cherries from trees, and sort "parchment beans" after processing are vital to a complex global supply chain. But there are an uncounted number of women involved in exporting and importing green coffee beans, as well as roasting, grinding, packaging, and brewing.It is time women at all these stages of coffee production are recognized and fairly compensated. Because from farmer to barista, women hold up—at least—half the cup.
***
By increasing women's access to land, credit, market information, agricultural inputs, and training, the following Global Washington members are working to ensure greater gender equity in coffee production.
Eastern Washington University professor, Julia Smith, teaches anthropology and researches the high-end coffee market in Costa Rica. In her first encounter with women's work in coffee in the 1990s, Smith observed that women worked harder than men during the coffee harvest. Day after day, they started early in the morning, preparing meals for the family, then picked coffee all day, and finally finished up by washing clothes and collapsing into bed. Today, more women are taking on leadership roles in producing coffee for the specialty coffee market, making decisions about what varieties to grow, how to process it, and how to sell it.
Fair Trade USA is a nonprofit organization and the leading certifier of Fair Trade products in North America. Their rigorous standards around the production of coffee help protect fundamental human rights, ensure safe, healthy working conditions, protect the environment, and deliver additional economic resources to producing communities. In addition to these requirements, Fair Trade also sets minimum prices to protect farmers when the market dips too low, and ensures that producers earn additional Community Development Funds to address their pressing needs. Many groups vote to spend this money on projects that benefit women, like cervical cancer screenings, scholarships, child care centers and microloans for income diversification.
Global Partnerships is an impact-led investor whose mission is to expand opportunity for people living in poverty. The organization invests in social enterprise partners who empower people to earn a living and improve their lives. Over the last 24 years, Global Partnerships has impacted more than 8.9 million lives in 19 countries across Latin America, the Caribbean and sub-Saharan Africa as a result of deploying $287 million in impact-led investments to 118 partners. Some of these partners include agricultural businesses and cooperatives that help smallholder coffee farmers, both women and men, increase their incomes and strengthen their economic well-being.
Landesa is a global organization that champions secure land rights for rural women and men. The majority of the world's poorest people share three traits: they live in rural areas, rely on land for their livelihoods, and do not have secure rights to own, access, or use that land. Women are especially burdened. Although women comprise a large portion of the world's agricultural labor force, women generally have weaker rights to land when compared to their male counterparts. Yet, secure land rights are a key factor in creating an enabling environment that increases women's participation, profit, and benefit in agriculture and food systems. To close this gender gap, Landesa works with governments, civil society, and the private sector to conduct research and develop gender equitable laws and programming to empower women in emerging economies with secure land rights.
Oikocredit US promotes and facilitates the global work of Oikocredit International, a cooperative social investor that maximizes social and environmental impact through targeted investments to serve vulnerable groups. Led by a dedicated agricultural unit, Oikocredit invests across the coffee value chain with 41 partners in 12 countries. Oikocredit supports farmers with capacity building grants, education, and network services. In all investments, Oikocredit seeks to enhance women's participation in leadership and to address women's empowerment at the local level by supporting partners who have dedicated services and programs to address gender equality.
Seattle University was the first Fair Trade University in the Pacific Northwest. As part of the University's journey to garner Fair Trade certification, Seattle University collaborated with the Universidad Centroamericana (UCA) – Managua to develop a new fair trade coffee. In partnership with farmers in the Nicaraguan cooperatives, they developed Café Ambiental, SPC, a student-run social enterprise. Other projects included developing a more sustainable way to treat coffee wastewater, and establishing a scholarship fund for coffee farmers' children. Most recently, they collaborated with a gender-balanced cooperative in Penãs Blancas that promotes greater participation of women and young people.
Starbucks Since 1971, Starbucks Coffee Company has been committed to ethically sourcing and roasting high-quality arabica coffee. Today, with more than 27,000 stores globally, Starbucks is the premier roaster and retailer of specialty coffee in the world. In March, the Starbucks Foundation announced a partnership strategy to empower at least 250,000 women and families in coffee, tea and cocoa growing communities by 2025, including a new global partnership with the Malala Fund to promote girls' education and expand leadership opportunities for young women in India and Latin America. The partnership adds to Starbucks' ongoing social investments worldwide with organizations like Mercy Corps, Eastern Congo Initiative, and Heifer International.
Thriive's mission is building shared prosperity in vulnerable, global communities. The organization makes pay-it-forward loans of up to $10,000 to ambitious small business entrepreneurs to grow their businesses and create desperately needed jobs. Unlike a bank or microfinance loan, ThriiveCapital loans are not repaid in cash, but by business donations of an equivalent value of job training, income-enhancing products, or basic necessities to disadvantaged community members. Thriive supports many different types of businesses, including coffee growers, roasters, and retailers in Nicaragua, Guatemala, Kenya, Cambodia, and Vietnam.
Woodland Park Zoo  Since 1996, Woodland Park Zoo's Tree Kangaroo Conservation Program (TKCP) has worked with the communities of Yopno-Uruwa-Som (YUS) to protect the endangered tree kangaroo and its rain forest habitat in Papua New Guinea. In 2009, TKCP partnered with the indigenous YUS landowners and their families to help address economic challenges. In collaboration with Woodland Park Zoo and Seattle-based coffee roaster Caffe Vita, the people of YUS have sold more than 75 tons of their shade-grown YUS Conservation Coffee directly to the international market. Coffee farming in YUS is a family affair, with both men and women playing important roles in its production. TKCP strives to promote gender equity by engaging women in technical trainings, management decision-making, and access to household income.
Erika Koss is a PhD candidate in International Development Studies at Saint Mary's University in Halifax, Nova Scotia, where her research examines the geopolitics of coffee's supply chain of coffee with a focus on gender justice and climate change.