ACTION ALERT: Aid Organizations Respond to Haiti Earthquake August 14, 2021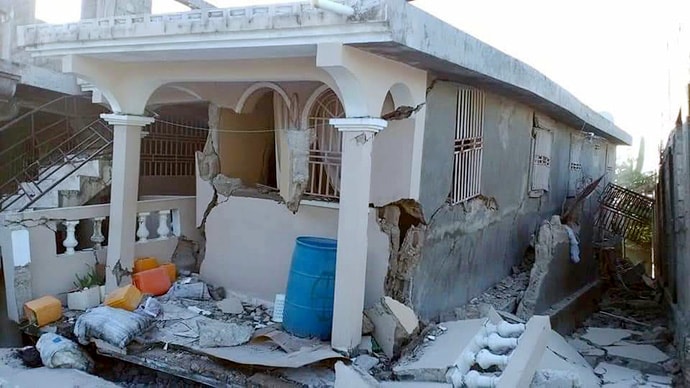 A magnitude 7.2 earthquake struck southwestern Haiti on Saturday morning, August 14. The quake was felt in the nation's capital, Port-au-Prince, but the epicenter was detected about 80 miles west near Saint-Louis-du-Sud.
Serious damage, injuries and casualties have been reported in the Grand'Anse, Sud and Nippes departments, affecting an estimated 1.2 million people, including 540,000 children. At least 1,900 have died and more than 9,500 were injured, according to ABC News. Many are still missing. Thousands of houses and public buildings have been partially or completely destroyed, including hospitals, schools and churches.
Global Washington Members responding:
Amazon: Amazon donates tens of thousands of emergency supplies to aid Haiti. To initially support relief efforts on the ground, Amazon's disaster relief and response team has donated more than 35,000 emergency items such as shelter equipment (including tarps, tents, sleeping bags, hammers, utility gloves, ladders, and more), collapsible water containers, cleanup supplies, and medical equipment. Amazon will donate more relief supplies as community partners assess needs and request additional support. Read more about these efforts.
Americares: Haiti is suffering multiple crises: political turmoil and the COVID-19 pandemic while still recovering from the devastating 2010 earthquake and Hurricane Matthew (2016). Despite the challenges of responding in Haiti right now, our local staff have been able to provide rapid relief to the affected region due to strong relationships, fostered over many years, with local health centers and community leaders. Americares provides regular support to 29 health facilities in Haiti, including being the only health-focused organization to support the sole health facility for 50,000 people in one earthquake-affected area.
Americares relief workers in Haiti traveled to a remote area yesterday to bring emergency medical and relief supplies and determine additional needs. Americares was the first and only NGO to intervene and assist people in the arrondissement.
9 tons of intravenous fluids are enroute to Les Cayes.
9 tons of medicine, medical supplies, surgical and wound care products, PPE and hygiene products are being prepared for shipment.
Additional shipments to supply health workers treating the injured with antibiotics, orthopedic supplies and other urgently needed items are being prepared.
Read more about our response to the Haiti Earthquake.
buildOn: Immediately after the earthquake our team began assisting family and neighbors in and around the Les Cayes region. They have all been affected by this horrific earthquake and are doing everything possible to provide relief for those in need. While buildOn is not an emergency response or disaster relief organization, our team is working closely with our partners in Haiti to support their efforts.
CARE: CARE is among the first organizations to conduct needs assessments in Grande Anse, building on our on ongoing recovery and development programs. CARE staff are all accounted for, and our emergency response team is coordinating an initial rapid assessment of damages and community needs. The most urgent needs are for tents and other shelter, food, water, hygiene kits, cash and voucher assistance, and safe spaces for women and girls. CARE staff are continuing to assess the developing crisis, while moving much-needed supplies from Port au Prince to Jeremie.
CONCERN WORLDWIDE: Concern has worked in Haiti since 1994, and has responded to several natural disasters in the country in that time. Our response will be in coordination with our Alliance2015 partners on the ground, and is likely to focus primarily on Water, Sanitation, and Hygiene (WASH) support, as well as distributing non-food items and cash transfers.
"Teams are on the ground assessing the immediate needs of local communities and Concern is ready to respond where needed," says Kladstrup. "We have supplies and vital materials such as plastic sheeting, blankets, soap, and cooking utensils, which are ready to be transported to wherever they are needed."
Heifer International: Heifer International works with vulnerable communities in disaster-prone areas. We help at-risk communities prepare for and mitigate the potential impact of disasters. While not a disaster relief agency, in the event of a major disaster that exceeds a project community's capacity to respond, Heifer partners with relief and recovery agencies and first responders on the ground to support the efforts in communities where we work, with a focus on livestock and agricultural systems rehabilitation. Our role is to provide short-term provisional support — food, water and transportation — with an emphasis on helping Heifer project participants.
International Rescue Committee: IRC is continuing to assess the situation in Haiti to determine the most impactful aid efforts. In response to the 2010 Port-au-Prince earthquake, the IRC immediately responded by providing clean water and sanitation, critical to preventing disease. They also deployed experts who addressed the special needs of traumatized children and women and started economic recovery programs.
Medical Teams International: Thousands are in need now, and we are working with partners to help provide life-saving care. Following assessments, we will be providing food, water and hygiene kits to people affected by the earthquake, especially those in need of health care.
Mercy Corps: Mercy Corps teams are already on the ground where help is most needed. In Haiti alone, there are 70 dedicated team members, ready to work when disaster strikes. Mercy Corps' Haiti team is working quickly to understand the extent of damage and emerging needs following the magnitude 7.2 earthquake that struck Haiti on Saturday August 14th. The organization has a team of 19 based in Nippes, near the epicenter of the earthquake, and will be sending additional staff from Port-au-Prince to Nippes.
Save the Children: Save the Children has worked in Haiti since 1978, providing nutrition, early learning and water and sanitation programs. We have the staff and experience to respond quickly to the country's frequent natural disasters – which included Hurricane Matthew striking the same region in 2016. We mobilized and sustained a large-scale response after the massive earthquake in 2010. To learn more about our work, visit www.savethechildren.org/Haiti.
Save the Children is rushing lifesaving relief to children and families in southwest Haiti. We are delivering tarps for temporary shelters, hygiene supplies and containers for storing safe drinking water from our pre-positioned stock of supplies and have more supplies on the way.
As our response scales up, we will support children's and families' needs for health and nutrition services and psychological assistance to help them manage the emotional toll of the disaster. We will protect children from harm through child-friendly spaces and quickly restore access to education, both of which are vital in their recovery and wellbeing. We will also use our global expertise in delivering cash assistance to help the hardest hit families. Our initial goal is to reach 350,550 people in the department of Sud.
SIGN Fracture Care International: SIGN Surgeons are already treating patients injured in the 7.2 magnitude earthquake that struck near Port-au-Prince Haiti on August 14, and have active orthopedic programs in multiple hospitals in Haiti.
Tearfund: Tearfund is working with their local partners to do rapid assessments and provide immediate emergency assistance to families who are affected.
UNICEF USA: UNICEF is working with government and non-government partners to provide support to affected communities. "UNICEF medical kits to support 30,000 people have already been delivered to Les Cayes with additional health, water and sanitation supplies on the way. We will continue to prioritize the resumption of essential services — including water and sanitation, health, nutrition and shelter — for the affected population." – UNICEF Executive Director Henrietta Fore
Water Mission: Water Mission is responding to a devastating 7.2-magnitude earthquake that struck Haiti, toppling buildings and causing casualties. Our team is working to provide solutions to ensure safe water is accessible for the people affected.
World Concern: We are coordinating with our partners to provide emergency shelter kits and other essential items such as plastic sheeting, blankets, soap and cooking utensils to families who have been displaced. We are also planning to provide water, hygiene and sanitation supports as well as emergency cash transfers.