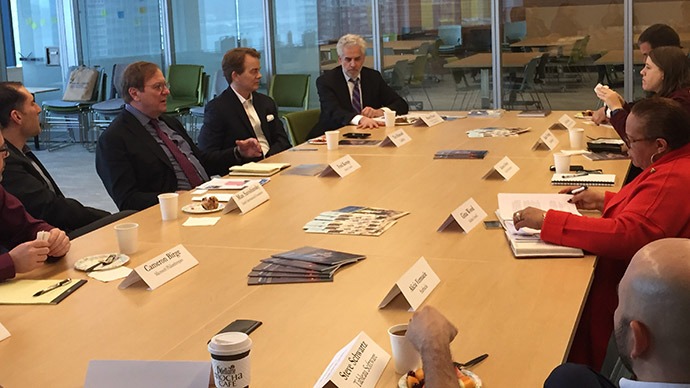 As clouds and drizzle obscured a normally breathtaking view of the Puget Sound, philanthropic and business leaders joined Global Washington for a rare inside look at the current Administration and how geopolitical circumstances are impacting decision-making in the halls of power.
The role of the United States in the world is shifting rapidly, and the future of global trade and diplomacy is uncertain. A key question for those assembled was how the United States can continue to lead in meeting these global challenges.
The Atlantic Council's recent report, Global Risks 2035: The Search for a New Normal, served as a guide for the wide-ranging discussion, led by Fred Kempe, president and CEO of the Atlantic Council. Kempe called out three takeaways from the report:
The threat of conflict between major powers is back
Western democracies are fraying
The global order is breaking down
Major powers increasingly are less restrained by shared economic interests and international security, and they have become more willing to risk these in defense of their own political, geopolitical and ideological ambitions. For example, in a recent Atlantic Council report, Breaking Aleppo, investigators cast doubt on Russia's claims of having exercised restraint in civilian areas.
While the darkness of the discussion matched the gloomy weather, neither the participants nor Kempe was altogether discouraged. "The Trump administration is passionate about helping the American worker," said Kempe.
Still, the orientation of the administration against global engagement has begun to take a toll. Anecdotally, one participant noted that at least four major foreign direct investment deals in Washington state recently fell apart due to a growing climate of fear and uncertainty. Nevertheless, Governor Inslee has remained proactive in communicating that the state is "open for business."