By Dr. Greg Allgood, Vice President, World Vision Water
What could be more fun that playing with a Muppet! I'm in Zambia to see our latest work with Sesame Street and enjoying my time playing with the kids and a new Muppet named Raya.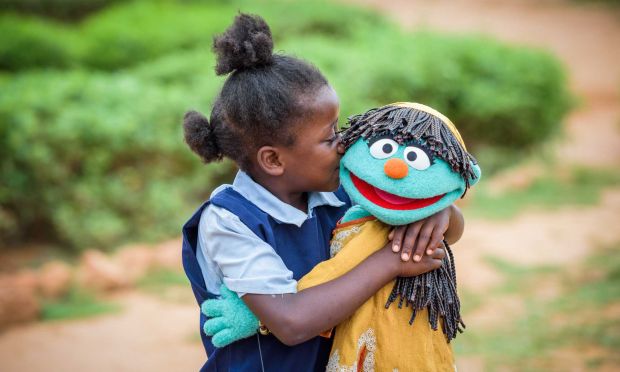 Sesame Street is the largest informal educator of children in the world and has characters that help address important social causes including HIV and obesity. One of the newest Muppets created specifically to address this crisis is called Raya. She's a 6 year old green girl that knows a lot about clean water, sanitation, and hygiene. What a coincidence that she was born on World Water Day!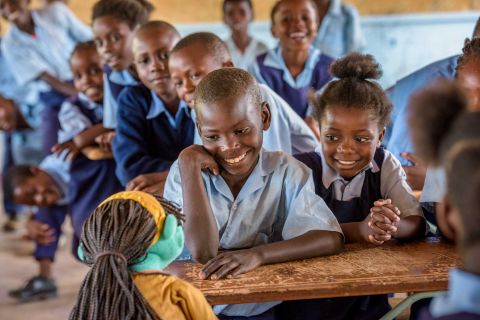 At World Vision, we've known for a long time that children can be powerful agents of positive change in communities and because of this, a critical part of our water, sanitation, and hygiene (WASH) programs in the developing world includes outreach to schools. In fact, we reach an amazing 4 new schools every day with clean water, sanitation, and hygiene.
Sesame Street and World Vision have partnered so that we can leverage each other's strengths to help end the global water, sanitation, and hygiene crisis.  We're thrilled that Raya is getting some help from her friend Elmo. Nothing like bringing a furry superstar to the global water crisis.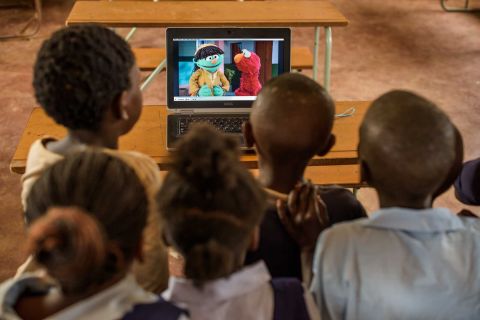 We've learned that children can not only receive important messages about healthy habits but they can also deliver these messages effectively to their brothers, sisters, and parents. By doing this, they can dramatically change the health of a community. And, importantly, kids respond best when they're having fun while they learn.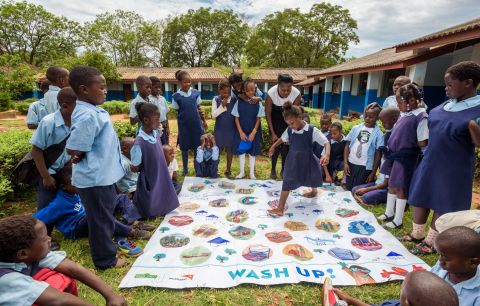 I'm visiting Chalimbana Primary School with Raya. A 9 year old girl named Ngonga and her teacher Mrs. Susan Chilimboyi show me how this program works. The educational activities are focused on after school WASH clubs. The curriculum has been developed using the expertise of both Sesame Street and World Vision. By working with Zambian educational experts we've adapted it to the local context.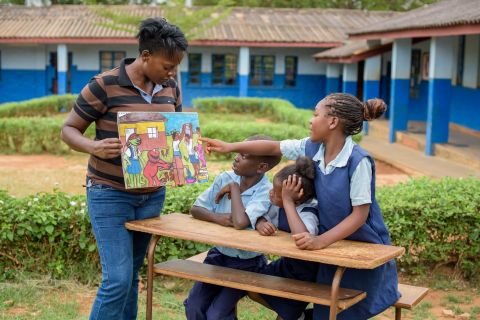 Everything we've developed together is part of a WASH-Up kit that we can provide to a school for $100 per kit. It includes two floor mats that include games to teach the proper behaviors. Ngonga shows us how to play slide and ladder on the mat and she clearly loves it. Susan shows us how the flip chart is used to teach the children. It's simple to use and an engaging teaching aid that makes it easy for the teachers since they can read the back of the flip chart while showing the kids a fun picture. The kit also includes videos featuring Raya and Elmo that the children can watch using low cost projectors called Pico-Projector or shown on laptops for smaller groups.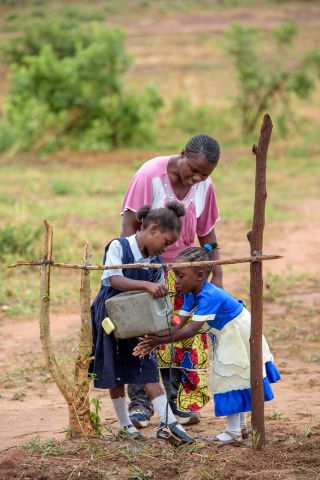 Ngonga takes us to her home to meet her parents, Justin and Matilda, and her little sister Chishala.  Raya has taught Ngonga important healthy habits including to always wear her sandals when going to the latrine, to wash her hands afterwards, and to drink clean water. She's also learned how the family can make a simple hand washing station called a "Tippy Tap" that is placed near the latrine to ensure that everyone washes their hands.
Handwashing and using a latrine are some of the most important ways to reduce diarrheal illness. They're just as important as providing clean water and absolutely critical since 1,000 children die every day from diseases caused by unclean water, poor sanitation, and hygiene. Recent monitoring efforts by the University of North Carolina (UNC) Water Institute has shown that most schools and even health clinics in the developing world do not have adequate hand washing and latrines. So, this work with Raya and Sesame Street can literally be a life-saver.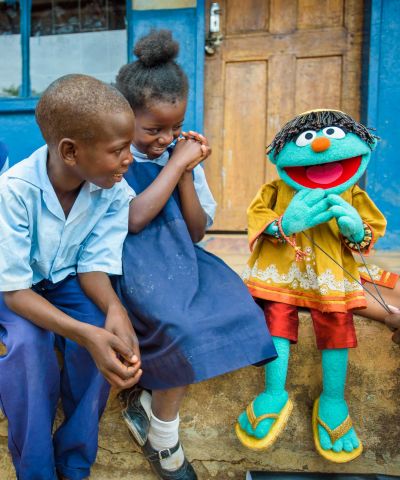 But luckily, Ngonga doesn't need to know these heavy statistics in order to help herself and her family. She's having a great time following the example set by Raya. It's clear that she's having fun and she gives Raya a big hug and a kiss before we leave.
We've developed and tested this program in 25 schools in Zambia. Based on what we've learned, we're now refining the kit and will roll it out to another 75 schools where we'll learn and improve it again. Our longer term goal is to continue to expand this effort in all of the schools where it's needed. We're going to have a lot of fun!
For more information:
For more on our WASH UP! Initiative