The municipality of Patzun in the Chimaltenango district of Guatemala is not unique. Like other regions of Guatemala it's a highly patriarchal society and gender inequality is entrenched in the culture. The United Nations estimates close to 45% of Guatemala women are victims of gender- based violence and it's even higher among rural indigenous women due to social isolation and limited access to resources.

A third year Pangea Grantee, Women's Justice Initiative (WJI) was established in 2011 to address gender inequality and high levels of gender-based violence in communities surrounding Patzun. WJI's 3 main programs are women's rights education, free legal services and community advocacy. Since the program started more than 500 women from 15 different towns have participated in the Women's Rights Education Program (WREP). The program meets with groups of 15-20 women and provides 50 hours of training over a 6-month period on human rights and personal skills, including sexual and reproductive rights, domestic violence prevention and understanding gender norms. Pangea grants in 2013, 2014 and 2015 provide general operating support for all three programs.
So what makes WJI different than other NGOs?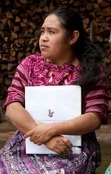 All classes are taught in Kaqchikel, the indigenous language, to ensure access for all community members. Staff (trainers, facilitators and lawyers) are Kaqchikel and trainings are designed using culturally appropriate and sensitive examples and approaches.
WJI engages community leaders, including Mayors and Town Councilmen, from the start of the planning all the way through to implementation of the programs. WJI's programs are comprehensive.
The Community Advocate Program trains select WREP graduates to be leaders, women's rights educators and mentors to their peers. The Legal Services program provides free legal services to women in their communities.
WJI is continuously evaluating and adjusting their programs when challenges arise…
Irma: "If we had learned this earlier, we would have talked to our spouses and children earlier. I have ten children and I am only 35 years old. This happened because I didn't know any different. If I had received the workshops at thebeginning of my marriage I would have only had two children. The good thing is that I am teaching my daughter, Priscilla, so that she knows her rights and can make good decisions about her own life."
Elvira: "There are husbands who help us so that we can continue studying and learning through WJI's workshops. In my case, my husband supports me and tells me to participate in the training because I am learning new things. He also wants to learn about the classes, and when I get home from the workshop, I share with him what I learned and he is very supportive."