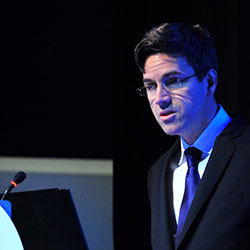 Trust matters, and when it breaks down, bad things happen. This plays out on many levels. We trust that police will protect, not harm, citizens. We trust our elected officials will act in our best interests. We trust that a coach will make the right call to lead our team to victory.
Trust is also critical in the world of philanthropy, especially when giving to causes and communities that are half a world away. Donors often cannot see the results of these investments firsthand, and the work happens in places that can be rife with corruption and political instability, where poverty is entrenched and its causes are complicated.
The world of global do-gooders is littered with high-profile flops, which further strains trust. Just last year, both Invisible Children, which created the wildly popular viral Kony 2012 video, and the Somaly Mam Foundation, named after the much-lauded campaigner against international sex trafficking, announced the end or radical downscaling of operations. These announcements followed very public criticisms of their claims and impact, and dramatic funding backlashes.
So who can you trust? For donors giving money to international causes, whether it's $5 or $5 million, the question is critical.
We at Seattle International Foundation (SIF) grapple with this question every day, working tirelessly to answer it for donors who entrust us with their resources. Here are tips that every donor should consider when contributing to global causes:
Act local and global. You can give where you live and make a difference globally. Seattle is home to dozens of great nonprofits focused on combatting poverty and injustice in Africa, Asia, Latin America, and the Middle East. Donating to organizations based here allows you to support our local economy, bolster Seattle's reputation as a leader in international development and health, and build relationships with groups that are both down the street and across the world.
Follow your interest. Donors must figure out which issues they care about, and how those play into the larger efforts to combat poverty and advance justice. Are you passionate about empowering girls in South Asia to go to school? Or helping villages in sub-Saharan Africa gain access to healthcare? Or boosting the efforts of struggling entrepreneurs in Latin America? There are great organizations working on all of these issues; donors should reflect and focus.
Do your homework. To help people connect with worthy local groups, SIF has teamed up with The Seattle Foundation to launch the 2015 Global Philanthropy Guide. This guide features the work of high-impact nonprofits based in Washington State that work internationally to reduce poverty and improve lives. We carefully select the nonprofits featured in the Guide by examining their mission, leadership, and impact.
As Seattleites determine giving priorities for the coming year, we encourage you to donate strategically and generously to local organizations that work across the globe. Fighting global poverty can start with you, right here in Seattle. That's advice you can trust.
Mauricio Vivero is the founding CEO of Seattle International Foundation.