Akhtar Badshah was presented the 2014 Global Hero Award by Global Washington founder Bill Clapp at GlobalWA's 6th Annual Conference on December 3, 2014. Below is a full transcript of Akhtar's acceptance speech.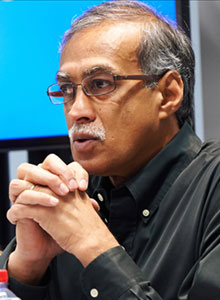 Thank you very much for this recognition. I am very grateful for being called the Global Washington Hero – but I am no hero. I want to thank both Paula and Bill Clapp for their lifetime work in creating institutions that have had both direct impact and have also become centers of innovation that are being emulated by others.
I have been very fortunate to have been given the opportunity to work in the space of global development for the last 30 years – whether it has been in the early part of my career looking at cities, informal settlements, housing for the poor, and urban revitalization, which I reflected upon in my book Our Urban Future – New Paradigms for Equity and Sustainability; or when I started a social enterprise, and later heading Microsoft's philanthropic programs.
Equity and sustainability are still what drives me. Yes, they have become overused words and at times lost their meaning. But, to me, they are still important and are two sides of the same coin. They go hand in hand. You cannot have equity without sustainability, and vice versa.
We are going through enormous changes in society and many of them have been driven by access to and development of technology, especially information technology. These changes are disruptive and are leading to an increasing gap between how we invest in social causes and the phenomenon of social action, which has to a large extent been driven by a few individuals and is at best unorganized with no central figure.
Our current systems have evolved over 250 years through laws, regulations, tools and practices, and our world of philanthropy has thrived within this context. Yes, our practices have evolved. But, to a large extent, we have worked within this system.
However, we are now entering a new era that the Institute for the Future (IFTF) calls the "second curve" where one or few individuals can attempt to create change on a scale that was previously inconceivable, or that only a large organization or entity could undertake. There are many examples of the second curve such as the Ice Bucket Challenge, Protests in Hong Kong, and the Maghreb revolution. Tunisia, Egypt, Libya, even ISIS – many of them have had great initial success, but are either hard to replicate, as in the case of the Ice Bucket Challenge, or moving from mass demonstration to stable changed governance system as in the case of Egypt, Libya and Tunisia.
For the future of philanthropy to continue to create social impact, we will have to resolve the large gap between organized philanthropy as we know it and the second curve philanthropy of social action. This is very important as the amount of money that will flow into second curve philanthropy will increase substantially in the first half of the 21st century. Also, there is an increased number of young people who believe a killer app will solve poverty issues. How we resolve this gap is crucial for the success of the field of catalytic/social impact.
The Nobel Prize committee recognized this gap astutely (I think) in awarding their joint Nobel Peace Prize to Kailash Satyarthi and Malala Yousafzai "for their struggle against the suppression of children and young people and for the right of all children to education." Theirs is a struggle for equity and sustainability. But it's also a bridge between organized approaches to social change and an individual using her unique power to mobilize a much larger community addressing the rights of girls to have access to education.
My work now through the Catalytic Innovators Group consists of thinking through and practicing how to support those who are the new investors in catalytic innovation to effectively partner with policy makers and development experts so innovations can scale and have accelerated impact. The opportunity is to build bridges between the first and second curve and develop leaders who can work at the intersection of innovation, policy and markets.
For the real heroes who give their lives on a daily basis to achieve equity and sustainability, this gap is very worrisome. We, all of us in this community, need to rise up and work together so we can better address this gap and build the bridges so that the real heroes can be more effective in the work they do. We must accelerate the pace of social change.
I accept this honor on behalf of all of the real heroes out there. Thank you very much.