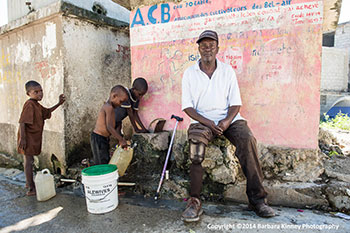 January 12 marked five years since a magnitude-7.0 earthquake devastated Haiti. NGOs that work in Haiti used the anniversary as an opportunity to reflect on the disaster. While various organizations issued statements vowing to continue helping the Haitian people, many news outlets released grim reports regarding the island-nation's recovery efforts.
In the media, Haiti has become a country defined by numbers. The earthquake killed an estimated 230,000-316,000 people, displaced an additional 1.5 million, and caused economic damage equivalent to 120% of the country's GDP. Even more bleak figures were published on the five-year anniversary, including the reminder that an estimated 85,000 people still live in displacement camps.
Many reports focused on the distribution and outcomes of foreign aid money. Less than 10% of total spending for relief and recovery after the earthquake went through Haitian government agencies. In 2013, the Washington D.C.-based Centre for Economic and Policy Research estimated that just 0.7% of more than $2 billion earthquake relief by the United States Agency for International Development (USAID) has gone to Haitian institutions. The result is a slow recovery as Haiti's fragile institutions struggle to become self-sufficient while aid money continues to diminish.
Numbers, however, can't portray all of the work that been done in the past five years by organizations such as Mobility Outreach International (MOi), a Seattle-based Global Washington member. Ernest M. Burgess, M.D. founded MOi in 1989 to help bring modern prosthetic services to amputees in the developing world. MOi has been in Haiti since 2011. Over 4,000 Haitians have had amputations as a result of the earthquake, and MOi is constantly striving to reach as many patients as possible. A lack of mobility places an extra burden on amputees who, like their countrymen, want to care for their families and reestablish their livelihoods. By restoring their ability to walk, amputees fitted with a prosthesis have greater freedom to do what is necessary to rebuild their lives.
As of today, MOi technicians and other volunteers have provided more than 400 Haitians with orthopedic and rehabilitation services. In 2011, MOi partnered with Justinian University Hospital (JUH), the largest hospital in northern Haiti, to support the operations of a prosthetics and orthotics workshop at the hospital. The first patient, a farmer named Jean Francilo, was fitted with a custom-made prosthesis in January 2012. For the first time in seven years, Francilo could walk without crutches and work more efficiently to better support his family.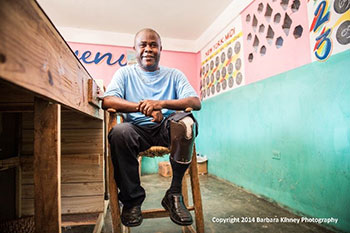 MOi's ultimate goal is to establish a sustainable prosthetics workforce in northern Haiti. The JUH clinic officially opened on March 14, 2012. Since then, MOi has continued to provide the clinic with support and equipment. Mahamadou Soulé, a certified prosthetist from Togo, was chosen in 2012 to provide services to amputees as well as skills training. In addition to Soulé's appointment, two Haitians were selected to receive education and training as prosthetic technicians. By training Haitian technicians, MOi is laying the groundwork for the clinic to operate without dependence on foreign assistance.
By pointing out how much work remains in Haiti, many argue that throwing money at a disaster won't lead to lasting results. Despite the reports of Haiti's slow recovery there are still victories to celebrate. MOi has given hundreds of patients the chance to support their families and work for their communities, the positive effects of which don't neatly translate into numbers. By providing supplies and training technicians, the organization has made a long-term investment in the JUH clinic. MOi's prosthetics program is a model of balancing immediate assistance with establishing long-term programs that can endure the limitations of foreign aid.
While statistics can easily become overwhelming, they can also provide motivation to closely examine the future of foreign aid in Haiti. As the global development community reflects on Haiti and the five-year anniversary of the earthquake, perhaps we should reflect on programs like MOi's. There are projects in Haiti that are working. We should look to those for inspiration for how to continue helping Haitians develop a bright, self-sustaining future.