Ghana is a nation that has always produced some of the world's most essential national resources, from gold to cocoa. However, when the country discovered 3 billion barrels of sweet crude oil beneath its soil in 2007, it drastically changed the country's standing in the global economy. With expected revenues averaging $1 billion per year, the question on everyone's mind was how the country would choose to spend this revenue windfall.
On Sept. 22, Oxfam America, Global Washington and Seattle University's Poverty Education Center hosted a panel discussion about Ghana's Oil for Food Initiative. This initiative focuses on directing oil revenue towards the promotion of sustainable and inclusive development through agriculture modernization.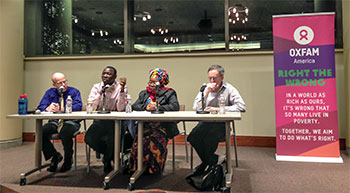 Panelists included Dr. Mohammed Amin Adam, Executive Director of the Africa Center for Energy Policy; Victoria Adongo, Program Coordinator for the Peasant Farmers Association of Ghana; and Ian Gary, Oxfam's Senior Policy Manager for Extractive Industries. The discussion was moderated by Dr. Benjamin Curtis, PhD, Assistant Professor and Director of Seattle University's Poverty Education Center, and opening remarks were given by Congressman Adam Smith (D-WA 9th District).
Smith spoke about the desire for more people to get actively involved in tackling the issue of global poverty. He highlighted the cruel irony faced by so many nations endowed with natural resources: that with such an abundance of capital, they face the largest amounts of inequity because profits fall into the hands of only a few.
Adam echoed Smith's sentiments and explained Ghana's desire to avoid the distributive mistakes made by so many other resource-rich nations. However, when asking a country of over 24 million people where to invest its oil money, the government was confronted with hundreds of differing opinions, he said.
When looking at ways to promote economic growth and development while simultaneously decreasing inequality, Adam and his colleagues discovered that investing in agriculture would yield the highest returns and have the largest redistributive effects for the country.
"We recognize the relevance of agriculture to our development," said Adam. "More than 60 percent of our population is involved in agriculture. More than 70 percent are in rural areas. We want to invest in areas that have direct impact on the people."
Though oil has become an indispensable resource for Ghana, agriculture remains the largest sector of the Ghanaian economy. Adongo works primarily with rural, small-scale farmers who own less than two acres of land, and she described how these farmers are integral to the nation's economy by providing 80 percent of the country's domestic food. However, today almost 70 percent of these farmers live in poverty and most of the country remains food insecure, she said.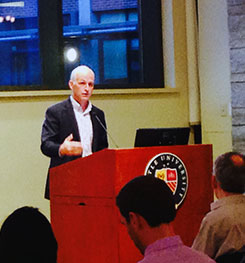 Oxfam has been working on issues surrounding oil and other extractive industries since the 1990s, and they emphasize the "right to know" and "right to decide" within the communities they work. With Oxfam's help, Adongo was able to mobilize smallholder farmers around the Oil for Food Initiative. By understanding the importance of good governance and advocacy, these farmers were able to become political agents for their community.
"We made specific demands for areas where the government has to help and support small-scale farmers in order to increase food security," said Adongo. Through petitions, signatures and thumbprints, the initiative was successfully passed and led Ghana to direct 15 percent of its oil revenues to agriculture in its 2014 budget.
Unfortunately, it takes more than passing an initiative to ensure equitable distribution of resources. Adam discussed the need for accountability and follow through in order to prevent corruption and misuse of funds. Such efforts have included a "value for money audit" that assesses the impact of projects funded by oil revenue.
Both Adam and Gary also stressed the important role that the U.S. plays in increasing transparency in the oil industry. Through movements such as the passing of Section 1504 of the Dodd-Frank Act, companies must publicly report how much they pay for oil, gas and minerals. These efforts have increased the ability for civil society in Ghana to understand and advocate for the allocation of oil revenue.
From Washington state residents calling their elected officials, to smallholder Ghanaian farmers thumb printing petitions, it is clear the only way forward is through civil engagement. An active and informed society is what allowed the Oil for Food Initiative to pass, and it is what will pave the way for Ghana to count a sustainable and equitable society among its achievements.