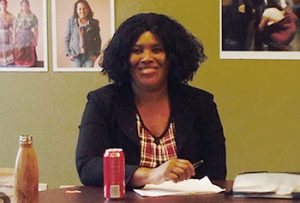 The first ever U.S. – Africa Leaders Summit was held in Washington, D.C. August 4-6. Themed "Investing in the Next Generation," representatives from 49 African countries participated in the event hosted by President Barack Obama. The Summit aimed to strengthen ties between the U.S. and Africa by focusing on trade and investment in the region, as well as highlighting America's support of Africans and the security and development of the continent.
Aze Malawo, a Seattle-based international development consultant who attended the Summit, led Global Washington's September Executive Director Roundtable where she recapped the event and spoke about the road ahead.Malawo, originally from Zambia, focuses her work on socio-economic development and provides advisory services to numerous organizations, including the African Union Mission. Malawo was joined at the roundtable by a number of Global Washington members whose work is focused in Africa.
Malawo highlighted new initiatives such as the Young African Leaders Initiative (YALI) and the African Women's Entrepreneurship Program (AWEP), both supported by the U.S. State Department. The need for more African women in leadership and decision-making roles was a focus of the Summit, and a sentiment shared by those at the Global Washington roundtable.
Malawo's primary focus during her D.C. visit was the African Growth and Opportunity Act (AGOA) Forum, which occurred a few days prior to the Summit. AGOA was founded in 2000 as a way to expand U.S.-Sub-Saharan African trade and investment, promote economic development in the region and help Africa emerge as a key player in today's global economy. Malawo met with the AGOA Civil Society Network and was joined by executives from the private sector and nonprofits, including leaders from both the U.S. and Africa.
At the AGOA Forum, participants developed a list of 10 recommendations for the U.S. Congress in lieu of the impending expiration of AGOA's mandate in September 2015. Recommendations included extending AGOA through 2030, promoting greater transparency and accountability within trade and increasing regional integration of products between African nations.
Although AGOA has been successful in the textile and oil industries, there is still much to be done to support smallholder farmers and other small- and medium-scale entrepreneurs, said Malawo. She noted the frustration with being unable to focus on the long-term goals of AGOA because of the uncertainty of its reauthorization. Malawo advocated the need for more participation from civil society in order to increase awareness of AGOA's benefits and to begin a dialogue surrounding the future capacity for growth and progress.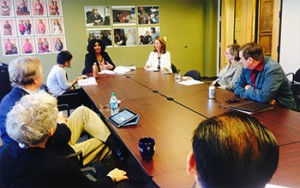 Despite the fact that Rep. Jim McDermott (D-WA) was one of AGOA's original legislative authors, Malawo said Washington state currently has very little representation and hopes that Global Washington members will play a role in what she dubbed "AGOA 2.0."
"There are opportunities for engagement here. The projects many of you are working on have synergies and linkages with what many of our organizations are working on," Malawo told the group. She outlined the need to come together for discussion and debate, and the hope that a local organization can someday act as an anchor for the Pacific Northwest region. She stressed that, while the U.S.-Africa Leaders Summit may lead to future partnerships and initiatives, these events are only as valuable as we make them. "When these opportunities come, let us seize the moment and participate," said Malawo.
Global Washington holds Executive Director Roundtables monthly, and invites leaders of member organizations to share their experiences with one another. Through the series, members have the opportunity to connect with each other and share successes, failures, tips and best practices, so that all members can gain new knowledge and a new way of looking at things. The group will explore a variety of topics throughout the series with the goal of collaborative learning, in turn improving the effectiveness of Global Washington members' work and their collective impact on the world.