Kevin Klingbeil knows data. As managing director of Big Water Consulting, a Global Washington member, he works with a range of clients, from small non-profits to government agencies to tribal groups, to assist them with incorporating meaningful data and visual data mapping into their daily operations.
"Big Water Consulting seeks to provide long-term, capacity-building solutions, rather than one-off projects and quick fixes to systematic problems," said Klingbeil. "We make concerted efforts to respect and embrace each of our clients' organizational and cultural values to ensure the most advantageous and sustainable outcome."
Klingbeil presented about data collection, utilization and presentation at Global Washington's July Executive Director Roundtable. He started the conversation by asking, "How do you measure impact and define success in your organization?" Klingbeil asked this question so that he could get to the "how," because he knows that it's the "how" where many organizations fall short. He cautioned that relying on words or vague phrases like "dramatic improvement" or "meaningful" and "significant" as a means of conveying the reach of an organization could do more harm than good. That is why Klingbeil and his firm advocate for the use of data in an organization's narrative to create an image that is honest and transparent.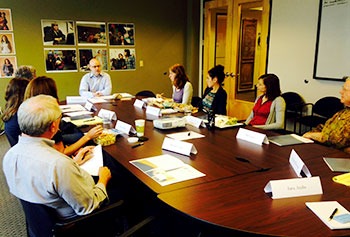 Throughout the course of the conversation, Klingbeil emphasized the importance of data driven results and how multidimensional they are, both internally and externally. He spoke about targeted data in relation to organizational productivity, donor visibility and internal decision-making. Roundtable attendees agreed that the best approach to data implementation is to start small and collect thoughtfully.
Funders' interests were also woven into the data dialogue. Because statistics and figures don't lie and often reveal the various successes and shortcomings of organizations and programs, it is smart to show funders that there is a clear data collection and analysis model set up to evaluate the impact of projects, according to Klingbeil.
A few things Klingbeil and other members of the roundtable discussion said should be considered when executing data collection:
The data must be extensive enough that it can take on many shapes while still representing the achievements of the organization.
Being transparent about methods of collection not only shows strong leadership, but is also beneficial to an organizations' communications and relationship-building.
The data must be appropriate and properly targeted and framed to demonstrate

focus, humility and honesty

.
Audience is everything. Be mindful of who will see data and how it will be shared with various audiences.
Targeted Data: The Implementation Cycle
Big Water Consulting has developed a data implementation cycle that can be replicated and catered to the needs of an organization. This framework includes useful resources and questions to think about.
Identify: Before starting any new data collection, seek out existing data and establish a purpose for collecting it. Ask, "Does what I need already exist within the scope I need? What do I hope to accomplish by collecting this data? How will this contribute to the betterment and sustainability of this organization?" Examples of existing data resources are: Google Public Data, United Nations Data, World Health Organization, World Bank, US Census Bureau.
Collect: Know what kind of data you want and why. Ask, "Why do other sources of data not work here, what methods and mechanisms are available to collect what I need?" For example, the open source and free OpenDataKit tools can simplify mobile data collection.
Analyze: This is the point at which active data collection stops and translation starts. Bring the data to life, run the reports, summarize, create presentations and produce the visuals. Ask, "How will this data be turned into a usable asset? How will it be made approachable for my specific audiences?" (The R Project for Statistical Computing is free software for statistical computing and graphics.)
Present: Be conscious of various audiences and alter data to cater to the specific needs of each group. Ask, "Who will be seeing and using this data?" (Leaflet, Data-Driven-Documents and Tableau are all tools for converting your analyses into visualizations.)
Action: Revisit your initial reason and goals for collecting data. Ask, "What was the impact of the data supposed to be? Does the data collected reflect the initial goals? What does the data not show?" Ensure there is a feedback loop that encourages the evaluation of methods to see what worked and what did not.
Klingbeil and his Big Water Consulting team encourage a thoughtful and humanist approach to data collection. Monitoring and evaluation does not need to be a daunting task, even for small non-profits. It is doable, beneficial and, these days, necessary. With the addition of data, an organization's narrative can really come to life.
Global Washington holds Executive Director Roundtables monthly to invite leaders of member organizations to convene and share experiences and information. Through these roundtable discussions, members have the opportunity to gain new knowledge and perspectives from others in Washington State's global development community.