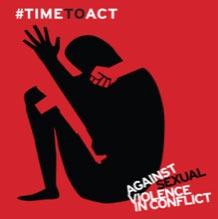 The largest international gathering ever brought together on the subject of ending sexual violence during times of conflict was held June 10-13 in London under the auspices of the United Kingdom's Foreign & Commonwealth Office. About 1,000 participants representing more than 120 countries attended the Global Summit to End Sexual Violence in Conflict.
"Together, we committed to break the taboo around wartime rape and take action to put an end to its use, and to shatter the culture of impunity," according to the summit chair summary. "At the Summit, we united in our determination to tackle sexual violence in conflict, just as previous generations joined forces to put an end to slavery and landmines. This is a matter of our common humanity."
The summit encouraged nations to incorporate a formal international protocol for documenting and investigating sexual violence in conflict into their domestic laws. There was emphasis placed on the education and training of soldiers and peacekeepers to protect civilians during times of conflict. Improving support and protection for survivors of sexual violence and the elimination of cultural taboos were also emphasized in the summit's call to action.
Participants united under the belief that sexual violence is not an inevitable part of war and conflict. International leaders and NGO workers reported on the devastating impact of sexual violence on societies already depressed by war. Survivors came forward to share their stories, personifying the overwhelming physical, psychosocial and economic consequences sexual violence has on individuals.
Women played a key role in shaping the conversation. The summit acknowledged the central role women play in bringing this issue to the forefront of local and international agendas, as well as the need for more women in senior positions within the United Nations and other international organizations.
On the final day of the summit, U.S. Secretary of State John Kerry spoke about the importance of accountability in ending the cycle of violence. He emphasized the critical role governments need to play in ending sexual violence in conflict and cited previous efforts as examples of the public's ability to change the course of humankind's actions. Kerry affirmed America's commitment to ending sexual violence and vowed to hold accountable those who commit acts of sexual violence as well as those who condone it.
Over 120 countries have endorsed the UN Declaration of Commitment to End Sexual Violence in Conflict, which seeks to strengthen the UN's efforts to address sexual violence in conflict, provide more comprehensive health and psychological care to survivors and support the adaptation of the International Protocol on the Documentation and Investigation of Sexual Violence in Conflict.