Welcome to the April 2012 issue of the Global Washington newsletter. If you would like to contact us directly, please email us.

IN THIS ISSUE
Note from our Executive Director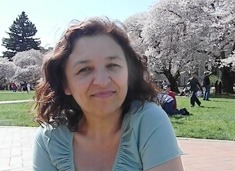 Greetings,
We are keeping busy at Global Washington with many exciting events coming up this spring!
The second talk in our GlobalWA // Gather series is called Radical Optimism: Can we end the majority of our global dilemmas by 2035? This special collaboration between GlobalWA, the Seattle Symphony, and Benaroya Hall will take place on April 25th at Benaroya. Our featured speaker is Peter Diamandis, author of the acclaimed book Abundance. The book, subtitled "the future is better than you think," is an optimistic look at our global future—an important perspective for those of us who are focused on and perhaps weighed down by the problems facing humanity.  This event will also feature special guest, Mark Roth, of the Fred Hutchinson Cancer Research Center, who is currently studying suspended animation. Both of these gentlemen have inspiring TED talks that I would encourage you to check out before attending this event!
We are also excited for the opportunity to host an event on May 3th at the brand-new Bill & Melinda Gates Foundation Visitor Center!  This event is free and will feature Ayuba Gufwan, co-founder of Wheelchairs for Nigeria, an organization that has donated over 5000 wheelchairs to Nigeria's polio survivors. His talk will be preceded by an opportunity to explore the exhibits at the visitor center.
We are also excited to release our 2011 Annual Report! If you are interested in learning more about Global Washington's mission and activities, this is a good place to start. The work of our members is an essential part of what we do and so this report also highlights numerous member projects and stories. You can download the report here or email us to request a physical copy.
We appreciate your engagement and hope to see you soon at a GlobalWA event!
In unity,

Bookda Gheisar, Executive Director
Changemaker: Michael A. Bumstead
Nutritional self-sufficiency — a foundation for healthy families
By Megan Boucher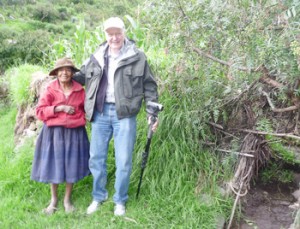 "You fall in love with these people," says Michael A. Bumstead, president of the Institute for Self-Reliant Agriculture (TISRA). He points out some of the people he is referring to in the organization's new informational video: children playing and families smiling and waving into the camera.  He shows me the picture on TISRA's informational booklet: a blanket filled with brightly-colored fruits and vegetables—tomatoes, corn, potatoes, and bananas. TISRA helps rural farmers achieve nutritional self-sufficiency; the families in the film are now growing enough food to meet their families' nutritional needs. "I get emotional because I know these people," comments Mike as the video shows an Ecuadorian couple with two young children. "Remind me to tell you a story about that family."
The story starts in 2006 when Mike first met the Yambella family in Ecuador, back when he was a donor to the Benson Institute, TISRA's parent organization. The family was immediately given food for the two young children, whom Mike describes as so malnourished "they were basically on their deathbed. They were checking out."  18 months after entering the program, the Yambellas were sustainably growing all that they needed.
Mike began his career as a machinist in the aerospace industry, working for a machine shop that his father started in their back yard. The shop grew exponentially over the next 20 years, becoming a supplier to Boeing in the 1980s and growing to include nearly 150 employees. Mike and his brother sold the business in 1998 when Mike wanted to focus his energy on something more personal.
He began funding nutritional programs through the Benson Institute, TISRA's predecessor. He donated until 2009, when the university associated with Benson closed its agriculture department. Mike couldn't bear to see such a transformational program go away. "I basically took that whole culture, organized it, and saved it before it disappeared," he says of his newly-formed a 501(c)3 organization. The Benson directors are now on TISRA's board of directors and key employees were very happy to retain their jobs. Mike doesn't take credit for the effectiveness of TISRA's model, but he did take it to the next level—moving beyond the lab/experiment setting of a university program to a rapidly-expanding organization.
Mike describes a later visit to the Yambellas that showed him the results of this life-changing model. The children's mother took him into a storage room and showed him barrels filled with beans, grains, and other stored food.  "Before, we didn't know what we were going to eat. Now we have a different problem," she told Mike, laughing, but with tears in her eyes. "Now we have to figure out what we're going to eat—what choices we have!" The Yambellas graduated from the program years ago, but Mike still stops by to see how they're doing. The children are playful with lots of energy. The family has even started an embroidery business.
The Yambellas represent an ideal success story for TISRA's nutritional program. The TISRA model addresses the chronic malnutrition faced by rural farmers, who work tirelessly to grow their crops but are unable to sell them for enough money to sufficiently feed their families.  "Growing a single crop, small farms just can't compete against large agribusinesses," Mike explains.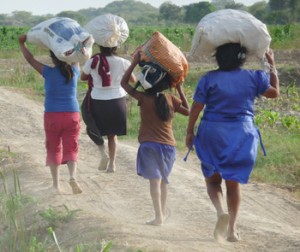 TISRA's program helps farmers create multi-crop endeavors to generate sufficient food. The Institute employs an agronomist, a human nutritionist, and an animal scientist to comprehensively address each family's nutritional requirements. The nutritionist and agronomist select food and crops based on the family's needs and what will grow in the area. They then teach growing techniques that include small rotational gardens for vegetables, field crops for calories, and additional foliage to feed small animals. They combine the crops with affordable technology and instruction on health and hygiene issues.  Once the farm is established, TISRA also helps the family raise small animals to augment their diet and to sell for additional income.
TISRA's anecdotal data suggests that the dollar value of the food they are eating with the rotational model is 5 to 7 times greater than what they were previously generating — a substantial increase in wealth. This results in less disease and health problems for the families. Children are able to better attend and succeed in school. Family resources are freed up for new commercial ventures, such as the embroidery business that the Yambellas started. "Those type of things develop on their own," says Mike. TISRA stays mission-focused on nutritional self-sufficiency but enjoys working with partners to continue families' development at the next level.
"It's important to grow the people as much as a better yield of crops," Mike emphasizes. "Ownership is absolutely critical." TISRA only works with families that want the program and never gives handouts. Anything TISRA gives is repaid once the families are self-sufficient.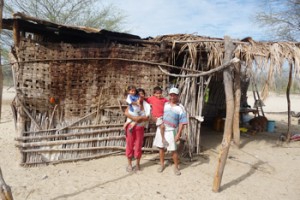 In only a year-and-half of existence, the organization has impacted hundreds of families in Ecuador, Peru, and Kenya, with plans to expand into Guatemala, Malawi, Ghana, and Zambia. In additional to U.S.-based staff, they have 14 employees in Peru and Ecuador and four employees in Kenya. They are developing a textbook for teaching their program in universities and working on partnerships with regional governments.
The organization is also undergoing a paradigm shift in order to reach more people. "We can't help world poverty, but our methodology can," explains Mike. With the current staff they can only work with 50-100 families per country, which is not cost-effective and sustainable on a large scale. The new paradigm will utilize TISRA staff as consultants who will train government employees to implement the TISRA model. TISRA employees will continue working directly with a small number of families, but will be able to reach many more through this strategic partnership. Mike already has letters of intent from regional governments in Peru and Ecuador, expressing their intention to work with TISRA.
Mike has just come back from a trip in South America and recalls a visit to a remote village called Chugay, high in the Andes.  The mayor assembled 18 farmers to meet with Mike and his staff—each farmer had traveled for hours and represented 50-100 families. "We need this," they said, asking for TISRA's program to come to Chugay.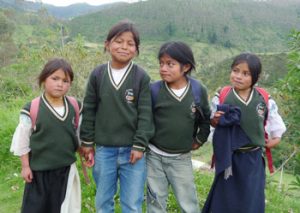 Chugay will hopefully soon be another success story that Mike that can come back to a few years later. He loves visiting families who are thriving in the program, with healthier homes, surplus food, and growing children. "The teachers start complaining about the kids," Mike says, laughing. "They have energy and they've become a discipline problem. That's a good sign!"
Meeting these people motivates Mike to brave treacherous roads, dine on guinea pig, and shiver through the night in cold villages in order to expand this work. "Part of this story I can't reveal in words," he says. "You shake their hands and there are tears in their eyes as they say, 'our kids need this.'" TISRA will start a program in Chugay and continue expanding into new countries and regions—hopefully soon these farmers will begin seeing a nutritional difference in the lives of their children.
Membership
News & Benefits
Annual report: Our 2012 annual report has arrived! We are really excited to feature the amazing work of our members. You can view or download the report  from our website.
The 18th Annual Washington State Nonprofit Conference & Expo will take place on Friday, May 11, 2012. Global Washington members can register at the "colleagues & members registration rate" of $175 per person. You can register at www.npconference.org using a special promo code that you should have received by email earlier this month.
Share your story! GlobalWA members: if you have a video about your work that you'd like us to feature on our website, email megan@globalwa.org. We love to tell our members stories in the "featured video" spot on our homepage.
Welcome New Members
Please welcome our newest Global Washington members. Take a moment to familiarize yourself with their work and think of opportunities for support and collaboration!
A Child's Right: Our mission is simple: To change the lives of vulnerable children in impoverished urban areas by providing clean, safe drinking water to orphanages, schools, children's hospitals, street shelters and rescue homes. www.achildsright.org 
World Trade Center Seattle: World Trade Center Seattle (WTCSE) serves as a tribute to the importance of international trade in our region, providing an environment where business leaders can come together to share ideas and strengthen their connections. http://www.wtcseattle.com/
Announcements
A Must-Read Report about Today's Global Youth
Microsoft and the International Youth Foundation have released "Opportunity for Action," a comprehensive report that focuses on the growing opportunity divide among the worlds' youth – those who have access to education and skills development and those who don't.  The report aims to create discussion on how the use of technology, investments, and collaboration among Microsoft, businesses, NGOs, and governments can help bridge this gap and give youth an opportunity to succeed in the 21st century.
This is a 24-page, approachable report that makes for essential reading for all organizations working towards improving the lives of youth everywhere. Both  Microsoft Citizenship Blog and Microsoft News Center have more information and links to download a PDF of the report.
---
Bonsai People: A Film about the Power of Social Business and the Man Behind the Vision
Muhammed Yunus and the Grameen Bank built a movement by providing microcredit loans to women, and those efforts earned them the 2006 Nobel Peace Prize. Forever seeking pragmatic solutions to world issues, Yunus embarked on a social business model to combat poverty and inequality. This inspiring documentary tracks Yunus' vision and action, and provides a fresh perspective on humanitarian work.
Bonsai People (80 mins) will show on April 18 at 7pm at Kane Hall, Uof W campus. A VIP wine and cheese reception will be held prior to the screening. Admission costs $15 for the movie and $50 for the reception and movie. Purchase tickets here.
---
The 50th Anniversary of the 1962 Seattle World's Fair officially begins on April 21st. To mark the occasion, the Seattle Center has scheduled a six-month long celebration, "The Next Fifty," which will include art exhibits, entertainment, speakers, discussions, and more, all with a look to the future and a shared vision for the region. The celebration kicks off with a full-on, full-day party on April 21. For the next month, until May 21, the focus is "Sustainable Futures."
Visit www.seattlecenter.com for a complete guide and calendar of the many events to take place, including many organized by Global WA members.
---
What about the Women? The Role of Women in Post-Quake Haiti
On April 26, World Affairs Council presents acclaimed journalist, author, filmmaker and gender and human rights activist Anne-Christine d'Adesky, in a discussion on the role of women in Haiti.   Ms. D'Adesky, an expert in gender and global issues, has reported prolifically on political and human rights issues, healthcare and HIV/AIDS related issues.  Following the Haiti quake she networked first responders to women's and orphans groups, reported on Haiti's progress, and co-founded PotoFanm+Fl, an initiative advocating for Haitian women, girls and grassroots groups to be leaders in rebuilding Haiti.
The program runs from 7- 8:30 pm at the International District/Chinatown Community Center Multipurpose Room.  Cost:
members/non-members: $10/15. More details can be found here.
---
Celebrate Songea's Kids Success at a Dinner Soirée
Songea's Kids brings needed care to at-risk orphans and vulnerable children in one of the poorest areas of southern Tanzania. On May 3, celebrate the organization's success and support further development on Hope Village at their "Songea Soirée." The event will feature an East African dinner and keynote speaker, Jawad Khake, former Corporate VP of Microsoft, who was born in Songea.
This event will be held from 6:30-8:30pm at the Northwest African American Museum. Dinner, drinks and entrance to the museum (and knowing you've supported the organization) costs $100 per person. Reserve your seat at a table here.
---
Start the day off right on May 2, with coffee, pastries, and the chance to hear about Global Partnerships' innovative projects. Staff will be on hand to answer questions about how to get more involved in the organization and the global development sector.  Breakfast and conversation will be served 8-9am. To RSVP, email Elise Ricci or call 206-456-7834 by April 25.
---
Grant makers and Philanthropists: A Chance to Get Inspired
Registration is now open for the 2012 Pacific Northwest Global Donors Conference. This year's conference includes the ever-inspiring authors Laura Arrillaga-Andreessen (Giving 2.0: Transform Your Giving and the World) and Chimamanda Ngozi Adichie, (Purple Hibiscus; Half a Yellow Sun).  The conference will center around eight workshops covering a range of topics, including next-generation philanthropy, and end with a tour of the Gates Foundation Visitor Center and a reception for all participants.
This conference, for northwest grant makers, philanthropists and all those curious about global philanthropy, will be held Friday, May 4, at the Best Western Executive Inn, Seattle. Registration fees: $75. For details, see www.globaldonorsconference.org.
---
Bringing Water to Kenya by Walking in Seattle
Women's Enterprise International will hold their 4th Annual Walk for Water fundraising event on May 6.  By walking the 2.5 to 10 mile distance or sponsoring a walker, you help women in rural Kenya purchase much-needed water tanks.
The walk is held, rain or shine, at Seward Park, Seattle, starting at 1:30pm. Registration costs are $25 adults, $15 students K-12, free for children 6 and under. Visit here for more details and links to register or sponsor.
---
Nonprofit Professionals and Organizations: Your Chance to Get Inspired
The 18th Annual Washington State Nonprofit Conference & Expo, "Extreme Makeover: The Nonprofit Way," brings together influential keynote speakers (Deirdre Maloney, Dede Long and Dan Pallotta), workshop sessions, and exhibitors, to promote a strong non-profit sector.
This conference, for nonprofit professionals and their organizations, will be held Friday, May 11, at the Meydenbauer Center in Bellevue. Visit www.npconference.org for information and registration details.
Global Washington members can register at for a special price, and should have received a discount code by email in the last few weeks.
---
World Affairs Council Hosts "Gay Rights as Human Rights" Discussion
On Tuesday, May 15, the World Affairs Council will host a "Gay Rights as Human Rights" event. Speakers Cary Alan Johnson, Executive Director of the International Gay & Lesbian Human Rights Commission, and Dr. Kapya John Kaoma, Project Director at Political Research Associates, will lead the discussion about the various international perspectives of gay rights and what can be done to protect these rights.
The program runs from 7-8pm at the Center for Spiritual Living, Celebration Hall, and is preceded by a Community Meet & Greet. Cost: members/non-members: $10/15. More details can be found here.
---
EarthCorps Now Recruiting Homestay Hosts for International Participants
Each year, EarthCorps builds global understanding by inviting people from various corners of the world to work together here in Seattle and fix up our parks and waterways.  EarthCorps is now recruiting potential homestay hosts for these incoming international participants. (This year's group hails from Laos, Pakistan, Ethiopia, Kenya, Kazakhstan, Mongolia, St. Lucia, Brazil, Russia, China and Guatemala.)
For information on hosting a participant, contact Su Thieda, EarthCorps Program Director (su@earthcorps.org or 206.322.9296 ext. 224).  Meet the international participants here.
---
Travel to Kenya with Habitat for Humanity
Space is still available to build homes with Habitat for Humanity in a Kenyan village. Live and work with the community, participate in cultural activities and build not just homes, but life-long connections with the people.  The 9-day build is scheduled for August 31- September 9, 2012.  For more information, visit Habitat for Humanity's website.
---
Support Global Visionaries at 11th Annual Auction
Fiesta de Guatemala is the theme for Global Visionaries' 11th Annual Auction which will be held at The Brockey Center of South Seattle Community College on May 12, 2012 at 5:30pm.  Global Visionaries (GV) empowers young people to become global leaders through leadership training and service projects, including trips to Guatemala.  Proceeds from the auction will be used for GV's scholarship fund, allowing more students to benefit from GV's innovative programs.
To RSVP, visit http://globalvisionaries.afrogs.org/
---
Panel discussion about inspiring children to think and act globally
On Thursday, April 26th, Sponge, a leader in children's language education, is sponsoring "Giving Globally: The Power of Children." This free event will take place from 7pm to 9pm at the Seattle Children's Theatre's West Rehearsal Hall. Panelists include Peter Drury, Development Director for A Child's Right; Tammy Leland, Co-founder and International Program Director, of Crooked Trails; Lisa Merrill, Principal, Merrill Images and Board Member of Seattle Social Venture Partners; and Jessica Markowitz, the Founder and Board Member, Richard's Rwanda-IMPUHWE.
When: Thursday, April 26, 7 to 9 p.m.
Where: Seattle Children's Theatre's West Rehearsal Hall (201 Thomas St., Seattle)
RSVP: events@spongeschool.com or 206-227-7138.
For more information, visit www.spongeschool.com.
---
Jokona is conducting a small research project trying to understand how non-profits manage their online fundraising
As part of the project, we are requesting non-profits to fill out a quick survey. The survey should not take more than 10 minutes. The information you share in the survey is strictly for research purposes and we will not share your responses with any 3rd parties.
You can find the survey here: http://kwiksurveys.com?s=LMJIFN_d59e7d4e. In addition to filling out the survey yourself, it would be great if you can help pass the survey to other non-profit colleagues you are connected with.
Upcoming Global Washington Events
Wednesday, April 25th
Radical Optimism
Thursday, May 3rd
Wheelchairs for Nigeria
Upcoming Events
Tuesday, April 17th
Employee Benefit Plan Seminar
Robert V. Taylor: A New Way to be Human
YPIN: Spanish Conversation Group
Wednesday, April 18th
Bonsai People: The Vision of Muhammad Yunus
Thursday, April 19th
Grameen Foundation 2012 NYC Benefit
Saturday, April 21st
The Next Fifty Opening Day Celebration
Saturday – Sunday, April 21st – 22nd
Global Health & Innovation Conference 2012
Sunday, April 22nd
Earth Day Celebration
2012 Faces of Hope – Northwest
Monday – Friday, April 23rd – 27th
Speakers and Visitors Bureau at World Vision Open House
Monday, April 23rd
Building Across Borders 2012
Tuesday, April 24th
Tapatio FUNdraiser
Thursday, April 26th
William Crano: Discusses THE RULES OF INFLUENCE
The Revenge of the Bellinghamster Trivia Night
What About the Women? The Role of Women in Post-Quake Haiti
Friday – Sunday, April 27th – 29th
9th Annual Western Regional International Health Conference (WRIHC)
Saturday April 28th
Perspectives in Environment & Culture: Sustaining Biodiversity
Sunday, April 29th
2012 Faces of Hope – Northwest
Monday, April 30th
Perspectives in Environment & Culture: Sustaining Biodiversity
Thursday, May 3rd
Songea Soiree, an East African Benefit Dinner to Celebrate Songea's Kids
Friday, May 4th
2012 Global Donors Conference
Sunday, May 6th
Fourth Annual Walk for Water
Friday, May 11th
Extreme Makeover: The Nonprofit Way
Saturday, May 12th
Global Visionaries' 11th Annual Auction
Monday, May 14th
Passport to Global Health Celebration
Contributors: Brianna Breimayer, Megan Boucher, Carolyn Hubbard, Tomomi Tanaka