Welcome to the May 2012 issue of the Global Washington newsletter. If you would like to contact us directly, please email us.

IN THIS ISSUE
Note from our Executive Director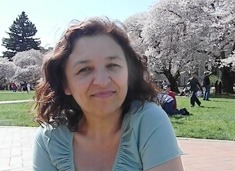 Greetings,
We have been busy with events lately!  We are always excited to highlight innovative global development work or keep you informed about important trends in the field. Earlier this month, we heard the inspiring story of Ayuba Gufwan and his organization, Wheelchairs for Nigeria. This event was co-hosted by and located at the Bill & Melinda Gates Foundation Visitor Center. We also recently hosted an event called "What Employers Really Want" for professionals looking to work in the global development sector.  Next Tuesday, we are thrilled to welcome back Sam Worthington, CEO of Interaction, for a lunch talk on the changing ecosystem of global development. If you haven't registered yet, there is still space!
In other exciting news, we are happy to welcome Amanda Bidwell to the staff of Global Washington! Amanda started last week as our new Membership and Development Associate. Amanda came to us last fall as a volunteer, and we were impressed with her work ethic, enthusiasm, and intelligence. We are excited to expand our work with Amanda's support.
Finally, don't leave for your summer vacation without putting a few important dates on your calendar! September 22nd, will be our second annual Global Action Day—a day to celebrate the accomplishments of Washington's global development sector and find ways to get involved in this important work.  Also, save the date of December 6th for Global Washington's 4th Annual Conference. More details about these exciting events will be announced soon!
In unity,

Bookda Gheisar, Executive Director
Global Washington hires Amanda Bidwell as Membership and Development Associate
Greetings! I am so pleased to join the Global Washington team in order to strengthen the global development sector in Washington State and to deepen our connection to all of Global Washington's members. In the next couple of months I will be focused on fundraising opportunities that highlight the work of Global Washington and our amazing 160+ member organizations. I will be working with Global Washington staff and supporters to identify new opportunities for growth and continual development for our membership programs.
Please contact me at Amanda@globalwa.org if you have any questions. Otherwise I look forward to meeting you soon!
Best,
Amanda Bidwell
---
Amanda's Bio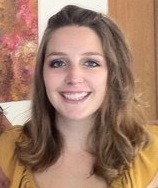 Amanda started her position as the Membership & Development Associate for Global Washington in March of 2012. Prior to joining Global Washington, Amanda worked for the USDA- Agricultural Research Service in St. Paul, MN conducting field research examining the effects of Biochar on soil microbial activity and nutrient cycling. She has extensive experience in research, sustainability and data management.
She has worked with various environmental organizations throughout the Midwest including the USDA- Agricultural Research Service, The University of Minnesota's Department of Soil, Water & Climate, and the Wisconsin Department of Natural Resources. As a Midwestern transplant in Seattle, Amanda enjoys taking advantage of all the Pacific Northwest has to offer especially all things outdoors.
Amanda graduated from the University of Minnesota in 2011 with a Bachelor of Sciences in Environmental Science, Policy & Management, with minors in Sustainability Studies and Forest Resources.
Featured Organization
The Village Pig Project: A Great Vision, Not a Grand Vision
By Bryan Gamble
"I had traveled to Cambodia and seen a lot of need. The first question was what basics do they need [and] what will work in the market. The answer was food, protein. Then it was a process of trial and error, lots of error, to evolve into something that works."
David Michener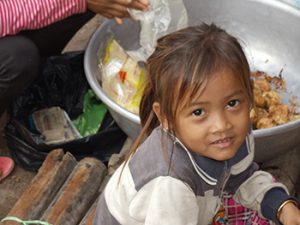 David Michener's comment was made in response to a question about how he came up with The Village Pig Project's particular approach to sustainability. Joe King, a current board member of the project, was kind enough to speak to us to further clarify their project's ambitions.
The Village Pig Project is an initiative working in Cambodia to bring rural families subsistence by helping them set up self-sustaining pig farms. The program's typical family, after being selected by Cambodian staff and village leaders, spends two and a half years in the program turning one three-month-old piglet into several litters that can be bred and sold. During their time with the Village Pig, families are provided with a $10 a month to feed themselves, feed for the pigs, and veterinarian assistance to assure the animal's health and fertility.
When asked to describe the Village Pig's program, King replied that it was "great, but not grand." The program has no current plan to reach out to 10,000 families, nor is King interested in catapulting his organization to fame. The project makes promises to no more than 35 families at a time, and works alongside them to solve their individual challenges. In this way, the Village Pig helps to create change that lives on after families leave the program.
King's involvement with The Village Pig has been a learning experience. The non-profit has had to respond to a number of challenges, including learning animal husbandry on the fly (particularly keeping pigs healthy from half a world away), keeping up-to-date with village political structures to ensure the continuation of the project, and familiar financial concerns. The process has been one of trial and error indeed. That said, there is much that gives King inspiration to continue his work.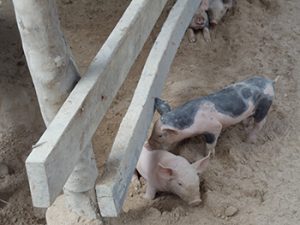 On a trip to Cambodia, King visited a graduate of the Village Pig's program and found that he had become something of an entrepreneur. This graduate had a pond behind his home that was created by ordinance from "The American War" (The Cambodian term for our "Vietnam War"). With the proceeds from breeding and selling pigs, he was able to start raising tilapia in the pond and is currently using this money and food to support his extended family. Another graduating, the family used their earned income to send their daughter to a beauty school in the city. She has since moved back to the village and opened her own beauty salon complete with a car battery that powers her hair dryer.
The Village Pig is an exercise in working alongside people. The program maintains relationships with the families to bridge gaps and evaluate the strength of their tactics to produce self-sustaining impact. Visiting board members pay for their own accommodations and airfare, and no staff members in the United States receive paychecks to ensure that every donated penny goes towards efforts in Cambodia.  Ultimately, it is cooperative ventures like this that really have the power to change lives, one family—one pig—at a time.
Featured Organization
Global Impact Brings Innovative Partner Solutions to Washington
By Alisa Minkina
According to Giving USA, international giving reached $15.77 billion in 2010, an 11.4 percent increase from 2009, despite an economic downturn. These increases can be partly attributed to one of Global Washington's members: Global Impact, an organization that raises funds to meet critical humanitarian needs around the world. Since 1956, Global Impact has raised more than 1.4 billion dollars for the world's most vulnerable people.
Through its innovative partner solutions programs, disaster relief fund, workplace giving programs, and Federal campaign management, Global Impact offers donors a variety of ways to give effectively and efficiently. Today, Global Impact partnerships work in every corner of the world delivering safe drinking water, food, shelter, education, health care, job training and disaster relief. Millions of people have benefited since Global Impact began in 1956, and the work continues.
Sixty-two leading U.S.-based international charities partner with Global Impact and serve on the front lines to meet needs around the world.  These funded charities rely on Global Impact for proven practices and continued innovation. In 2011, the Clinton Global Initiative recognized the organization's vital role by inviting Global Impact to join world leaders committed to providing sustainable solutions to the world's most pressing challenges.
This year, Global Impact joins the international development community in Washington State as they open a satellite office here in Seattle.  Josie Noah, Director of Partnerships & Strategic Alliances, recently moved to Washington to establish the office.
Why Washington?  "Washington is the hub of many like-minded international development organizations" states Ms. Noah.  "As a fundraising organization, we saw a need to develop effective relationships between international non-profits and companies working internationally. Global Impact can provide deep expertise and strategic direction." Ms. Noah works with international development non-profits to advance their work through partnerships with the private and philanthropic sectors and with companies and foundations to increase their strategic philanthropy.
Composed of a team of more than 60 people, Global Impact raised $110.4 million last year alone. Ann Canela, Director of Partner Marketing, attributes this success to good governance and unparalleled financial stewardship. Global Impact remains focused on the key question: "Is this the best use of a dollar spent?"
This attitude has the organization's award shelf full to the brim. Global Impact received Charity Negotiator's Four-Star Excellence Rating for exceeding industry standards, outperforming most charities in philanthropy and the Wise Giving Charity Seal from Better Business Bureau, both for six consecutive years. Global Impact received an Honorable Mention for Excellence in Nonprofit Management in the Washington Post; the CFO, Stan Berman, was granted CFO of the Year in the Nonprofit Category in 2011; and the organization received GiveSpot's "Top 100 Highly Rated Charities" for sound financial management and commitment to financial integrity in 2010.
To learn more about Global Impact, visit www.charity.org.
Welcome New Members
Please welcome our newest Global Washington members. Take a moment to familiarize yourself with their work and think of opportunities for support and collaboration!
Pilgrim Africa: Pilgrim Africa was registered as a Ugandan NGO in 2001, and as a US 501c(3) in 2004. Pilgrim's work reaches more than 500,000 households through a broad spectrum of community programs in north and eastern Uganda. www.pilgrimafrica.org
Upaya Social Ventures: Upaya Social Ventures is building businesses that will create jobs and improve the quality of life for families worldwide living on less than $1.25 a day. We provide early-stage entrepreneurs with the support needed to launch and scale businesses that can create dignified employment. For more information, please visit. www.upayasv.com
Kids4Peace International: Kids4Peace is an interfaith peace education program dedicated to encouraging children of different cultures and faith traditions to explore their differences and similarities, and to learn understanding, tolerance and respect, while fostering sustainable friendships across the lines of conflict. www.k4p.org
Career Center
Highlighted career:
Research Associate, williamsworks: Richard Johnson

How would you describe your job? "As a Research Associate, I primarily work to support our team leaders in meeting our broader project goals around a specific development/advocacy issue. This usually means identifying, researching, synthesizing, and presenting the ideas, information, news, and data critical to helping us understand a specific issue and designing an effective strategy to take action on it. More.
---
Highlighted positions:
Executive Assistant, Clear Path International
The Executive Assistant plays a key role in creating and maintaining internal systems, which promote efficient business practices within the organization. The Executive Assistant must be able to understand the organization at a high level as well as manage basic day-to-day needs of the staff. 
More
.
Administrative Assistant, Prosthetics Outreach Foundation

The Prosthetics Outreach Foundation has an immediate opportunity for a part-time Administrative Assistant. The Administrative Assistant will be fundamentally responsible for ensuring the smooth administrative functioning of the Foundation headquarters.
More
.
Development and Expansion Intern, RESULTS
The Development and Expansion intern will assist Development and Operations staff with a variety of duties, including those listed below. Duties listed are subject to change based on interest and organizational needs:
Working directly with Development and Operations staff to support overall project needs.
Preparing, updating, reviewing, and editing fact sheets, website content, memos, correspondence, reports, or other written materials. More.
Internship Opportunities, OneWorld Now!
OneWorld Now! is seeking responsible and committed young adults with a passion for working with underrepresented youth, international educational opportunities, and a growing non-profit organization. We offer a variety of internship opportunities throughout the year and seek to provide a flexible, challenging and rewarding environment… More.
Social Networking Team Member, Community Empowerment Network
Are you interested in using the latest social tools to help our non-profit fight poverty?
Social networking team members will provide hands-on support for both the Social Networking and Marketing teams by building the Community Empowerment Network's presence on Facebook, contributing with our blog, and helping to broaden our overall social presence. More.
For more jobs and resources, visit www.globalwa.org/resources/careers-in-development/
Announcements
Too much work? Recruit volunteers and interns!
Global Washington members—don't forget to post your volunteer and intern positions to Global Washington's Careers in Development Center. We are constantly reaching out to students and professionals who are eager to gain exposure to the global development sector. Let them help you achieve your mission!  Register for a member login at https://globalwa.org/resources/careers-in-development/ and start recruiting today! For questions or more information, contact careercenter@globalwa.org
---

Fantastic networking opportunity: The Sustainable Industries Economic Forum.
The Sustainable Industries Economic Forums attract and feature impressive groups of business leaders in innovative companies all intent on building sustainable solutions. This 8th annual event in Seattle focuses on the Access Economy and features keynote speaker Van Jones, the inspiring and much lauded co-founder of Rebuild the Dream. The forum provides participants interactive presentations and "high-powered" networking.
The forum takes place June 14th, from 4-7pm at McCaw Hall, Seattle.  Fees are $29 for general admission or $79 for VIP admission, which includes a private happy hour reception with keynote speakers and other VIPs. Registration is now open.
---

Global health hero to be presented medal of freedom
Washington's own Dr. Bill Foege has been awarded a Presidential Medal of Freedom by President Obama for his unprecedented contributions to improving global health and establishing the global health field. Dr. Foege helped lead the campaign to eliminate small pox; he was director of the Centers for Disease Control and Prevention; Executive Director of The Carter Center; and acted as a key counsel to the Bill and Melinda Gates Foundation's global health focus.  Dr. Foege earned his bachelor degree at Pacific Lutheran University and medical degree at University of Washington. To learn more about this inspiring and unassuming groundbreaker, take a look at the Humanosphere article and also the White House's press release.
---

General Colin Powell discusses his book
On June 2nd, former Secretary of State General Colin Powell will talk about his life, his career, and his memoir, It Worked for Me. KING 5 Anchor, Jean Enersen, will moderate the conversation, organized by CityClub, in partnership with Elliott Bay Book Company.  This opportunity to meet General Powell takes place at the Westin Seattle from 8-9pm. $35 buys you one book and one event ticket; $50 two tickets and one book. Registration is open at CityClub website.
---

Seattle Center's Next 50 Celebration launches video contest
Do you have a short, inspiring or positive story about the next 50 years? As part of the ongoing anniversary celebration of the Seattle World's Fair , the Next50 celebration invites you to submit a 2-minute or shorter video that shows how science, creativity, entrepreneurship or business will shape our future lives. Check out www.thenextfifty.org or www.N50Contest.org after June 1st to learn more about the contest guidelines. Videos must be submitted by August 1st.  Videos will be judged by a panel of thought-leaders and also by the general public. Top videos receive cash prizes as well as top-notch recognition.
---

PATH's launches new website dedicated to Sure Start project in India
Giving birth in India can be deadly. Every year, about 78,000 women die giving birth, and a million babies don't survive their first month. But thanks to ordinary people called to action by PATH, mothers and babies in rural villages and urban slums are now safer.
So what does it take to save a life? PATH's new website explains just that. Launched just in time for Mother's Day, the website introduces you to the people of two small, rural villages who turned simple objects – a piggy bank, childhood games, or personal letters – into tools to get new families off to a healthy start.
---

Now is the time to speak up about the foreign assistance bill
This autumn, President Obama will sign the House and Senate's compromise (or "enrolled") version of the annual appropriations bill into law. Since the appropriations bill decides an entire year's worth of federal government spending, and the next 4-6 weeks will determine the fate of the foreign assistance bill. The Obama Administration wants $54.839 billion for the FY 2013 State-Foreign Operations Budget. The Senate Appropriations Committee wants a $53.017 billion budget (about the same FY 2012's). The House Appropriations Committee wants a $48.3 billion budget (9.3% less than FY 2012's), which would lead to debilitating cuts to USAID, democracy promotion efforts, environmental programs, international organizations, disaster and refugee relief, and many other fields. The full House and Senate Appropriations Committees are formally marking up their subcommittee's bills as we speak and they will complete the process before the end of May. That means that you must start calling or emailing your U.S. senators and representatives now while the bills are in committee if you want them to fight budget cuts that will hurt your organization or the international development field. For more information, please visit Global Washington's Legislative Index (especially the Appropriations and Authorizations section) or the U.S. Global Leadership Council's Budget Center.
Global Washington Events:
Tuesday, May 29
The Changing ecosystem of global development
Other Events:
Wednesday, May 23
Seattle Rock & Roll Marathon 2012
YPN at Ummelina International Day Spa
Thursday, May 24 – Monday May 28
2012 Basoga Twegaite Convention-Diaspora Ugandans, Friends and Wellwishers Opportunity to Contribute to improving Global Health
Thursday, May 24
An Evening with Joe Sacco
Friday, May 25
Chamber 101 for May
Saturday, May 26
Inclusive Business Models – NSANSA
Saturday, June 2
Inclusive Business Models – NSANSA
Tuesday, June 5
Clark Nuber P.S. 60th Anniversary Celebration
Wednesday, June 6
A Conversation with General Colin Powell
Saturday, June 9
Inclusive Business Models – NSANSA
Thursday, June 14
Sustainable Industries Economic Forum
Tuesday, June 19
Fundraising in the one-person development shop: making the most of a shoestring budget
Saturday, June 23
Seattle Rock & Roll Marathon 2012
Tuesday, June 26
Harnessing Business and Markets to Address Global Poverty – NSANSA Course
Contributors: Megan Boucher, Bookda Gheisar