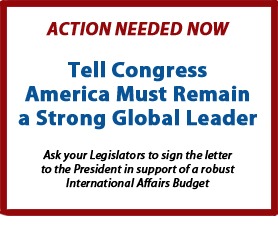 Nearly 140 members of Congress have signed on to the FY11 Congressional Letter to the President supporting a robust International Affairs budget. From Washington State, Senator Patty Murray, as well as Representatives Adam Smith, David Reichert, Richard Larsen, and Jim McDermott have signed on. The U.S. Global Leadership Coalition needs your help to get more members of the Washington State delegation signed on to this important letter! The deadline is November 25th– only two days away.
Click here to urge your members of Congress to sign the letter.
UPDATE:  Thank you for taking action- the USGLC reports that a record number of legislators have signed on to this letter demanding a robust FY 11 international affairs budget.  Representatives Jay Inslee and Brian Baird of Washington State added their names to the letter after this post was published.  For a full list of the signatories to the letter, see the FY 11 Congressional Letter to the President Update Center on the USGLC website.