by Global Washington Policy Coordinator Danielle Ellingston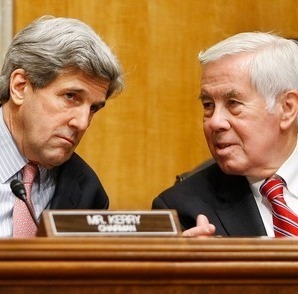 The Senate Foreign Relations Committee is scheduled to mark up the Kerry/Lugar Foreign Aid Reform Bill, S. 1524 today, despite objections from the State Department.  According to Foreign Policy's blog, the Cable, State Department leaders asked Senator Kerry to hold off on moving the bill forward, at least until they had a chance to finish the Quadrennial Diplomacy and Development Review (QDDR).  Kerry would have complied with this request, but Senator Lugar reportedly forced his hand- Lugar would withdraw his support for the bill if Kerry didn't move it forward.  And understandably, Kerry could not afford to lose Lugar.
The State Department was asking a lot of Kerry, since the QDDR isn't due to be completed until fall 2010.  That is a long time to wait for action on foreign aid reform by Congress, and a lot can happen in a year.  If Congress wants to have a say in this process, it needs to get its chips on the table now, especially with the administration taking so long with each step.  The White House has already shown us how slow it can be, by taking more time to announce a USAID administrator nominee than the polar ice caps need to melt.  If moving forward on this bill helps push the White House to move a little faster on foreign aid reform, so much the better.
S. 1524, the Foreign Assistance Revitalization and Accountability Act of 2009, strengthens USAID by restoring its policy planning staff and giving it new authority to oversee foreign assistance programs throughout the government.  It is a small but necessary step in modernizing U.S. foreign assistance, which is fragmented and uncoordinated.  Maybe everything in this bill and more could be accomplished through the QDDR and the Presidential Study Directive, but without Congressional action that could take a very long time.
There are two other foreign aid reform bills which have been introduced in the House.  H.R. 2139, The Initiating Foreign Assistance Reform Act of 2009, was introduced by Howard Berman in April 2009, and directs the President to develop a comprehensive national strategy to promote global development, as well as a system for monitoring effectiveness.  H.R. 2639, The Global Poverty Act of 2009, introduced by Adam Smith of the 9th district of Washington State in May 2009, directs the President to develop a similar strategy, with the objective of eliminating extreme global poverty and achieving the United Nations Millennium Development Goal of reducing by one-half the proportion of people living on less than $1 per day.   The NGO Bread for the World has a nice side-by-side comparison of S. 1524 and H.R. 2139 in its blog.