World Water Day 2021 – Valuing Water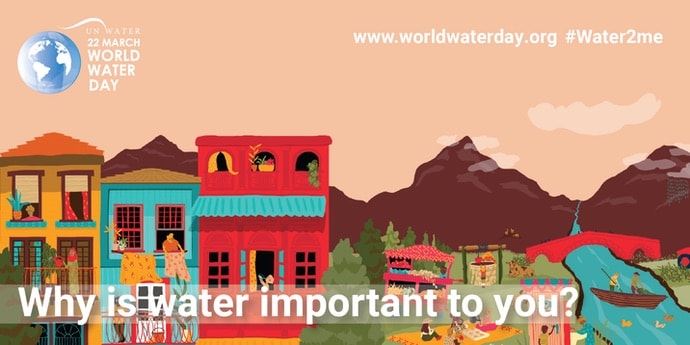 March 22, 2021 – The theme of this year's World Water Day is valuing water. Everyone is invited to think about how water is important to them and how they use it in their homes and communities, how it impacts people's livelihoods and the local environment, how water plays a role in certain cultural practices, as well as its importance in our overall health and wellbeing. By truly understanding the value of water, we can better protect this critical resource for everyone, everywhere.
Find out more about how Global Washington members are working to ensure that everyone has access to clean water and sanitation, and please consider supporting our members' work.
Founded in 2010, Friendly Water for the World is a dynamic, rapidly growing, 501(c)(3) non-profit organization based in Olympia, WA. Its mission is to expand global access to low-cost clean water technologies and information about health and sanitation through knowledge-sharing, training, applied research, community-building, peacemaking, and efforts at sustainability. The organization empowers communities abroad to take care of their own clean water needs, even as it empowers people in the U.S. to make a real difference. Friendly Water for the World currently works in 15 countries, and has assisted more than 160 marginalized and oppressed rural communities – including widows with HIV, people with albinism, survivors of war-time rape, victims of domestic violence and sexual assault, indigenous tribes, and unemployed youth – ensure their own safe drinking water while becoming employed in the process.
The Hunger Project
The Hunger Project's holistic approach in Africa, South Asia and Latin America empowers women and men living in rural villages to become the agents of their own development and sustainably overcome hunger and poverty. Through its WASH programs, The Hunger Project empowers rural communities to ensure they have access to clean water and improved sanitation, the capacity to develop new water sources, and the information to implement water conservation techniques. Since 2011, nearly 871,000 people have participated in The Hunger Project's WASH skill or awareness building activities and the organization has trained over 20,000 local leaders in building community skills and awareness around water and sanitation.
In response to the COVID-19 pandemic, Mercy Corps continues to partner with community organizations to ensure people everywhere have access to clean water to properly wash their hands and help slow down the transmission of the virus. In Timor-Leste, nearly a quarter of the population does not have access to clean water. To make clean water more accessible in public areas, Mercy Corps partnered with the Timor-Leste government to build handwashing stations in high-traffic locations, reaching over 18,000 people. In the Democratic Republic of Congo, Mercy Corps set up 25 pedal-operated hand-washing stations at various markets. The hand-washing stations provide as much as 3,300 gallons of clean water per day–enough for 4,166 people to wash their hands.
Path from Poverty
In Kenya, with unclean water sources often miles from villages, woman and girls are forced to spend hours each day simply finding and transporting water. It is not safe for women and girls to fetch water in the very early hours of the morning. The daily average for a Kenya woman is 4-6 hours of walking for clean water. The typical container used for water collection in Africa, the jerry can, weighs over 40 pounds when it's completely full. With much of one's day already consumed by meeting basic needs, there isn't time for much else. The hours lost to gathering water are often the difference between the time to do a trade and earn a living and not. Path From Poverty works to end this daily hardship and is putting a stop to girls lives being at risk by providing clean, safe water at the homes of women and their families. Empowering women, teaching them to work together, start a micro enterprise, and pool resources, Path From Poverty is changing lives and giving back the time lost fetching water so girls can go to school, women can earn much-needed income, and they can be safe from rape and abduction.
Splash is a nonprofit organization focused on clean water, clean hands and clean toilets for children living in urban poverty across Asia and Africa. Splash implements water, sanitation and hygiene (WASH) programs in child-serving institutions, including schools, hospitals, shelters and orphanages, in order to reach the greatest number of children cost-effectively and to bring about generational change. The nonprofit's holistic approach to WASH includes high-quality water filtration systems, durable drinking and hand washing stations, toilet renovations, and hygiene clubs to ensure that kids learn healthy habits like handwashing.  To date, Splash has completed over 1,600 international projects and serves safe drinking water to over 400,000 children a day in eight countries (China, Cambodia, Bangladesh, Ethiopia, India, Nepal, Thailand, and Vietnam). Splash's goal is to reach one million children per day by 2023.
Water1st prides itself on funding sustainable water projects that involve local communities, local women, as well as a consistent funding stream. Since its founding in 2005, Water1st has provided clean water to over 188,000 people. While its projects focus on providing easy access to clean water, the organization also ensures that projects integrate toilets and hygiene education. Water1st's success centers on robust program evaluation of each of its funded projects to ensure that deliverables are effective and community needs are met.
WaterAid is the #1 ranked international nonprofit dedicated to transforming lives through access to clean water, toilets and hygiene education. WaterAid has been helping communities around the globe become more resilient to extreme weather, natural hazards and changing environmental conditions for more than 30 years. From rainwater harvesting and gravity-fed water systems, to spring water protection, environmentally-friendly sanitation solutions, improved rainwater monitoring and dedicated climate advocacy, WaterAid works with local communities throughout Africa, Asia, the Caribbean, Latin America and the Pacific region to proactively identify the kinds of problems they face right now, and the ones they may face in the future. Since 1981, WaterAid has reached 24.9 million people with clean water and, since 2004, 24 million people with toilets and sanitation.
Water Mission is a Christian engineering nonprofit that builds safe water, sanitation, and hygiene solutions in developing countries and disaster areas. Water Mission believes that the global water crisis can be solved and it takes a comprehensive approach to combating the crisis with water, sanitation, and hygiene (WASH) solutions. Water Mission designs customized solutions for each community it serves and partners with the recipients throughout the process. A successful project results in more time for work and education, improved health, and increased productivity for the community. Water Mission has provided 2,800 safe water, sanitation and hygiene (WASH) solutions in 57 countries and has over 400 staff members working around the world in permanent country programs.
World Vision is committed to accelerating universal and equitable access to water, sanitation, and hygiene services to contribute to Sustainable Development Goal 6. This will only be achieved through collaboration. Between 2016-2021 World Vision reached 20 million people with clean water. The organization has more than 1,200 designated WASH staff members in 41 prioritized countries that provide localized expertise. In its business plan for 2021-2025, World Vision aims to impact 15 million people with safe water, 14 million people with improved sanitation, and 18 million with improved hygiene through access to household hand-washing stations. The organization is also ramping up area-wide approaches to support WASH universal coverage plans for more than 150 subnational districts. World Vision is expanding WASH investments in healthcare facilities and schools. These plans will demonstrate sustainable impact and keep the organization on track to reach everyone World Vision works with everywhere with basic clean water access by 2030 —approximately 50 million people between 2016 to 2030. World Vision is deepening its focus on the most vulnerable, especially in fragile and extremely fragile contexts. It will continue to provide WASH during emergencies, and when combined with the provision of sustained water service, World Vision will continue to reach one new person with clean water every 10 seconds.