What Will it Take to End Hunger Globally?
By Joanne Lu
When the world narrowly missed its target in 2015 to halve the proportion of people suffering from hunger, we thought we were still on a steady trajectory toward eradication. Achieving "zero hunger" by 2030 would be ambitious, but with enough investment, it seemed feasible. Little did we imagine that last year would mark the third year in a row that global hunger has actually been on the rise.
The United Nations' Sustainable Development Goal (SDG) 2 aims to "end hunger, achieve food security and improved nutrition and promote sustainable agriculture" by 2030. But as hunger refuses to fall amid conflict, climate challenges, and inequality, the global development community is increasingly recognizing that hunger is not just a technical problem – it is a human one. Ending hunger will require integrated action across a range of initiatives and through strong global partnerships. After all, according to John Coonrod at The Hunger Project, hunger is tied to every SDG.
It should be alarming, then, that in 2018, nearly 11 percent of the world population – or about 822 million people – did not have enough to eat, according to this year's State of Food Security and Nutrition in the World report by the UN Food and Agriculture Organization (FAO). That's up from about 811 million the previous year, marking the third year of increase in a row.
In addition, more than 2 billion people, or 26 percent of the world, are food insecure, meaning they do not have regular access to enough safe and nutritious food. Although most of these people are in low- and middle-income countries, food insecurity is also affecting about 8 percent of people in North America and Europe.
Progress has also slowed when it comes to reducing the number of babies born underweight and halving the number of children who are stunted, the FAO report says.
If the global rate of extreme poverty continues to decline – albeit slower now than before – why is hunger on the rise? According to the UN, the main drivers of global hunger right now are a combination of deadly protracted conflicts, climate variability and shocks, as well as economic slowdowns and downturns, coupled with inequality. These crises compound the effects of one other, destroying agricultural lands, productivity and infrastructure, killing livestock, forcing people from their homes, depleting communities' abilities to cope and in some cases, restricting the access of humanitarians to deliver food and aid.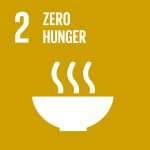 "All of this has led to major shifts in the way in which food is produced, distributed and consumed worldwide – and to new food security, nutrition and health challenges," the heads of the FAO, the International Fund for Agricultural Development (IFAD), the UN Children's Fund (UNICEF), the World Food Programme (WFP), and the World Health Organization (WHO) wrote in their joint foreword to the report.
To address these new challenges, the UN agency heads say it requires bolder action, "not only in scale but also in terms of multisectoral collaboration," bringing food solutions together with agriculture, education, economic empowerment, gender issues, water and sanitation – all the SDGs. In essence, hunger and food security cannot be solved without the holistic development of communities, and vice versa.
That's why it's so exciting that Global Washington has members from across the development spectrum who are contributing to food security in innovative, sustainable, and integrated ways.
PeaceTrees Vietnam, for example, helps communities in Vietnam clear their land of dangerous explosives leftover from the war. In addition, they help the communities restore that land to safe use, including as productive farmland to feed their families and earn income. For one of the organization's projects, about 60 farming families from two villages collaborated with wholesale spice companies to grow and supply black pepper. Along with startup materials to plant the vines, these families are learning pepper-farming skills, and the additional income will help reduce poverty over the long term.
In addition to creating opportunity and teaching better food production techniques, some organizations, like Pilgrim Africa, are also helping increase food security by investing in better tools and technology for smallholder farmers. Using machines to reduce their workload – such as diesel engines fitted with special attachments to pound cassava, for example – families, and especially women, can put more of their time toward other things, including education and building businesses. These agricultural technology investments are just one aspect of Pilgrim Africa's multi-prong approach toward public health, education, and food security.
Global Good, an invention investment fund at Intellectual Ventures, is also leading the charge on developing innovations that increase food security for communities. For example, their solar-powered portable water pump system will help smallholder farmers access groundwater for their crops and livestock so they are not entirely dependent on rainfall. Other innovations help improve production yields, store crops for longer, increase access to markets, and ensure that food, including milk and livestock, are safe to consume.
Other holistic interventions require more than just training and technical innovations. In Central America and Mexico, for example, Agros is helping poor, rural families obtain land for their agricultural businesses, so they can eventually become economically self-sufficient. Experts then help families learn the technical skills they need and how to access market information to run a successful commercial farm. Agros also helps farmers improve their health and well-being, and provides financial literacy and education.
These types of holistic strategies are what the UN agency heads meant when they wrote in their joint foreword to the FAO report that we must foster "inclusive structural transformation" if we want to get on track to end hunger, food insecurity and malnutrition by 2030. They also wrote that we must place communities at the center of our work.
Empowering communities to lead their own development is at the heart of The Hunger Project's (THP) holistic approach to ending hunger. That approach includes agriculture, food security, and nutrition, as well as education, clean water and sanitation, health, financial access, women's empowerment, maternal health, community mobilization, and environment. Most important, all of the interventions are directed by the recipients themselves. THP begins by empowering women as change-agents in their community. After that, communities mobilize to build self-reliance. And finally THP helps communities forge effective partnerships with their local governments.
This bottom-up approach is also reflected in Heifer International's work with farmers. Training and supporting smallholder farmers to achieve year-round availability and access to diverse and nutritious foods is only one of three prongs of its strategy to end hunger and poverty. The other two prongs are helping farmers increase their incomes and assets and promoting environmentally sustainable practices. Heifer believes that these three facets of its work only result in change at scale when combined with the empowerment of women and building social capital within a community.
Holistic, innovative, integrated and community-directed initiatives are the most effective way to improve food security and eliminate global hunger globally.
###
The following Global Washington members are working to improve food security around the world:
Inspired by the teachings of Jesus, Agros International is a nonprofit organization that breaks the cycle of poverty and creates paths to prosperity for farming families in rural Latin America. Founded in 1984, Agros advances a holistic model of economic and social development through four key opportunity areas: land ownership, market-led agriculture, financial empowerment, and health & well-being. We tackle issues of food security by helping families start sustainable agribusinesses. These businesses allow them to grow their own food and increase their family income, making food security easier to attain. To date, Agros has partnered with 43 rural communities in El Salvador, Guatemala, Honduras, Mexico, and Nicaragua, impacting the lives of over 12,000 people.
CARE is a leading humanitarian organization fighting global poverty, working in 93 countries to improve the lives of millions of people through programs which improve access to education, health care and economic opportunities. Since sending the first CARE Package® in 1946, we've worked with governments and communities to ensure sustainable food security for the world's poorest people. CARE's food and nutrition security work includes working with small farmers to increase productivity, access markets and build resilience to climate change and ensure the good nutrition of their families. In emergency contexts, CARE provides cash vouchers so families can purchase food from local markets and CARE provides nutritional supplements for children who are suffering from malnutrition.
Earthworm Foundation is a global non-profit organization that works to make value chains an engine of prosperity for communities and ecosystems. Active in key commodity producing regions around the world, Earthworm collaborates with diverse stakeholders, including companies, communities, and workers to ensure that commodity sourcing and production does not negatively impact community rights and livelihoods, environmental values, or workers. Earthworm's efforts to protect and enhance food security include initiatives focused on farmer livelihoods, healthy soils, capacity building in companies, and responsible plantation development. Its Rurality program promotes better smallholder farming practices and crop diversification with the goals of ensuring that farmer households have resilient livelihoods and access to a variety of food crops for their own consumption. At the corporate boardroom-level, Earthworm engages with company leaders to establish values-driven, responsible sourcing policies, map their supply chains, and support farmers on issues such as food security for their regions.
Global Good combines Intellectual Venture's unique invention prowess with the expertise of leading humanitarian organizations, forward-looking governments, and commercial partners. The organization invents, develops, and deploys commercially-viable technologies that improve life in developing countries. In its global development portfolio, Global Good has created an affordable and robust grain moisture measurement meter that is expected to launch in 2020. Awareness of moisture levels in grains and grain legumes can help farmers predict and prevent fungal growth, thereby reducing the likelihood of toxin deposition, nutrition detriment, and other effects of spoilage. It can also enable farmers to make more informed decisions on the best methods for crop drying and storage, as well as timing the sale of their crops.
Heifer International is a global development organization on a mission to end hunger and poverty in a sustainable way. The organization works with communities in 21 countries around the world to strengthen local economies and build secure livelihoods that guarantee a living income to small-scale farmers. Since Heifer was founded in 1944, it has supported 35 million families to lift themselves out of hunger and poverty. Heifer's model focuses on increasing income and assets within farming families, improving their food security and nutrition, and protecting the environment – with women's empowerment and connected communities at the very center. Heifer strengthens local farmer organizations – helping to set them up where they don't already exist – and provides livestock and seeds, which serve as important sources of food and income. As their farms expand, Heifer connects farmers to markets and helps them develop the production experience and expertise to make their businesses thrive and grow.
The Hunger Project is an organization committed to the sustainable end of world hunger. It implements pioneering, gender-focused, community-led programs to address the root causes of hunger in Africa, Asia, and Latin America and advocates for the widespread adoption of these approaches in countries throughout the world.
Landesa champions and works to secure land rights for millions of the world's poorest communities, primarily rural women and men, to promote social justice and provide opportunity. Equipped with secure land rights, rural communities have both the incentive and the opportunity to make long-term investments that conserve soil and water, boost agricultural productivity, and lay the foundation for a food secure future. Because Landesa works with national governments to develop more effective land laws, its work has the potential to impact millions. For more than 50 years, working in more than 50 countries, Landesa has helped strengthen land rights for more than 180 million families.
Mercy Corps is a leading global organization powered by the belief that a better world is possible. The organization helps people in the midst of humanitarian crisis meet their most urgent food needs and also works to build long-term food security, partnering with the most vulnerable communities to develop comprehensive, integrated programs, driven by local needs and market conditions. Last year, Mercy Corps provided urgently needed food to more than 1.4 million people in some of the most hard-to-reach areas of the world. Beyond meeting urgent hunger needs, Mercy Corps improves access to sustainable sources of affordable and nutritious food, encourages farmers to produce nutritious crops and healthy livestock, and provides nutrition education to promote healthy and diverse diets. Last year, Mercy Corps connected more than 1.1 million farmers to the resources they need to increase their production, feed their families and boost their incomes.
One Equal Heart is a non-profit organization that tackles the root causes of food insecurity by connecting indigenous communities in Chiapas, Mexico, with tools to thrive. Projects work holistically to honor and nurture sustainable agriculture, build equitable communities and promote traditional knowledge. With a special focus on engaging indigenous women and youth as catalysts for change, project participants learn skills to grow food ecologically, sell surplus products in local markets, manage earnings through community savings and credit cooperatives, and start kitchen businesses. Founded in 2006, One Equal Heart leverages project resources by working with organizations based in Mexico to build capacities of indigenous communities so they can drive their own development from the ground up!
Oxfam believes that empowering small-scale farmers—particularly women—is essential to fighting poverty, hunger, and food insecurity. Helping small-scale farmers to be more productive can lift their families out of poverty and end the cycle of food insecurity that threatens communities and whole nations. It can generate income that families can invest in their children, and it can sow the seeds of economic development. Secure land tenure, appropriate technology, strong and democratic institutions, and policies that are fair to smallholders can make all the difference. Through focused and targeted advocacy, Oxfam also tackles the underlying policies and power imbalances that keep people in poverty. For example, through the GROW campaign, Oxfam supporters and allies have made significant progress in reforming a broken food system through a variety of actions and campaigning tactics, including evidence-based reports, direct lobbying of governments, mobilizing for marches, sponsoring petitions, using social media, and building coalitions.
PeaceTrees Vietnam creates a safe and successful future for children and families endangered by the legacy of the Vietnam War. In partnership with communities in central Vietnam PeaceTrees removes explosives and returns land to productive use, builds schools and libraries to educate future generations, and advances economic development to ensure a prosperous tomorrow. Through childhood nutrition, mine risk education, and sustainable agricultural programs, PeaceTrees helps cultivate secure, resilient and flourishing communities in a country still ravaged by the remnants of war.
Pilgrim Africa's mission is to challenge despair, love boldly, and help African people create a future of prosperity and health. It aims to restore the hope and dignity found in Christ to those devastated by war, poverty, or disease. When it comes to food security, Pilgrim Africa invests in technology that reduces the day-to-day workload of people in agricultural communities, especially women. For those families in desperate need of short-term solutions, especially in times of war or famine, Pilgrim Africa has a long history of providing aid. In early 2017 when drought caused crops to fail in Teso, Pilgrim Africa provided rice to ward off starvation. When the rains returned, the organization provided vegetable starts so that farmers could have a second chance at a harvest.
World Concern is a Christian humanitarian organization dedicated to transformational development in the most impoverished and overlooked places of the world. The organization goes beyond the end of the road, partnering with communities to meet the needs they prioritize, and empowering them to make lasting changes. World Concern works in 15 countries in Africa, Asia, the Middle East, and Haiti, providing clean water, sustainable food sources, child protection, economic empowerment, disaster response, and spiritual transformation. Its focus on food security includes emergency nutrition for malnourished children, training in long-term sustainable food production through agricultural training and tools, livestock and livelihood diversification, and peer-to-peer training in pre-natal and child nutrition.
World Vision is a Christian humanitarian organization dedicated to working with children, families, and their communities worldwide to reach their full potential by tackling the root causes of poverty and injustice. One of World Vision's largest partners is the UN World Food Program (WFP). World Vision partners with WFP in 63 projects in 18 countries to support immediate food security needs of vulnerable populations through food, cash, and voucher assistance as well as mid-term needs through nutrition monitoring and agricultural support.