By Anneli Jefferson and Ilse de Villiers
Anneli Jefferson and Ilse de Villiers are founders of Largesse, a mission-driven business that specializes in curating handmade, eco-conscious and/or fairly traded corporate gifts.
Corporate gifts and promotional products have the purpose of creating brand awareness and strengthening relationships. This multi-billion-dollar industry has traditionally been one of ease, speed, and low-cost mass-production, often with little regard for the environment. Yet change is in the air.
Millennials, who will represent almost half of the recipients of these products and gifts within ten years, are more conscious about the impact of consumer goods. They want to know where things come from and are asking the question: "Who makes what I buy?"
It makes good sense for companies to align with this awareness. Promotional products with a low-carbon footprint and positive social impact can evoke the desired emotions about a business.
In the words of Mike Clasper, President of Business Development, Proctor and Gamble Europe: "People are going to want, and be able, to find out about the citizenship of a brand, whether it is doing the right things socially, economically and environmentally."
Many corporate gifting companies are now including eco-conscious or 'green' products in their swag portfolios. Some of it may be little more than window-dressing or clever marketing language. Mostly, these products are intentionally and transparently added to represent the choices buyers are looking for. Mass-production facilities are adjusting to comply with minimum environmental requirements. Raw materials, such as bamboo and corn, have replaced harmful plastics. These are good and encouraging moves in the right direction.
That said, eco-friendly production is nothing new to artisan communities across the world. With limited access or means to purchase conventional raw materials for producing their wares, artisans in marginalized communities are often forced to use what is at hand and readily available. Necessity has led many of these diligent artisans to employ eco-friendly and incredibly resourceful production processes. These processes include recycling – breaking down an item into its raw materials for reuse, and upcycling – reusing discarded objects to create a product of a higher quality or value.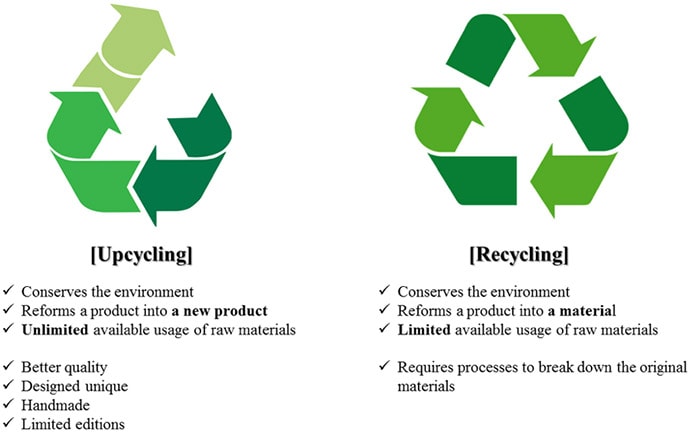 Recycled glass bottles, plastic bags, and elephant dung are turned into upscale wine decanters, enviro-felt conference bags, and paper. Upcycled pull-tabs, flip-flops and inner tubes are cleaned and then used to create beautiful boutique-style purses, sculptures, and iPad cases. Fallen or off-cut wood pieces become popular document clips for an office desk.
These are only a handful of examples of how waste is transformed into popular consumer products across the world.
Having access to a global marketplace of buyers in the U.S. provides these workers with a reliable source of income. This enables them to sustain their families, send their kids to school and gain access to healthcare. Take Ocean Sole, for example, a social enterprise in Kenya that turns flip-flop pollution into art and functional products to promote conservation of our oceans. Since 2005, they have cleaned up over 1,000 tons of flip-flops from the ocean and waterways in Kenya, providing steady income to over 150 low-income Kenyans in their company and supply-chain, and contributing more than 10% of their revenue to marine conservation programs.
Jane Goodall once said, "You cannot get through a single day without having an impact on the world around you. What you do makes a difference and you have to decide what kind of a difference you want to make."
These are words to live by. Earth-friendly production techniques seem to be a minimum requirement that we as consumers can demand. Let's get better about supporting products that do not destroy the earth.