By: Sean Kelly, President – Key Travel US
Every year, Key Travel distributes an annual survey to travelers and travel organizers at over 350 organizations across the NGO, academic, and faith sectors. This survey helps us capture valuable insight into the policies, attitudes, and preferences of our unique client base. This year's results gave us a better understanding of our clients' booking preferences, safety and risk management strategies, and travel trends.
Some interesting findings include: an increase in travel being booked by email or online, often outside of normal business hours, and at the last minute. We also observed an increase in the use of sharing platforms when traveling for work, such as booking accommodations through Airbnb. While the survey results saw a decrease in security felt by travelers, there was a positive uptick in management strategies to mitigate risk to the traveler.
Preferences on Booking Travel
The popularity of online booking continues to show an upwards trend from our 2016 results, with 24% of clients choosing to book online, up from 17% the previous year. Email is still the preferred way of booking at 66%, though the total is down 11% from 2016. Booking over the phone has increased slightly, from 5% in 2016, to 9% this year.

Utilizing After-Hours Booking Service
Our survey shows that 73% of people make travel bookings outside of regular business hours, compared to 65% last year. This highlights the importance of access to a 24-hour emergency service and 24/7 online booking tool. These services support the flexibility our customers require when it comes to last-minute or emergency bookings.
Sharing Economy Platforms
Compared to last year's results, this year's survey highlighted an increase in the use of sharing accommodation platforms. 19% of respondents said they used Airbnb when traveling on behalf of their organization (nearly five times higher than last year's survey). 35% said that their travel policy permits Airbnb as an option for booking work-related accommodation (compared to 31% in 2016).
Travel-Related Risk Awareness
Travel risk management has become a high priority for organizations over the past few years, due to a rise in incidents and security risks around the world. NGO employees are becoming increasingly sensitive to travel-related risks, and our survey results show that there's still more to be done to increase traveler safety at an organizational level. Political unrest and terror attacks in 'traditionally safe' destinations, such as Paris, Brussels and Turkey, were among the greatest travel fears affecting our customers, who travel across the world for many purposes.

The Management of Risk
Despite an increase in travel risk awareness, 17% of respondents stated that they didn't know who was responsible for travel risk management in their organization. The survey also showed a slight increase in those who said that their organization required a risk assessment for either all or some trips prior to booking travel (56% in 2017, versus 53% last year). Government travel advisory websites remained the top resource used by travelers to inform their risk assessments. When an incident occurs, Key Travel contacts our clients, letting them know if travelers may be affected. We also provide travel alerts via email, social media, and our website.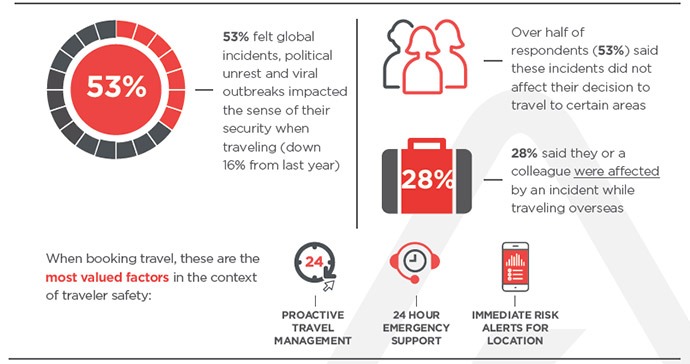 We're grateful to our clients for providing us with these fresh and useful travel insights, which will help us as we continue to enhance and add value to the Key Travel client experience. As always, Key Travel will evaluate these results and consider them when adding additional resources or partners for our clients.
Email info@keytravel.com if you'd like more information about how Key Travel can help enhance your travel program
For a full copy of our 2017 survey findings, please click here.
Sean Kelly, President, U.S. and Executive Board member of Key Travel International Ltd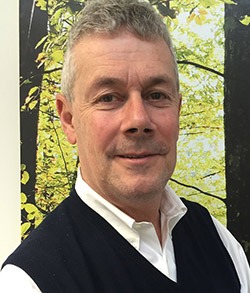 Sean Kelly is responsible for the delivery of the US Business Plan across US Sales and Operations. He is based in New York where he has lived since 2007. He joined Key Travel in 2009 to manage the acquisition of World Travel Management in Washington DC and its development into Key Travel USA. He is experienced in managing both the finance and operation of agency businesses and has also gained substantial M&A experience during his roles as a Senior Vice President at IMG, and at Board level of the publicly listed PGA European Tour Courses plc and CSS-Stellar plc where he ultimately became CEO of both companies.