by Erika Koss
At last week's Global Specialty Coffee Expo in Seattle, the word "resilience" bounced around like an India rubber ball.
World Coffee Research shared its focus on breeding resilient seeds that will result in resilient beans—or, coffee trees that can withstand the earth's rising temperatures, which threaten coffee yields.
Computational chemist Dr. Christopher Hendon, in his talk on Water & Cryogenics, illustrated why coffee beans possess resilience to freezing. Dr. Andre Sanfiorenzo, an expert in landscape genetics, explained why sun grown coffee lacks resilience in the agroforestry systems.
But if a coffee bean's resilience is all the buzz, why does this matter for coffee farmer producers?
*
To answer this, let's reflect upon the etymology of this powerful word.
"Resilience" comes from the Latin verb salio(-ire): "to jump, to leap, to spring." My friend Christian Brady, a Latin translator and teacher in California, reminds me that salire is a verb of action in Ovid's poetry: it describes how fountains move in Ars Amatoria, or what fishes and frogs do when it rains in Metamorphoses.
Adding the prefix "re" to the verb (re + salire) to form "resilient" conveys a greater elasticity of action: "to jump back from, to recoil, to withdraw."
In the 20th century, its usage transformed to a noun or adjective: a person can be resilient by "recovering quickly or easily from misfortune or shock." A resilient object is "buoyant, adaptable, robust, hardy." This all implies that to bounce back or to return to the original position is a good thing.
Perhaps this is why the word began to appear in psychology. But these days, resilience has expanded as a theoretical framework used in political science and international relations. Humanitarian and disaster relief organizations, such as Lutheran World Relief, seek to integrate resilience capacities against hazards and threats in vulnerable coffee farming communities.
Even the word "resilient" is adaptable.
**
In the coffeelands, the focus on resilience for many global NGOs has much to do with climate change mitigation strategies for coffee farmers and their families.
Nowhere was this clearer than at Fair Trade USA's annual producer forum, which takes place a day before the Global Specialty Coffee Expo, so that more than 200 coffee producers from upwards of 14 countries can convene to ponder best practices. No doubt, every farmer in the room shared a buoyant and robust determination to succeed in coffee.
But the unity goes deeper, according to Fair Trade USA's CEO Paul Rice, because it's based upon "our vision for a fair world." At Fair Trade USA, says Rice, "We dream of a better world where a business is a help for good, and where the consumer doesn't consume without thinking, but chooses products consciously."
The good news? Awareness of the fair trade label is up, and Millennials will pay more for a "sustainable cup," according to Helen Griffith at S&D Coffee—a corporation whose mission promotes "resilient value chains."
Still, coffee's greatest enemy is climate change, which "will reduce the global area suitable for coffee by about 50% across emission scenarios," according to a report published in the journal Climatic Change in 2015.
The Earth's drastic rise in heat helps the increase of pesky bugs that most coffee drinkers have never heard of, like the "Antestia," which boasts a life span of 145 days. Smaller than your toe nail, this stink bug's resilience is reducing yields up to 45% and has been a particular problem in Rwanda and Burundi—two countries dependent on coffee as a cash crop. The insect drills a hold into the coffee cherry's skin, leaving a bacteria inside. Not until later does this defect lead to the "potato defect"—a distinctively moldy, mealy, potato taste that affects otherwise exquisite coffee.
Thankfully, the specialty coffee industry revels in its creative collaborations such as one between roasters like Counter Culture Coffee, exporters like SUCAFINA, and researchers like Dr. Sue Jackels, professor emeritus of chemistry at Seattle University (and the first Fair Trade university in the Pacific Northwest). So far she's proven that the Potato Taste Defect is "a combined effect of stress, fungal infestation, and bacterial infection," which all have Antestia in common. Her students and she now know that some potential solutions—such as a portable electronic nose—won't work, but they plan to keep working toward solutions to squash this bug's stink for good.
*
So much creativity and innovation—in science, in technology, in non-profit organizations—is inspiring!
But all weekend, a deeper question nagged me: how can resilience for any coffee farmer-producer exist unless he or she already has firm footing from which to salire?
Consider that image of the India rubber ball. It's made of strong, elastic stuff. It's capable of bouncing so high that no one can catch it without effort. But the height of its leap depends upon a strong foundation. Only then can it spring back repeatedly even if the ground is wet, muddy, or cracked.
As Kristen Dailey and I walked around the Global Specialty Coffee Expo floor, we appreciated the words boldly declaring on the Fair Trade USA booth: "If there is no producer, there is no buyer."
Reading these words led me to consider a sermon preached in the mid-1950s by Dr. Martin Luther King, Jr., in which he said: "We do not finish breakfast without being dependent on more than half of the world." He mentioned coffee, which he enjoyed drinking regularly, as well as tea and cacao farmers. He believed that "all men are caught in an inescapable network of mutuality, tied in a single garment of destiny. Whatever affects one directly affects all indirectly."
I think about this "single garment of destiny" embodied in my coffee cup. To drink it at all is a privilege. It's not my right. I don't deserve it. It's a gift from the earth and from human hands.
That's why it matters that we all work together toward a coffee trade that is more fair and more just, where both the beans, and the people, can both bounce back and spring forward.
For truly until every member of the coffee chain possesses resilience, then none of us does.
*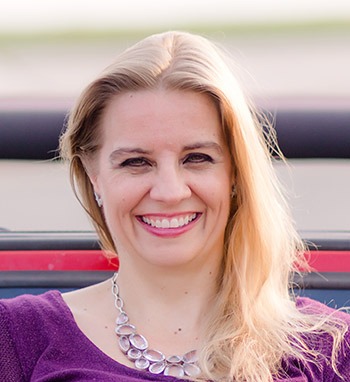 Erika Koss, an assistant dean at Northeastern University in Boston, has worked closely with Northeastern University Seattle, a Global WA member, particularly on the "Security and Resilience Studies" graduate certificate. As a lecturer of writing and former barista, Erika is passionate about the ways in which coffee is a vehicle to effect change. She is working on her first book, Magic Beans.