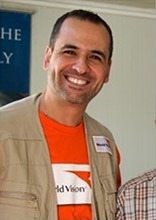 On Tuesday, May 2nd Global Washington hosted a small discussion as part of its newly launched "Voices from the Field" event series. Khalil Sleiman, a member of World Vision's Global Rapid Response Team, presented on the current humanitarian crisis in the Middle East.
Khalil brought to the discussion his in-depth knowledge, as well as his own experience of war and displacement. Originally from a small village in southern Lebanon, Khalil's family lost their home and land during the Lebanese Civil War.
* * *
"The problem is not with the numbers, even though the numbers are huge," Khalil told the group at Global Washington's office. "Even if the war in Syria stopped now, we would need another 30 years to reconstruct."
After the war ends, the humanitarian community will not only be needed to help "rebuild the stones," but also to help people learn how to live together again.
"We need to rebuild not just houses, but also forgiveness in the heart of people who are fighting now," he said. "It's beyond revolution, regime or opposition. There are too many players in one game."
To put the crisis in context, Khalil noted that in Lebanon alone, two million refugees have been resettled. In a country with a population of just three and a half million people to begin with, such a figure would be the equivalent of the United States accepting 150 million refugees.
In the near term, the most basic needs of refugees and those displaced inside Syria include food, water, sanitation, medical attention … really, everything.
As a World Food Program partner World Vision provides monthly vouchers to refugee families to purchase what they need from the markets. In addition, since World Vision is "a child-focused organization," they routinely set up child-friendly spaces in host communities, where psychologists can work closely with refugee children who have been traumatized by war and conflict.
In Mosul, for example, the second largest city in Iraq, which has been living under ISIS control, Khalil estimated that nearly 100% of the children there have witnessed or experienced unforgettable traumatic events.
When the children from Mosul began coming to the World Vision child-friendly spaces, Khalil recalls that the staff gave them colors to draw with, but they refused. "ISIS did not allow them to draw with anything except the color black," he said.
At first, Khalil said, they only drew pictures of killing, and soon the color red featured prominently. After just two months of coming to the child-friendly spaces, however, the kids began drawing more hopeful images– hearts, smiles and flowers.
Drawing from his own agricultural expertise, Khalil shared the metaphor of a garden to describe the state of the Middle East today. "When we look at a garden, we see the trees standing separately, individually. But beneath the ground, the roots are interrelated. If any of the trees has an insect or disease, if it's not cured, it will spread – among the roots, among the trees. The war that is happening in Syria is spreading, impacting all the countries."
Khalil Sleiman has a master's degree in agriculture engineering from the Lebanese University in Beirut. With over 14 years' experience working with World Vision, Khalil has spent the last four years as part of their Syria Response Team, serving as Response Manager in Iraq and Turkey (Northern Syria).  Prior to his current role, he served as Humanitarian Emergency Affairs Manager with World Vision Mauritania. Khalil has also held several positions in Lebanon, including leading World Vision's operations to assist internally displaced people in some of the most dangerous areas of Beirut during the July 2006 war.
---
Global Washington's Voices from the Field series is intended to highlight members' local staff, grantees, or program recipients who are from a developing country. We give preference to these individuals because they have intimate knowledge of the challenges that our members aim to solve.