Welcome to the March 2017 issue of the Global Washington newsletter.
IN THIS ISSUE
Letter from our Executive Director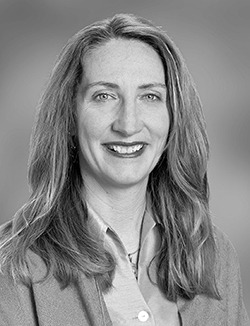 At Global Washington, we often talk about sustainable development. At its core, sustainability is about the people who are most affected by a challenge having ownership of the solutions.
In recognition of World Water Day on March 22nd, this month's newsletter highlights several of our members that are improving access to clean water and sanitation globally. As in most things, the best solutions depend heavily on context, and our members work closely with people in their communities to understand and develop solutions to meet their most pressing needs.
Be sure and join us for a discussion on March 27th to hear more about successes and failures when it comes to improving access to clean water in developing countries. Connecting with one another and sharing what's working (and what's not) helps us in our efforts to shape a healthier and more equitable world.
In addition to promoting the work of our members, Global Washington is tracking events related to global development and diplomacy as they unfold in Washington, D.C.  Last week, we hosted a private breakfast roundtable with Fred Kempe, the president and CEO of the Atlantic Council, and Washington state philanthropic and business leaders. Those assembled explored how the U.S. can meet future global challenges under the Trump Administration and discussed the essential functions of development and diplomacy for national security.   At our upcoming event with Sahar Education International on March 23rd, we will continue to explore the impact of a changing U.S. political climate, specifically on programs for women and girls in Afghanistan.
Finally, I'd like to introduce a new GlobalWA staff member, Andie Long, who joins us as our new Director of Communications and Marketing. Andie spent nine years at Waggener Edstrom, and five years at Mercy Corps. A great storyteller, she has a passion for international issues and social justice, and is a self-proclaimed "data geek" with a deep interest in game design. We feel very fortunate to have Andie on our team!
I hope to see you this month at one of our up-coming events.

Kristen Dailey
Executive Director
Check out our new video and hear members talk about what they like most about Global Washington.
---
Issue Brief
Behavior Change and Technology: The Keys to Solving Global Water and Sanitation Issues
By Amanda Pain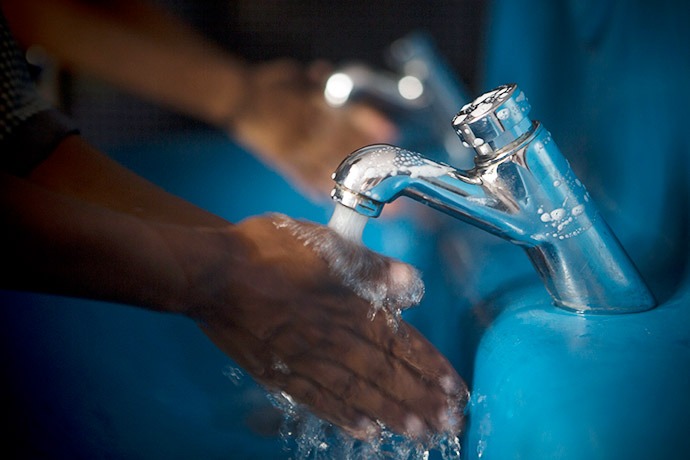 For people in the developed world, it is difficult to comprehend living without running water or a flush toilet. Even more difficult to understand may be that in some places, having these amenities is not the most feasible, cost-effective or beneficial solution. The need for technological innovation to solve access to clean water and improved sanitation, as well as to ignite behavior change has never been greater, or more promising.
In 2010 the United Nations (UN) General Assembly recognized water and sanitation as a human right. Great progress has been made to increase access to clean drinking water, however targets for improved sanitation have fallen short, leaving nearly 700 million people without ways to safely dispose of human waste. In fact, globally 80 percent of wastewater generated by society goes back into water sources untreated, which leaves 1.8 billion people drinking and cooking with water contaminated with feces.
The benefits of WASH (water, sanitation and hygiene) interventions include improved health and nutrition, school attendance (especially for girls), and overall productivity, with less time spent collecting water. Improved sanitation also contributes to economic development by delivering $5 in social and economic benefits for every $1 invested, according to the Bill and Melinda Gates Foundation.
Additionally, research demonstrates that designing WASH technology without changing end-user behavior is less likely to succeed. Technologies such as PotaVida's Smart Solar Purifier, WASH programs implemented by Splash, and community-designed water system with Water1st, are enabling behavior change and ultimately, long-term sustained clean water system in developing countries.
Between 1990 and 2015, 2.6 billion people gained access to improved drinking water, which included piped water connections, public taps, protected wells and boreholes, as well as filtration systems. However, only five to 25 percent of these water purification methods were used correctly. This is why changing behaviors in WASH is so critical. While access to clean water has made greater strides than access to improved sanitation, where 2.4 billion people still do not have basic sanitation facilities, all areas of WASH need to include behavior change to succeed.
The majority of people lacking improved water and sanitation live in rural areas in sub-Saharan Africa, Southeast Asia and Southern Asia. While people in urban areas have greater access today, urban areas also need attention. This is why new technologies, especially those that enable behavior are so crucial for WASH interventions, and the development sector is working on innovative and cost-effective ways to test and treat drinking water, as well as develop new methods for assessing safe collection, transport, disposal and reuse of fecal waste along the sanitation chain. There are a number of promising technologies for cleaning drinking water. Engineers are also working to make desalination less expensive by reducing the energy required for the process. Technologies are also being created to improve recycling of wastewater and sewage treatment for irrigation and industrial use, as well as to resupply aquifers.
In addition, technology can help encourage, enable and empower sustainable behavior change around WASH. All WASH practices, even hand washing with soap, require some physical product or technological component, and the design of these can strongly influence their acceptance by communities. Placement is often key, as well as physical characteristics, such as the design of soap containers and water taps.
Here in Washington State there are a number of organizations using technology to reach the Sustainable Development Goals focused on WASH. For example, The Bill and Melinda Gates Foundation started the Reinvent the Toilet Challenge in 2011, which has now awarded 16 researchers around the world with grants to utilize innovative approaches for the safe and sustainable management of human waste (see one example here). Additionally, The Gates Foundation provides funding to researchers who are developing ways to process and convert waste into products, energy, and fertilizer. Other organizations such as World Concern and Splash (see a list of other organizations below) are also using innovative technology.
While ensuring all people have access to improved water and sanitation will not be easy, the use of new technologies will help create sustainable solutions in places where piped water and flush toilets are not feasible.
A number of Global Washington members work tirelessly to provide access to clean water and improved sanitation. Below are descriptions of just a few of these organizations, highlighting current projects. Learn more about these members and others on GlobalWA's interactive map.
Etta Projects: Etta Projects collaborates with communities, creating sustainable solutions to improve health, sanitation and clean water. The organization's safe water and sanitation projects include building water distribution systems in rural communities, building water purification systems in per-urban communities using filtration, as well as building dry composting latrines and grey water filtration systems. Etta Projects also offers hygiene, sanitation and disease prevention training and education, working with locally appointed villagers to become health, sanitation and rights promoters. ettaprojects.org
Global Good: Global Good combines Intellectual Venture's unique invention prowess with the expertise of leading humanitarian organizations, forward-looking governments, and commercial partners that share our vision. Together, we invent, develop, and deploy commercially-viable technologies that improve life in developing countries. With the goal of enabling millions of smallholder farmers to grow crops and keep their families going through dry seasons and drought, Global Good is working with various NGOs and other partners to explore the efficiency and other characteristics of inexpensive solar-powered water pumps, with the aim of making such starter pumps more available to the millions of farmers who are attempting to produce food over groundwater they currently cannot reach. globalgood.com
PotaVida: PotaVida enables aid organizations to make better decisions by collecting accurate data from the field in real time and distilling it into actionable insights. To realize this, PotaVida creates technical solutions that work, are simple to use, and result in dramatic benefit to people in need. The company's first product, the Smart Solar Purifier, disinfects water using just sunlight for household use in disaster relief and refugee contexts. In addition to providing safe drinking water at a dramatically lower cost, every Smart Solar Purifier records its own usage data. This data is downloaded to mobile devices to provide instantaneous feedback in the field, and is also synced in the cloud, analyzed at the program level, and sent to decision makers. potavida.com
Splash: Splash is a nonprofit enterprise focused on clean water, clean hands and clean toilets for children living in urban poverty across Asia and Africa. It implements water, sanitation and hygiene (WASH) programs in child-serving institutions, including schools, hospitals, shelters and orphanages, in order to reach the greatest number of children cost-effectively and to bring about generational change. Splash's holistic approach to WASH includes high-quality water filtration systems, durable drinking and hand washing stations, toilet renovations, and hygiene clubs to ensure that kids learn healthy habits like handwashing.  To date, Splash is managing 1,552 international projects and serving safe drinking water to over 398,000 children every day in eight countries (China, Cambodia, Bangladesh, Ethiopia, India, Nepal, Thailand, and Vietnam). In nine years of operation, Splash's global project success rate is 99.5%. splash.org
Water1st International: Water1st prides itself on funding sustainable water projects that involve local communities, local women, as well as a consistent funding stream. Since its founding in 2005, Water1st has provided clean water to over 160,000 people. While its projects focus on providing easy access to clean water, the organization also ensures that projects integrate toilets and hygiene education. Water1st's success centers on robust program evaluation of each of its funded projects to ensure that deliverables are effective and community needs are met. water1st.org
World Concern: World Concern is a Christian humanitarian organization that helps lift people out of poverty through activities including microfinance, agriculture, disaster response and small business development. World Concern works in 22 countries, with the goal of transforming the lives of those it touches, leading them on a path to self-sustainability. As an organization, World Concern aims to be transparent and effective in how it helps. Various staff members from the organization's U.S. headquarters and in the field contribute to this blog, keeping the public informed of the ways World Concern is offering hope to six million people worldwide. worldconcern.org
Esperanza International Foundation: Working in Haiti and the Dominican Republic, Esperanza International Foundation serves women, the material poor and the socially marginalized. The Foundation's water projects allow local churches to purchase professional-grade water filtration systems with Esperanza loan capital, which allows churches to then sell clean drinking water at affordable prices to local community members. These churches then use the profits of their water project to repay their loan, as well as invest in strengthening their communities. New access to clean water has played a major role in reducing the number of water borne illnesses and gastrointestinal problems these communities face, providing them with better overall health. esperanza.org
The Living Earth Institute:  The Living Earth Institute (LEI) works to empower communities to protect their health and environment through sustainable water use, with the primary goals of ensuring clean water supply and improved sanitation. LEI adapts water projects to the needs of the community with projects ranging from building family composting toilets and community water wells in Nepal, to pursuing earthquake rebuild partnerships. LEI has also created drinking water, rainwater catchment and hand washing stations in developing communities in other parts of the world. living-earth.org
MSR Global Health: MSR Global Health is focused on improving access to basic human needs for people living in low- resource settings around the globe. MSR Global Health believes the same trusted engineering that creates gear for challenging outdoor environments can find solutions to help these communities gain greater access to safe water, food and shelter. msrglobalhealth.com
World Vision: World Vision is the leading NGO provider of clean drinking water, reaching one new person every 30 seconds. Focusing on the rural, ultra-poor, combining access to clean water with sanitation and hygiene interventions and engaging communities in sustainability efforts, World Vision and its partners are committed to expanding their reach to one new person every 10 seconds with clean water and sanitation by 2020. With the use of right-sized equipment, appropriate water sources, manual drilling, mechanized wells with solar pumps and over 500 WASH professionals who live and work in the communities where they lead efforts, nearly 80 percent of World Vision wells continue to function at a high level after 20 years. http://www.worldvision.org/our-impact/clean-water
---
Featured Organization
PotaVida, Inc
By Amanda Pain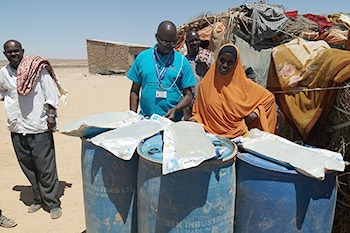 Seattle-based PotaVida, Inc. launched its Smart Solar Purifier last May, and has already seen a great response to the 1,800 purifiers now deployed in Haiti and Somaliland. The Smart Solar Purifier is an innovative household water purifier that tracks its own usage like a Fitbit. Unique among household water solutions, the Smart Solar Purifier uses solar disinfection (SODIS) to eliminate the need for chemicals or filters. Its complementary data collection system provides critical teaching and decision support tools in a context where existing interventions often have usage rates as low as five percent. So far, PotaVida's data show that over 50 percent of users have successfully treated water with their purifier, representing about a 10x improvement in impact for their NGO partners.
PotaVida was founded by three graduate students at the University of Washington after a team of engineering students won a design competition for a concept to indicate when water was safe to drink from solar disinfection (SODIS). Charlie Matlack, PotaVida's CEO and principal engineer, said SODIS is not a well-known or highly used mechanism for water purification, in part because it's hard to tell when the water is safe to drink. He and Jackie Linnes, an expert in microbiology, were joined by Tyler Davis to further develop and commercialize the concept.
Davis knew firsthand, from his work with the United States Agency for International Development (USAID) in Indonesia, the tragic consequences of unsafe drinking water. He also understood the importance of accountability and monitoring in the development sector. With nearly 700 million people globally lacking access to safe water, and many solutions, such as water filters or chlorine tablets, having abysmally low usage rates (between five and 25 percent), the concept had the potential to be a critical tool for access to safe water.  Together, the team identified as their best opportunity for impact adding data capture tools to the water purifier concept, and forming a for-profit entity to supply their solution to aid organizations, rather than directly to end-users, leveraging the expertise of established NGOs for distribution and training.
The Smart Solar Purifier has now been through five design iterations, driven by feedback from users in Nicaragua, Zambia, Uganda, and Haiti. Each ten-liter purifier, comprising a hydration bag with built-in UV dosimeter, is built to last for a year. Once filled, the user places the purifier in the sun and presses a start button. A red light indicates the purification process has begun, and a green light indicates the water is safe to drink a few hours later. PotaVida's biggest client today is World Concern, a Seattle-based non-governmental organization (NGO) that uses the purifier in Haiti and Somaliland. Matlack believes PotaVida's product and services will be useful not only to NGOs, but also to for-profit aid contractors such as Tetra Tech.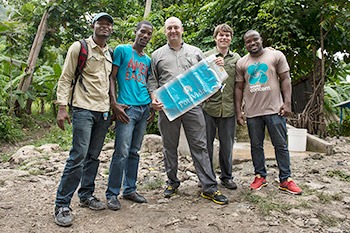 Some of the important changes to the product design included changing the purifier's spout, which initially had a wide mouth and simple screw-cap. Matlack said that while testing prototypes with World Vision in Uganda, a mother told him this was not suitable for small children because they'd spill the water; now the purifier has a smaller opening and easy-to-use spigot. The bag also originally had a carrying strap and a handle, but Matlack explained that this was impractical.
"The feedback we received was people did not want to use it for water collection and transporting water," Matlack said. "They wanted to keep it at home where they could protect and value it."
Probably the most significant change was the addition of PotaVida's data collection services. Matlack wanted the purifiers to collect usage data, but originally he thought only PotaVida's staff would utilize it. However, Randy Strash, who was working with World Vision at the time, stressed the importance of making the data available to the aid organizations not only to promote behavior change around purifying water, but also for NGOs to evaluate water interventions.
Based on this feedback the Smart Solar Purifier not only tells the user when the water is drinkable, it also monitors and tracks use. NGOs purchasing the purifier are given smartphones, as well as a device that syncs the data from the purifiers. Using this equipment the NGO field staff can see immediately if households are using the purifier correctly, if at all. Matlack said this quickly leads to a valuable conversation. The visit records, including GPS locations, also let NGOs see which households their field staff visit daily.
"The purifier's status indication, together with the data collection, make this a uniquely powerful teaching tool to close behavioral feedback loops and make people accountable for purifying water every day," Matlack said. He explained that the Smart Solar Purifier is a sustainable household water intervention, because it will create market demand for water purification tools once people know and value purifying their water. He also explained that NGOs and their donors can make better decisions on how and where to allocate resources with the data-driven feedback provided by PotaVida.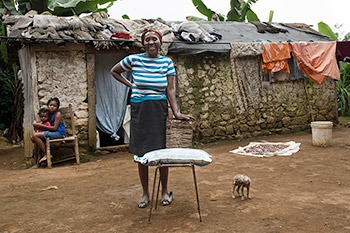 One example of this is the importance of follow-up visits. Matlack said usage data in summary reports from Haiti show only 38 percent of households initially used the device correctly. After the first follow-up visit an additional 31 percent used it correctly, and a second follow-up visit led to more first uses, as well. Knowing this lets NGOs make more informed decisions about investing in continued follow-up visits by field staff, and gaining donor support for these decisions.
The Smart Solar Purifier is sold in bulk for $50 per purifier, including all data services and equipment, and is mostly sold through word of mouth. Matlack said he sees PotaVida expanding its role in the water and sanitation sector by working on technology that can track data use for things such as latrine use, hand washing stations, and hand-pump wells.
"PotaVida's essential value is capturing accurate data and reporting it back to stakeholders, and in doing so, we can maximize utility and impact," Matlack said. "My goal is to demonstrate the value of PotaVida to the aid community, and to grow the number of purifiers and data services it provides."
---
Changemaker
Frehiwot Belete, Hygiene Program Manager, Splash
By Amanda Pain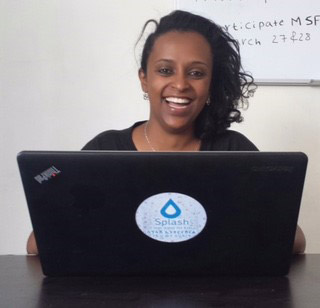 While getting her master's degree in public health, Frehiwot Belete, Hygiene Program Manager for Splash in Ethiopia, learned about a non-governmental organization (NGO) that provided a community with access to clean water and improved sanitation without including hygiene education. As a result that same NGO came back to find the community using the toilet facilities as storage for their crops. This example, Frehiwot explained, is why behavior change around hygiene practices is crucial to any water, sanitation and hygiene (WASH) intervention. It is also why she has devoted her life's work to this endeavor.
"WASH and behavior change are inseparable components," Frehiwot said. "Behavior change needs to happen first; just providing safe water and sanitation facilities alone will never be enough."
Growing up in Ethiopia, Frehiwot's interest in public health began during childhood. She wanted to learn more about the diseases she saw plaguing her community, as well as understand how diseases could be prevented and treated. By the time she started college she believed studying public health was the best way to contribute to society.
"Many of the problems prevalent in my country, things such as diarrhea, malnutrition or stunting are all preventable conditions," Frehiwot said. "But we are not taking the necessary prevention measures and I wanted to be a part of helping communities understand how to stay healthy."
Frehiwot's interest in WASH and behavior change began early in her career. She worked as a public health officer while in school, where she not only conducted public health outreach in rural Ethiopian communities, but also treated common illnesses. She studied for her master's in public health to better understand the root cause of diseases, and what people needed to do to prevent infection. She plans to study for her doctorate and specialize in epidemiology.
While working in the public health sector she gained experience in hospitals and health clinics in both urban and rural areas. She has worked in prevention and education, treated patients with HIV and tuberculosis, as well as acted as a vaccine coordinator. While working for the Ethiopian Health Institute she focused on Guinea worm eradication by doing active surveillance of endemic areas, as well as mass education on prevention. During her tenure at the Ethiopian Health Institute, the number of Guinea worm cases dropped significantly.
In 2014 Frehiwot went to work for Splash to focus on WASH. During her various experiences in the public health arena she found lack of hygiene and sanitation to be the root problem causing more than 50 percent of communicable diseases in her country.
"I knew that if I went to work for Splash as a hygiene educator I could contribute a lot to my country," Frehiwot said. "I get to work with children in schools and orphanages all over Addis Ababa, and I know that by reaching so many children I can change lives."
As hygiene program manager Frehiwot organizes the hygiene education and training portion of Splash's intervention. The organization builds hand-washing stations at partner sites, and then Frehiwot's team comes in to ensure commitment to hand washing practices, as well as provide hygiene education.
"Our goals are to increase knowledge and to change student's attitudes and practices around hand washing," Frehiwot said. "Educating children is educating the next generation and educating future parents. Children can make a huge impact in changing their family's hygiene behaviors."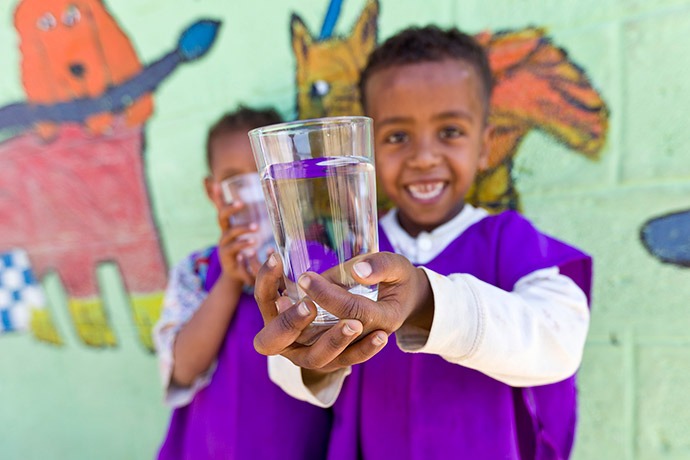 Frehiwot said she plans to spend her career focusing on public health issues in her country and hopes to see clean water and improved sanitation available throughout Ethiopia in her lifetime. She also hopes that attitudes towards hand washing in her country will change, something she is currently playing a key role in. She explained in Ethiopia people do not always see the direct link between getting sick and washing their hands, and because hand washing is not available in all public venues and homes people's attitude is that hand washing is unimportant.
"I hope while at Splash I will be able to change behavior in all Addis Ababa schools, and that hand washing practices will be carried out by all students," Frehiwot said. "I have learned in my career that with continuous support and commitment anything can be accomplished."
At 50 sites in Addis Ababa where Splash has installed hand-washing stations, students are regularly washing their hands with soap that they provide to the schools themselves. Frehiwot said this is something she is very proud of, and having each family invested in buying and supplying soap to the school ensures sustainability.
Frehiwot acknowledges there is still a lot of work to be done to change people's behaviors around hand washing in Ethiopia. She said changing attitudes and providing hygiene education will be even more challenging in rural areas. However, she loves her work and is committed to serving her country for the long haul.
"Anything can be changed with commitment and devotion," Frehiwot said. "I truly believe that."
---
Member Events
Mar 1-31: Moving Worlds // Moving Worlds Institute Fellowship Application
Mar 16: Landesa // Seed the Change
Mar 16: Seattle University // Connection Café: He Named Me Malala
Mar 16: Shoreline Community College // North America in the 21st Century: A Mexican Perspective
Mar 31: Jackson School of International Studies // Wounded Land and People
Apr 6: World Affairs Council // YPIN International Trivia Night
---
Career Center
Highlighted Positions
Office Manager, Global Washington
Development Assistant, Splash
Moving Worlds Fellowship, Moving Worlds
Program Assistant, Path
---
For more jobs and resources, visit https://globalwa.org/job-board/
---
GlobalWA Events
March 23: The Courage to Persist: Standing Firm in Support of Women's Opportunities Globally
March 23: Networking Happy Hour with Friends of GlobalWA, Humanosphere and World Affairs Council
March 27: The Ripple Effect: Clean Water Programs that Inspire Long-Term Behavior Change