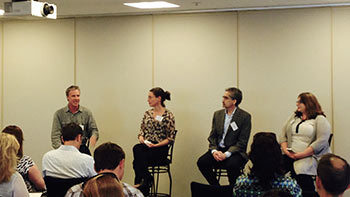 On June 9th, Global Washington hosted a panel discussion on the use of innovative technologies by social entrepreneurs. ­­­­Panelists included: Ali Arjomand, Director of Analysis and Evaluation at Global Good; Beth Kolko, co-founder and CEO of Shift Labs; and Laura McLaughlin, Director of MSR Global Health. The discussion was moderated by Chris Coward, Principal Research Scientist and Director of the Technology & Social Change Group (TASCHA) at the University of Washington Information School. Humanosphere sponsored the event.
While all of the presenters work in the for-profit sector, these innovators are not solely seeking economic incentives. Rather they lead a life of service, understanding that philanthropy is not an end in and of itself. These entrepreneurs are working with untapped technology markets, and creating self-sustaining benefits for everyone.
Innovation begins with an idea. At MSR, McLaughlin takes military technology and makes it commercially viable. At Global Good, Arjomand creates innovative solutions such as Arktek, an affordable vaccine storage device, to combat challenges such as vaccine contamination. Incredible innovations are being created daily in the form of ideas and prototypes. For an innovation to be truly impactful, however, it must be widely used.
McLaughlin considers distribution to be the biggest barrier for an innovation to become impactful; she even calls the initial distribution process "the valley of death," where most innovations metaphorically "die." Arjomand quantifies impact in terms of sales. And, Kolko aims to create something which can be bought by people at even the lowest income levels. The goal is to close the gap between innovation and impact, to reach all parts of the world with technology that improves lives.
While technology alone cannot rescue people from extreme poverty, it can drive development, give people the tools to feed, clothe, educate, heal and shelter themselves. But let's remember that it will take a combined effort of political, social and economic development to stabilize the world's most volatile regions.