Jonathan Scanlon, Senior Advocacy Advisor for Oxfam America, was the featured speaker at Global Washington's August Executive Director Roundtable. As befits his title, advocacy – ways to partner, calls for help and how to bring attention to the situations that need it in this world – was the theme.
Oxfam, the worldwide development organization, was founded in 1942 in Britain. Short for the Oxford Committee for Famine Relief, the small organization campaigned for food supplies to be sent through an Allied naval blockade to starving women and children in enemy-occupied Greece during the Second World War. The Allied High Command eventually agreed – under the condition that Oxfam help organize the effort in order to best administer the food aid. Thereafter, the advocacy group continued its work and grew into an effective and expansive relief organization.
One lesson to be drawn from this early experience was that by working with governments, ordinary citizens can have more impact than they can by going at it alone. Creating change in governments and legislation is far more attainable than one might imagine.
The ability to make a change in American legislative policy is founded on the idea that "America cares"- an idea that Scanlon mentioned more than once. People have a general desire to do good in the world. In a democratic nation with an abundance of resources, acting on those beliefs is certainly feasible.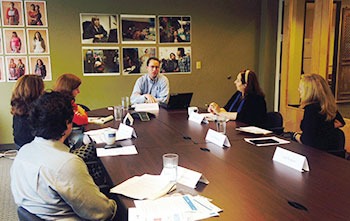 Scanlon outlined an eclectic strategy for doing just that. It involves using a large variety of available resources that can help to make one's voice more effective. One such tool is Smart Chart 3.0 by Spitfire Strategies. This online interactive service helps non-profits to be more effective in campaign communications by closely examining their audiences and what motivates them. For example, Scanlon said a Texas anti-littering campaign was having difficulty making an impact on public opinion. But when a revised strategy invoked local pride with the "Don't Mess with Texas" motto on posters, immediate improvements were seen.
Digital tools aside, networking with people and creating lasting relationships are by far the most effective. Scanlon emphasized the importance of in-person visits and how the power that a face-to-face conversation with a constituent can have on an elected official.
"Personalized letters can be really impactful, and even emails can be because they show that someone took the time to write it," he said. "However, even people who are globally aware, engaged citizens don't always take the time and effort to meet legislators in person. Oftentimes you'll walk into a congressional office and there's no one in the lobby waiting to meet with the elected official – more so here than in Washington, D.C. – but at a state level just taking the time to go in can make an impact."
Establishing a relationship with an audience, be it a voting population or an elected official, can help ensure that change can occur. Scanlon said that the American citizen's voice has a power that we may not realize exists and may not be using to its fullest extent. Furthermore, our voice is a resource. Elected officials don't have the time to be intricately educated on every issue, but with educated advocacy, policy decisions can be influenced.
Scanlon provided roundtable attendees with a number of advocacy resources and links. You can view them here.