On June 12, Global Washington, in partnership with Emirates Airlines and Port of Seattle, hosted a panel discussion with representatives from four of its travel-savvy member organizations to talk strategy on how to effectively plan for a staff or donor trip abroad.
The conversation, moderated by Bruce Beckman, Senior Sales Executive of GlobalWA member Emirates, covered topics ranging from safety and security of travelers to helping donors and staff members get the most out of their time abroad.
All three panelists emphasized the importance of extensive planning and preparation.
Scott Garrepy, Chief Development Officer of GlobalWA member SightLife, who has led multiple donor trips to India, said the initial challenge while leading group donor travel is identifying the goals of the trip. Once they have been established, he suggested working backwards to create a plan to achieve them. Important preparatory concerns include: making time for both achieving mission and having a little fun, preparing donors for a different culture than they might be used to, and setting norms for acceptable donor behavior. "Sometimes people do crazy things," said Garrepy. In the end, it is most essential to plan early, and plan for everything. "No plan ever survives," he said, emphasizing the importance of a contingency plan that covers every scenario.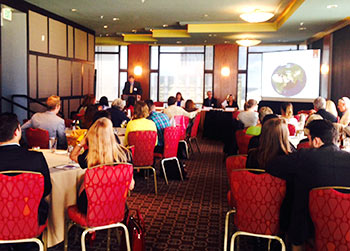 Teresa Willson, Global Travel Manager for GlobalWA member PATH, spoke to her experience with program staff travelling abroad. She warned that it can often be difficult to convince staff with extensive travel experience that some trips may be more challenging than others. She recommended knowing the risk rating of the destination country, requiring staff to read up on travel information prior to their trip, and creating a safety communication plan which includes gathering contact information and scheduling regular check-ins. With high or extreme risk countries, Willson asks staff to get special authorization from the program leader, as well as discusses whether or not the trip can be delayed. Her final advice? Don't forget to slow down, take a step backwards, and plan for all scenarios. "People tend to take safety planning for granted, and it is easy to get lax because of how busy we all are."
Jan Troxell, Manager of GlobalWA member Passport Travel, explained the benefits of using a travel agent to plan staff and donor trips, emphasizing the expertise, guidance and time savings that one can get from an agent. "There are no words in the English language to describe what it is like to be in New Delhi," said Troxell, and travel agents can help plan every step of the way. They also provide a safety net in times of crisis, facilitating unplanned transportation assistance and acquiring lost luggage. And, as Troxell explained, "It doesn't cost you that much extra to use an agent."
According to the panel, the number one cause of death for U.S. travelers abroad is traffic accidents. Knowing this, the group recommended using International SOS, for which an organization can sign up to receive security and medical services abroad. In addition, the panel recommended having a doctor and hospital identified in every town that you plan to visit.
Although not a problem that everyone will encounter, it is still important to prepare for physical threats by creating connections with local partners, or someone on the ground that can be trusted, prior to your trip. International SOS can offer security references in particular areas.
Emergency planning aside, the panelists all agreed that organizations should always keep in mind what they want to accomplish when leading a group abroad. Are they taking current donors or prospective donors? What do their travelers want to see, and how can they engage them with people that the organization supports? Also, when leading these trips, after all the planning is in the books, it is important to remember to stay in the moment. You must "look for that human connection," explained Garrepy.
Ultimately, these trips serve to create lasting relationships. So, keep the conversations going upon return. Remember, the trip should be the start to something bigger. Sometimes a little guidance is needed to create an enduring experience for all.