Welcome to the April 2014 issue of the Global Washington newsletter. If you would like to contact us directly, please email us.
IN THIS ISSUE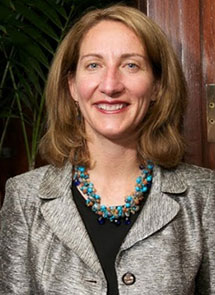 "Who else can bring together NGOs, companies, philanthropists, and universities to have meaningful conversations about development?"
"I met someone from a major corporation at the Global Washington conference, we had several meetings over the past year, and we're now partnering on a project."
"If it wasn't for Global Washington, I wouldn't know where to start when it comes to new ways to promote my organization. Twitter, Facebook…I didn't know anything about social media!"
The above is a sampling of comments I've heard over the past few weeks about the unique value that Global Washington offers its members. I have to say that I was skeptical that a broad-based membership association could still be relevant and provide fresh programs after five years in existence. But, the excitement, endorsement, and potential for Global Washington's future is very evident to me now.
The GlobalWA staff and board are undertaking an intensive, 8-week strategy refresh to evaluate the success of the past five years and build out a plan for the next five. We intend to develop a clear value proposition and a road map to reach our goals through meaningful offerings to our members. The overall vision to strengthen and promote those working in international development remains our central priority. We believe that a vibrant, innovative sector in our state will ultimately help to create a better world, both locally and abroad. Stay tuned for more on this over the next few months.
In the meantime, I encourage you to take advantage of our upcoming events. In addition to our monthly Executive Director Roundtable and monthly Happy Hour, we have two remarkable events in May. Howard Behar, former President of Starbucks International, will share insights on May 14 about the art of management—a topic relevant for business and non-profit alike. On May 30, we are honoring our members at our Spring Member Celebration to recognize the meaningful work you all do every day. Please join us!
This month, our newsletter highlights some of the work our members are doing in India. Next month, we'll focus on Africa. I hope you will read these stories each month with pride in your own organization and in those who are working beside you, here in Washington State and around the world.
This is an exciting time for Global Washington and its members. I look forward to meeting all of you at one of our upcoming events!
Sincerely,

Kristen Dailey, Interim Executive Director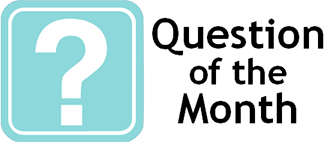 Does your organization have a staff member or partner from another country who will be visiting Seattle this year?
India in the News
India's "Corporate Social Responsibility" Mandate Now in Effect
By Holly Koch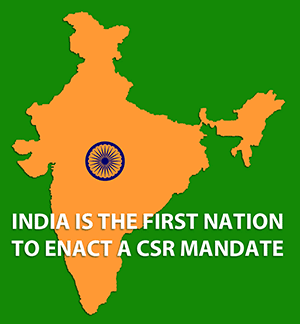 April 1 marked the official beginning of a first-of-its-kind component of India's update to its 1956 Companies Act: a mandate that companies that have more than $830,000 in net profits are required to spend 2 percent of those profits on so-called "corporate social responsibility (CSR)" projects.
"These guidelines would be applicable to close to 8,000 companies," said Sunitha Viswanathan, an associate at Unitus Seed Fund in Bangalore, India.  Unitus is a Global Washington member.
What does this mean for development in India? According to Viswanathan, the mandate could result between $2-2.5 billion being set aside for CSR in the first year.  "There are more than 400 million people in India who live on less than a dollar a day," she said. "The current requirement to reduce this disparity is huge and the first year's spend of $2.5 billion will not be able to cover for this."
The goal, however, is not to solve India's poverty struggles in the first year. "The idea is that the corporations are going to increase their net profits, which will ultimately lead to five years down the line, the amount may be $10 billion or $15 billion, and that's something that's going to significantly help all of the NGOs (non-governmental organizations) and the social enterprises," said Viswanathan.
While the 2 percent CSR spend is a mandate, there are no official penalties for failing to comply. Companies are simply required to explain their lack of spending in their annual report. While this has many people worried, Viswanathan believes the social repercussions are enough to keep most companies in line. "This is not something that would be perceived very well in the market. It sends out an entirely negative signal in terms of corporate governance."
Others, according to Viswanathan, worry "that a lot of corporates might just window dress and start accounting for things that are not really a CSR spend." Some believe this type of green washing could be, in part, aided by the mandate's vague description of CSR.
However, Viswanathan said the most pervasive worry in India surrounding the mandate is the potential inadequacy of many of India's NGOs to properly scale up their operations. "A lot of NGOs are not run as professionally as most of these corporations would want them to be."
The bridge that is being built between businesses and NGOs is vital. Not only do development challenges require funding, they also require effective programming. The partnerships forming in the wake of the CSR mandate are providing NGOs and social enterprises "the chance to tap into the brains of some of the most intelligent folks right now, which they probably didn't have before," said Viswanathan.
Because companies will share in both the successes and failures of the organizations they support, Viswanathan believes the relationship will greatly improve their efficacy. "This will actually necessitate a lot of discipline, making them a lot more stringent, and hold the NGOs accountable because corporates are not going to let them off the hook that easily."
While it's likely that India's CSR mandate will see struggles in its first year, the potential rewards of its success will have a powerful effect on development in India, effects that may possibly motivate other nations to adopt similar requirements.
"I think when you bring about something as different as this, there's going to be a lot of backlash, there will be hurdles and roadblocks as you go ahead, but there had to be a starting point and this is probably a good way to start," said Viswanathan.
India Elections 2014: World's Largest Democracy Goes to the Polls
By Dean Forbes
The world's largest democratic elections are taking place for five weeks in India, ending on May 12. An estimated 814.5 million Indians – and for the first time, nonresident Indians – are eligible to vote to choose the representatives to India's lower house of Parliament, the Lok Sabha. The composition of that body determines which party chooses the prime minister and governs the country for the next five years. According to Election Commission of India officials, 65 percent of India's population is expected to vote, while 20 percent of eligible voters will have the ability for the first time.
Voting is taking place by region. According to an election primer in The New York Times, the Election Commission of India has mobilized more than 10 million polling officials and security personnel to carry out the election. There will be about 930,000 polling stations. Voting is staggered and will be done in nine phases from April 7 to May 12. Voting will be done by electronic ballot. The results are scheduled to be announced on May 16.
The race is ultimately between Narenda Modi of the Bharatiya Janata Party (BJP), Rahul Gandhi of the INC (Indian National Congress), and Arvind Kejriwal of the Aam Padmi Party (AAP). The INC's historic political hold is now in question as "debate among analysts in Delhi largely centers on the margin of the BJP victory, not on its likelihood," according to the The Guardian newspaper.
Following is background about the election from a primer published in the New York Times:
The major parties
India has a multiparty system with more than 50 regional parties and two major national parties, the Indian National Congress, which leads the governing coalition, and the opposition Bharatiya Janata Party. The Congress party, which was formed in 1885, when India was still under British rule, has dominated Indian politics. The party played a leading role in the struggle against colonial rule, giving rise to some of the most prominent national leaders, including Mahatma Gandhi and Jawaharlal Nehru, who went on to become the first prime minister of India. The Bharatiya Janata Party, the other leading national party, is the main opposition in the Lok Sabha. Its roots are in the Hindu nationalist organizations. Modi is a member of one such organization, the Rashtriya Swayamsevak Sangh, and a self-described Hindu nationalist. The Aam Aadmi Party, or the Common Man Party, was born out of mass street protests against corruption that erupted in 2010 and 2011. Its leader is a retired civil servant named Arvind Kejriwal. The party surprised political analysts by winning 28 seats in the Delhi state elections, enough to seat Mr. Kejriwal as chief minister. But Mr. Kejriwal resigned just 49 days into his term, accusing the two main parties of failing to support an anticorruption bill.
How the government is formed and prime minister chosen:
The party that wins the greatest number of seats usually forms the government and chooses the prime minister. Getting a majority, or 272 seats, usually requires building a coalition with smaller parties. India's multiparty democracy allows for the formation of alliances between political parties. Since the mid-1990s, coalition governments have been the norm as no party has been able to secure a majority on its own. Alliances are fluid and can change any time after the elections.
Some of the key issues:
Corruption. A slew of corruption scandals involving the Congress-led government, and an anticorruption push by the Aam Aadmi Party have left an impression on voters.
Economy. Slowing growth, persistent unemployment and high food prices have led to disenchantment with the present government.
Secularism. The ascent of Modi and his Hindu nationalist party has raised concerns that members of minority religious groups would face discrimination if the Bharatiya Janata Party comes to power.
Featured Organization
Splash
By Holly Koch
On Seattle's Capitol Hill, nestled between two colorful storefronts, is the door to Splash. Behind it is a staff with an unwavering dedication to the role clean water plays in the health and education of children in the developing world.  "We know what clean water means for them," explained Director of Strategy Peter Drury. "Healthier lives, more school, greater economic opportunity, and as adults, they're going to demand clean water in the future."
From its early beginnings as a manifesto on the pages of Founder and Director Eric Stowe's notebook, Global Washington member Splash has become a formidable force behind clean water projects in some of the most impoverished regions in the world.
For example, Splash began working in China in 2007 with a focus on its more than 1,000 orphanages in 31 provinces. "By the end of this year," said Drury, "we're going to have secured clean water in every orphanage in China."
To reach efficacy at such scale requires an austere examination of the practices within global development. "A great deal of international development work is focused on an initial gift, an act of seeming benevolence," explained Stowe, "and then post-implementation there's really this quick reduction of services for these same communities which often results in failed projects."
With sustainable solutions as its objective, Splash commits a minimum of 10 years to its water projects, a guarantee comprising the hiring and creation of local teams, as well as all ensuring ease for spare parts, peripherals, water quality tests, service, and maintenance of its equipment, according to Stowe.
The quality of water is dependent upon Splash's filtration systems, the same ones that global food-chains like McDonald's use, which target biological contaminants. According to Stowe, the likelihood of the smallest bacteria (approximately .2 microns) getting through the .015 micron filter is akin to a basketball's ability to penetrate a straw.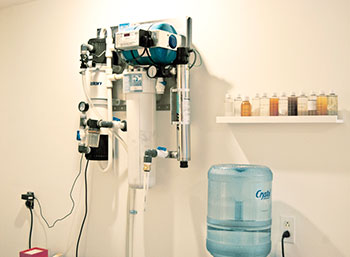 To ensure the continued quality of water to both the affected communities and to donors, in-country staff go to these sites every three months for the first two years, and every six months thereafter, according to Stowe. Reports on the projects they conduct are published on Splash's online system for accountability, Proving It. This includes – and calls out transparently – the ones that fail.
"This transparency is meant to 'lift the firewall' between the organization and its donors," said Stowe. "Every project we'll ever undertake is going to fail at some point. It's how you respond in the wake of that failure that makes the difference."
Stowe's devotion to transparency includes the sincerest form of flattery: the imitation and replication of successful strategies employed by other organizations in both the nonprofit and private sectors. At Splash, they ask themselves, "Is there a way that we can analyze how they've done what they've done, how they've scaled, how they've hired, how they've accredited, whatever the case may be, and adopt their practices accordingly?"
Splash recently launched operations in India, where the obstacles required the organization's "look for the best; learn from the best" model. Where the Splash model in China benefits from Beijing's unequivocal authority in determining ubiquitous national regulation, in India "every single state, and within those states, the regions, districts and cities, are acting so differently from what the national standards are," said Stowe. "We don't view it as one monolith; we view it as multiple types of development engagement, and are positioned to customize accordingly while still preserving the ability to scale."
After analyzing the social and cultural landscape of India, Splash determined its proof point would be in Kolkata, India's third largest city, and that the most urgent – yet solvable – need was within public schools. "In terms of numbers of children, in Kolkata alone, we'll be in 2,000 schools serving half a million poor kids. Just think about that," said Drury.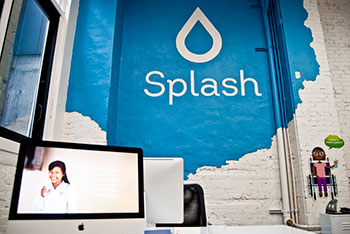 "In India, the goal is to recalibrate what the national quality standard is, and to eventually leverage Splash's work in India as the model," said Stowe. Splash has identified that the amount of funding by the Indian government toward similar projects is comparable to the needs of establishing the organization's model at scale, an extremely promising fact.
As Stowe explained, the process of transforming water "from insanely nasty to incredibly safe" is the most straightforward of their tasks. It is governmental buy-in that will make or break a program's longevity.
Combined with the "incredible chessboard" that is navigating behavior change, governmental advocacy, community mobilization, and the relationship building with staff and neighborhoods, Splash's mission of achieving 100 percent coverage in its India program is nothing short of ambitious.
As Drury puts it, however, "We're just getting started."
Changemaker
Sachi Shenoy, Executive Director and Co-Founder, Upaya Social Ventures
By Gena Lux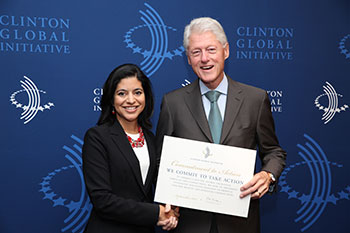 It's an oft-heard story: A young couple emigrates from India to the United States with aspirations of higher education and a better future for their children.
"Both of my parents were the first in their families to leave India," said Sachi Shenoy, Executive Director and Co-Founder of GlobalWA member Upaya Social Ventures in Seattle. "My aunts, uncles, cousins all remained in India when I was a child." Shenoy was born a U.S. citizen in New York and soon her father moved their young family to Houston, Texas to start a cardiology practice. "We spent our summer vacations in India."
Shenoy realized from an early age that her life in America was vastly different from those of her relatives in India. She grew up in an affluent household while her relatives lived more modestly. As witness to her father's tenacity toward education and work, Shenoy knew that whatever path she took in her life, she wanted to be in a position to provide for those less fortunate in India as her father's medical profession had allowed him to do for many years.
Shenoy received her bachelor's degree in economics from the University of Chicago and later earned an MBA in finance and entrepreneurship from her alma mater. While a student, Shenoy interned on Wall Street, gaining valuable experience in the world of finance. Upon graduation, Shenoy dove into financial services full-time and spent nearly a decade on Wall Street working in sales and trading and management consulting.
While completing her MBA, Shenoy also interned with SKS Microfinance, a non-banking financial company with a mission to eradicate poverty in India by providing financial services to the poor. While there she authored a business plan for the SKS Ultra Poor Program. Several years later, Shenoy moved to India fulltime for about a year to act as SKS Microfinance area manager. Upon returning to the U. S. in late 2007, Shenoy worked for the non-profit Unitus for three years as its Director of Global Programs. She continued to hone her craft working to alleviate poverty by overseeing Unitus's Ultra Poor Initiative and Social Performance Management projects.
During the course of the Ultra Poor Initiative, Shenoy oversaw six different pilot programs that all aimed to reach and serve the poorest of the poor. She observed that the interventions that employed the poor – versus the ones that simply gave them food and healthcare subsidies – resulted in a faster and more sustainable improvement in their clients' lives. "What the poor – even the poorest of the poor – need most is a 'hand-up' and not a 'handout'," Shenoy said.
This experience prompted Shenoy to co-found and serve as the Executive Director of Upaya Social Ventures, which she calls her "dream job." The mission of Upaya is to create businesses that will generate jobs and raise communities out of extreme poverty. Upaya creates jobs by working alongside start-up enterprises, as well as consults with established organizations, aimed at alleviating disparities facing the ultra poor in regions throughout India. To date, Upaya has helped to build six businesses that have collectively created over 1,100 jobs.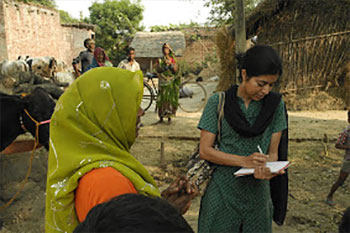 Shenoy speaks with fervor about Upaya's entrepreneurs and proudly displays the finished products from one of their ventures: dishware made out of dried leaves that come from areca palm trees, found in abundance in the state of Assam in northeast India. Upaya's financial and technical support helped a local Assamese entrepreneur build a number of production units, complete with machines that produce leaf plates in different shapes and sizes. These small factories have created hundreds of jobs for the ultra poor in the state of Assam.
Shenoy and her team intend to see many more people living in severe poverty find steady employment as Upaya makes more connections with entrepreneurs and businesses throughout India.
Shenoy offers three valuable pieces of advice to recent graduates who want to focus on global outreach initiatives:
Gain corporate experience. Shenoy recommends recent college grads learn the soft skills on how to manage a business by actually working at one. She credits the experience and mentorship she gained from working at JP Morgan and PricewaterhouseCoopers as "critical" to her success as an entrepreneur.
Be familiar with business fundamentals such as accounting and finance. She recommends taking these classes while still in school or auditing a class at the University of Washington in order to understand the basic building blocks of business.
Know what you are advocating for, "immerse yourself in a region, know the culture, and know the language."
Shenoy's commitment and devotion to her work is palpable. "I hope to be doing this for the rest of my life," she says about her work at Upaya.
To find out more about Upaya's work throughout regions of India, and how you can help, visit Upaya Social Ventures.
Member Recognition
Mobility Outreach International: POF Celebrates a Silver Anniversary and New Name
By Holly Koch

Global Washington member Prosthetics Outreach Foundation celebrated 25 years of life-changing work – giving the gift of mobility in the developing world – at its March gala, and it used the occasion to announce the organization's new name: Mobility Outreach International (MOi).
Originally focused on providing services in Vietnam, MOi has grown geographically to include Bangladesh, Sierra Leone and Haiti. It has also seen substantial growth in its scope of services, the main impetus for its rebranding. However, "While we changed our name and our look," said Executive Director Marion McGowan, "our core mission is the same."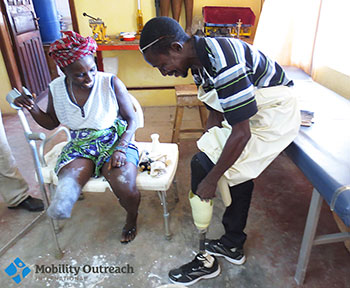 As a U.S. Army surgeon during World War II, MOi founder Dr. Ernest M. Burgess witnessed the devastating effects amputees face due to immobility. A prominent Seattle-based orthopedic surgeon, Dr. Burgess began the organization as a way to improve lives, as well as U.S.-Vietnam relations. In addition to providing physical rehabilitation services and orthopedic surgery outreach, more recently, MOi has grown to include a substantial clubfoot program, addressing a debilitating deformity annually afflicting one in 1,000 newborns. "It is life-changing," said McGowan. "When you help that one individual regain their mobility, it creates a ripple effect that helps the family and the community."
MOi treats, trains, and manufacturers locally. Patients can receive a new, custom-fit limb as soon as three days after their fitting. MOi partners with US surgeons to provide orthopedic surgery outreach and conduct on-the-job training with local surgeons.  Additionally, in-country healthcare providers are trained in non-invasive techniques for treating clubfoot, and some components are manufactured locally to reduce importing costs and unnecessary bureaucratic delays.
As MOi examines the past and looks toward the future, McGowan said, "I think [Dr. Burgess] would be very proud of where this organization has gone and that we are continuing to help more and more people gain their mobility."
To learn more about MOi, visit www.MobilityOi.org, call (206) 726-1636, or email info@MobilityOi.org.
KUOW Currently Accepting Applications for Media Sponsorships
KUOW's Media Sponsorship program strives to provide a voice for diverse, thought-provoking ideas, people and experiences within our community. By providing in-kind media sponsorship to local nonprofit organizations and events, KUOW exposes listeners to a variety of cultural, artistic and community experiences throughout the Puget Sound region that entertain, promote discourse and increase participation in our community. Read more.
Special Events
Howard Behar – It's Not About the Coffee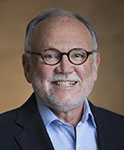 Knowing how to motivate and develop employees effectively can be a challenge for any manager. It's also one of the keys to organizational success.
Don't miss this informative session with Howard Behar, former President of Starbucks North America and Starbucks Coffee International. Behar will share highlights from his 20 years of inspiring greatness in his Starbucks teams. Read more.
---
GlobalWA Spring Member Celebration!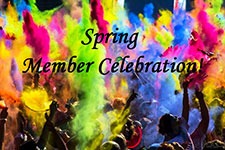 You work every day to make the world a better place.  Now it's time to party!
We're celebrating Global Washington's first five years, and kicking off the next five in style.
Enjoy dinner, drinks and entertainment, mingle with other members, and learn about exciting new things going on at GlobalWA.
And, you just might walk away with one of our fabulous auction items. Read more.
Welcome New Members
Please welcome our newest Global Washington members. Take a moment to familiarize yourself with their work and consider opportunities for support and collaboration!
Advocate Members
Orphans to Ambassadors: Orphans to Ambassadors provides disadvantaged and orphaned children the opportunity to rise out of poverty with sustainable education and practices.  The skills, knowledge, and abilities that come from developing their own long-term resource solutions empower children and allow them to become ambassadors of goodwill and sustainability to other children and communities around the world. www.orphanstoambassadors.org
University of Washington School of Law, Graduate Program in Sustainable International Development:
The SID LL.M. program builds upon the groundbreaking work of founder Roy Prosterman who pioneered land reform as a means to secure prosperity for the rural poor. It is the first graduate program at a U.S. law school to focus on international development law.  Students learn through an innovative, hands-on, and practical program, designed to provide them with the skills needed to face the international development challenges of the 21st century.  http://www.law.washington.edu/sid/
Upcoming Member Events
Various Dates (April-August):
Seattle University School of Theology and Ministry // Introducing the Master of Arts in Transformational Leadership: Information Sessions 
April 25:
Upaya Social Ventures // An evening with Shashank: Indian Classical Music Virtuoso
April 27:
Bo M. Karlsson Foundation // Istanbul Night at Bistro Turquaz
April 29:
US Fund for UNICEF // Not My Life Film Screening
May 1:
UW School of Law // Now Accepting Applications for Masters of Law in Sustainable International Development  (Deadline May 1, 2014)
May 1:
UW Evans School of Public Affairs // Effective Performance Management
May 1:
Global Visionaries // Deadline for Discount: Global Leadership Summer Institute 2014
May 3:
Global Visionaries // 13th Annual Auction and Dinner
May 3:
Etta Projects // Etta's Auction 2014
May 4:
Water1st International // CARRY5 Walk for Water
May 7:
UW Evans School of Public Affairs // Government Communicators Forum
May 8:
One By One // Ninth Annual Dinner  
May 8:
Big Water Consulting // Maps & Data Workshop for Nonprofits
May 27 – 30, 2014:
Collaborative Impact // Partnership Brokers Training
Career Center
Highlighted Paid Positions
Product Marketing Coordinator – Committee for Children
Regional Communication Coordinator – Oxfam
---
Highlighted Volunteer Position
Volunteer – Grameen Foundation
---
Highlighted Internship Positions
Legal and Loan Closing Intern – Global Partnerships
Central Asian Studies Intern – Ayni Education International
---
For more jobs and resources, visit https://globalwa.org/strengthen/careers-in-development/
GlobalWA Events
April 17:
Networking Happy Hour with Friends of GlobalWA and Humanosphere
May 8:
Executive Director Roundtable
May 13:
New Member Orientation
May 14:
Howard Behar – It's Not About the Coffee
May 30:
GlobalWA Spring Member Celebration!
Contributors: Dean Forbes, Holly Koch, Gena Lux