Welcome to the October 2013 issue of the Global Washington newsletter. If you would like to contact us directly, please email us.
IN THIS ISSUE
Note from our Executive Director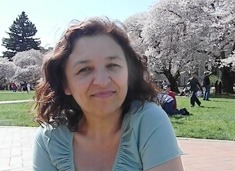 Greetings,
It is with feelings of pride, gratitude, anticipation and some sadness that I'm sharing with all of you today the news of my departure as executive director of GlobalWA. It's sometimes hard to know when it's time for a transition, but I believe I and GlobalWA are ready for the next stage.  I feel very confident that over the last five and a half years I along with the staff, board, members and donors of GlobalWA, have created a strong foundation for GlobalWA to enter the next phase of growth.
In 2008, I was recruited by Bill Clapp to help realize a vision—to create an organization that would unite the global development community in Washington, from the largest corporations to the smallest NGOs. That vision became GlobalWA.
Together, we built a dynamic, inclusive organization that amplified the voices of the pacific northwest region, and put a spotlight on the incredible contributions to critical global issues that are born from this corner of our country. From health innovations such as new vaccines, to clean water delivery, to education for girls, to cutting edge technologies, Washington State is changing lives in 144 countries.
Thanks to all of you, GlobalWA is now a strong organization that convenes, strengthens and advocates on behalf of the global development sector in our state. Washington is not only home to the world's largest nonprofit, World Vision, and the world's largest foundation, the Bill & Melinda Gates Foundation, of course—there are over 300 NGOs working to address some of the world's most challenging problems and 119 companies improving the environment, increasing health and decreasing poverty worldwide through their operations.
I am proud of the successes of the organization over the last 5 years, and feel confident that GlobalWA has the solid foundation it needs for its next phase of growth. Most notably, I am proud of:
Our robust membership which represents the diversity of the global development community; We grew from a small handful to 160 member organizations within the first four years.
Creating a significant presence and becoming a trusted and visible partner within the global development arena.
Partnering with so many of you to establish an annual conference that, over the past five years, has become the largest convening of global development on the West Coast.
As I leave to begin the next chapter of my career goals, with the support of the Board of Directors, I am confident that this is the right moment to pass the baton to the next leader of this great organization.
With a transition plan in place, I will stay with GlobalWA through the end of the year to ensure that we have our most fantastic conference yet, and to ensure a smooth transition. I look forward to an opportunity to connect with you before my departure and to remain in contact as I transition into the next phase of my career.
Thank you for being a part of GlobalWA, and for inspiring me each and every day.
In unity,

Bookda Gheisar, Executive Director
The Global State
If You Care About Women and Girls, You Live in the Right State
Global Washington is continuing to showcase our members work and the international efforts to make global poverty a thing of the past.  We are striving to ignite a movement of Washingtonians who are more educated about and more engaged in global issues than ever before.
The international buzz around October 11,the UN International Day of the Girl Child, presents an excellent opportunity for Global Washington to highlight women and girls' issues globally.
Women make up 70 percent of the world's poorest people and face seemingly insurmountable barriers such as unequal pay and opportunities, lack of or limited access to education and healthcare, poor representation in government, and a lowered social status in comparison to men.
However, in case after case, women and girls who are educated and supported are able to break the cycle of poverty faster than their male counterparts.   In addition, once the cycle is broken for a woman, she is more likely to invest 90 percent of her wealth into the wellbeing of her family, as opposed to men who tend to invest less – closer 30 percent.  In other words, when a woman succeeds, her community succeeds.
Multiply this by every woman and girl on the planet, and that equals world-changing progress.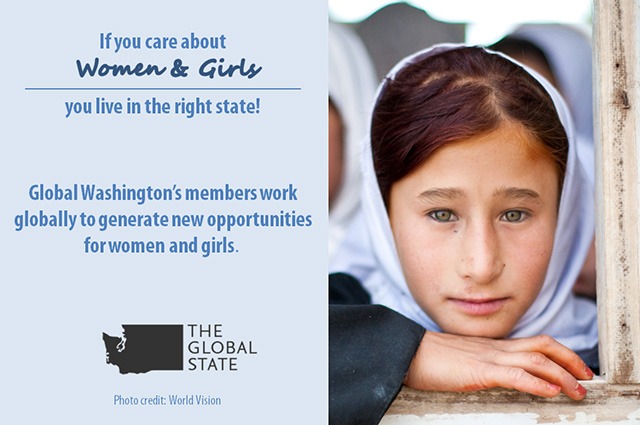 To demonstrate the inherent power of education to transform women and girls' lives and women's power to change the world, Global Washington is hosting a film series in partnership with Wells Fargo and Vulcan Inc., screening the groundbreaking film Girl Rising.  This film follows the stories of nine extraordinary girls in nine different areas of the world who face extreme hardship to get an education, and their stories showcase the power and determination of the human spirit.
The Girl Rising screenings, presented by the Wells Fargo Washington Women's Roundtable, will be held in cities throughout Washington State and be open to everyone. Go to http://bit.ly/15Wkhea to register to attend a screening near you in October and November.
In conjunction with the screenings, GlobalWA has recruited Washington women leaders to champion investment in education and empowerment for women and girls worldwide through social media outreach.
To join us in this movement:
On October 11, let's help women and girls' issues take over social media in conjunction with the We Are Girl Rising movement.  Post this photo (courtesy of 10x10act.org) as your status update on Facebook, and tweet the following message: [@GlobalWA believes if you educate girls, you change the world. #WeAreGirlRising] to your Twitter followers, and watch women and girls take over social media.
Attend a screening and bring your friends. Each one, TEACH one!
Join the excitement!  If you are not already a Global Washington member through your organization, check out our new 'Friends of GlobalWA' individual membership option.
The world has ignored women for long enough.  Stand with the women and girls of the world who say, "I will speak. I will not be silenced." – Girl Rising
Global Washington Announcements
Howard G. Buffett: 40 Chances to Make a Difference
Please join Global Washington and Town Hall on  Monday, November 4, 2013, 7:30 – 9:00pm in an event with Howard G. Buffett: 40 Chances to Make a Difference.
Buffett, co-author of 40 Chances and son of legendary investor Warren Buffett, shares a way of thinking about philanthropy that speaks to every person who wants to make a difference.
Date:
Monday, November 4, 2013
Time:
7:30 PM
Location:
Seattle Town Hall
1119 8th Avenue
Seattle, WA 98101
Click here to purchase your ticket: http://townhall.strangertickets.com/events/8235523/howard-buffett-40-chances-to-make-a-difference
Upcoming Member Events
Global Partnerships // Business of Hope Luncheon
Meet this year's featured borrower: Florinda Salinas
If you can't attend the Luncheon, please consider making a contribution towards GP's work. Your gift will empower women like Florinda Salinas to create a better life for themselves and their families.
For questions about registration, corporate partnerships, or general information, please contact:
Elise Ricci, Corporate Relations & Events Officer
ericci@globalpartnerships.org
206.456.783
Date:
October 8, 2013, 11:30 am – 1:15 pm
Location:
Westin Hotel Grand Ballroom, Seattle, WA
---
Washington Women's Foundation // The Future of Foster Care
There are nearly 10,000 children in foster care in Washington State. Join us to learn more about this vital topic from two experts in the foster care nonprofit sector: Janis Avery, Executive Director of Treehouse and Jim Theofelis, Executive Director of Mockingbird Society. Introductory remarks from WWF members Zan Brookshire and Connie Ballmer. For more information, click here.
Date:
Tue Oct 8, 2013 9:30am – 11am
Location:
2100 24th Ave S, Seattle, WA 98144
---
Earthcorps: REVIVE – Celebrating 20 Years of Local Restoration and Global Leadership
Earthcorps is are transforming Hangar 30 at Magnuson Park into a rustic-chic venue for its second annual REVIVE fundraiser to celebrate and expand the impact of EarthCorps' leadership program.
For more information, click here.
Date:
Sat, October 12, 6pm – 10pm
Location:
The Historic Hangar 30 at Magnuson Park
---
Mercy Corps and the World Affairs Council // Syria: Up Close on a Crisis
Join the World Affairs Council and Mercy Corps for an evening of conversation and panel discussion on the crisis in Syria. The panel will include Resat Kasaba, Director of the Jackson School at the University of Washington; Cassandra Nelson, Mercy Corps Director of Syria Response and Communications; and Ҫengiz Candar, a Turkish journalist considered one of the most influential in the Middle East. For more information, click here.
Purchase tickets here: http://www.world-affairs.org/ai1ec_event/syria-close-up-of-a-crisis/?instance_id=1209
Cost:
Students/Members: $10, General Public (Non-Members): $15, VIP (includes reserved seating+ Access to reception): $35
Date:
October 16, 2013 @ 6:00 PM – 8:00 PM
Location:
Town Hall, Great Hall; enter on Eighth Avenue
1119 8th Avenue
Seattle, WA 98101
---
West Africa Live! A Festival of Music, Food, and Dance
Presented by Gambia HELP
For more information, click here.
Date:
Sat, October 19, 6:30pm – 9:30pm
Location:
Townhall Seattle, 1119 8th Avenue, Seattle, WA
---
Sister Schools // 9th Annual Gala Dinner & Auction
Save Saturday, October 19 for our biggest party of the year-Sister Schools' 9th annual Gala Dinner & Auction, starting at 6:00 pm at the Museum of Flight. Enjoy a delicious dinner catered by McCormick & Schmick's, hear an update of the work you support in the US and Uganda, and bid on exciting vacations, tasty treats, and unique African art and artifacts.
For more information, please contact: info@sisterschools.org
Date:
Sat, October 19, 6pm – 10pm
Location:
The Museum of Flight
---
India: A Defining Choice for Your Business
A presentation by Ravi Venkatesan, former Chairman, Microsoft India, Author of "Conquering the Chaos – Win in India, Win Everywhere"
Ravi Venkatesan, the former Chairman of Microsoft India, offers inside advice on how your firm can overcome the unique challenges of the Indian market. He argues that chaotic India is in fact an archetype for most emerging markets, many of which present similar challenges but not the same potential. Succeeding in India therefore becomes a litmus test for your ability to succeed in other emerging markets.  If you can win in India, you can win everywhere.
Date:
Tuesday, October 22 at 7pm
Location:
Seattle Asian Art Museum in Volunteer Park.
No charge, open to all.
---
A Reception Honoring Senator Jeanne Kohl-Welles
Please join Committee for Children in honoring Senator Jeanne Kohl-Welles for her long-standing dedication to protecting Washington children by working to prevent human trafficking, sexual exploitation of minors, and child sexual abuse.
Learn more about her work here.




Date:
October 30, 
5:30-7:30 p.m.







Location:
Committee for Children
2815 Second Ave, Suite 400
Seattle, WA 98121
Please RSVP by October 23
To RSVP or for questions call 206.438.6427 or email us at kbesserman@cfchildren.org.
---
Celebrate the Cloud People and Water for Human's Oaxaca Cookstove Program
Come see an indoor slideshow of all the work that has been accomplished. See how the Cloud people live. Their old style of stove is a three stone open fire in their home. Tickets $20 /person, $30/ couple. For more information, click here.
Date
November 2; Open house 1-7pm
Location
NE Seattle
Address provided when you get your ticket.
Tickets
$20/person $30/couple
---
Engaging Communities in Needs Assessment & Project Planning: 
Exploring the Challenges & Sharing Our Experiences
How can international development organizations support communities to develop solutions to their most pressing challenges?
One Equal Heart Foundation's special guests from Chiapas, México will share information about their experiences in developing a methodology to equip indigenous communities with capacities to conduct their own needs assessment studies and identify sustainable solutions to development challenges by marshalling available resources.
One Equal Heart Foundation, Seattle International Foundation and Global Washington invite you to a roundtable discussion. Bring your field experiences to share.
Please bring your own sack lunch.
Date
Wednesday, November 6, Noon-1:30 PM
Location
Seattle International Foundation
500 Union Street, #801
Seattle, WA 98195
---
iLEAP Open House
Learn more about iLEAP and our work with grassroots leaders and social innovators.
Meet iLEAP's inspiring group of 2013 International Fellows from Asia, Africa, and Latin America.
Win some cool prizes and celebrate global community!
Date:
October 9
6:30 PM to 9:00 PM
Location:
Good Shepherd Center/iLEAP Space
4649 Sunnyside Ave N
Suite 400
Seattle, WA 98103
---
Empowering Women Exhibit
Artisan cooperatives that transform communities
June 12 – October 27
From Africa to Asia to the Americas, female artisans are creating grassroots cooperatives to reach new markets, raise living standards, and transform lives.
Empowering Women provides an intimate view of the work of ten artisan enterprises in ten countries. This exhibition illustrates the power of grassroots collaborations to transform women's lives, through inspiring personal stories, stellar photographs and stunning examples of the cooperatives' handmade traditional arts. Learn more: http://www.burkemuseum.org/empowering
The Burke is offering up five special opportunities to see Empowering Women with your favorite group of 5 to 20 people on select dates July through October. These are perfect opportunities for your board, a group of colleagues, your book club, or a special group of friends or neighbors to get together to see the show.
Learn more here: http://www.burkemuseum.org/empowering/hour
To reserve a date, email useburke@uw.edu
Date
June 12 – October 27
Location
Burke Museum of Natural History and Culture
---
Empowering Women Fall Programs Explore Global Development Issues from a Local Perspective
Lecture Series: Empowering Women through Art & Action
Discover the challenges and opportunities facing women around the world in a special lecture series at the Burke Museum. Topics include microfinance, women's land rights, building fair trade networks, women-supported companies, and global health. Lectures led by Empowering Women Community Partners PATH, Global Partnerships, Ten Thousand Villages, and more.
Lineup of talks:
Macro on Micro
Her Land
Wednesday, October 9, 7 pm, Burke Museum
Women's land rights activists, participants in Landesa's Visiting Professionals Program, give us an inside look at advocating for women's land rights in India and Africa. These international development practitioners will discuss their current projects and experiences working on the front lines, helping women obtain rights to land.
Building Fair Trade Networks
Wednesday, October 16, 7 pm, Burke Museum
Ten Thousand Villages' director Doug Dirks shares stories about the establishment of artisan cooperatives around the world. As one of the country's oldest and largest Fair Trade merchandisers, they've seen countless lives transformed by fair wages.
Giving Back, Moving Forward
Thursday, October 24, 7 pm, Burke Museum
Olowo-n'djo Tchala, founder of the skin-care company Alaffia, explains how a comprehensive fair trade approach preserves traditional resources and cultural knowledge. Tchala won Washington's 2013 Jefferson Award in recognition of his mission to advance gender equality and alleviate poverty.
Festival and Exhibit Closing
ISIS: Women Arts Festival
Sunday, October 27, 1 pm, Burke Museum
---
Landesa & Global Partnerships // Her Land
Landesa's visiting professional lawyers give us an inside take on advocating on an international stage for women's lands rights in India and Africa.
$5 at the door; FREE for Burke members and UW students, staff, and faculty with UW ID
For more information, click here.
Date:
Wed, October 9, 6:30pm – 9:00pm
Location:
Burke Museum of Natural History & Culture, Univ. of WA
17 Ave NE and NE 45th St
Seattle, WA
---
The 3rd Annual Seattle Anniversary Dinner for Schools for Salone is coming up on October 26th!
Please join us to celebrate the past year of our work to support education in Sierra Leone. We would love to have you with us for our dinner gala, where you will enjoy complimentary wine from Chateau Ste Michelle and Idle Cellars, treats from Fran's Chocolates, Margaret Larson from KING 5 TV as Emcee, a Key Note speech from the Seattle Sounders' Steve Zakuani, and a raffle for a week at a vacation house at the Sea Ranch in California. Various items from Sierra Leone will be available for sale, and there will also be a cash bar for beer and mixed drinks during the cocktail hour.
Please click on the link below by Friday, October 18th to register.
If you have any questions about the event or about registering, you can contact Cindy Nofziger, Executive Director of Schools for Salone.
---
Burkitt's Lymphoma Fund for Africa
What do Felix Hernandez, Bishop Desmond Tutu and Theirry Rautureau have in common?
They have each contributed a recipe to the Seattle Global Potluck Cookbook! ….and so did you!
We have been working all summer curating a collection of international recipes from chefs, local, national and international celebrities and our friends who are talented cooks.  We are thrilled to release the book for purchase at this event. The Seattle Global Potluck Cookbook will raise money to further the mission of BLFA:
The mission of BLFA is to save the lives of East African children stricken with cancer.  We fund comprehensive cancer care to save young lives now, and work to strengthen our African partners' ability to treat and cure future generations of children.
To reserve a copy of the cookbook today, please email Molly Hasson.
Please plan to join Burkitt's Lymphoma Fund for Africa for our cookbook release party:
Date:
November 18th 5:30-8:30 PM
Location:
Pan Pacific Condominium
Terry & Lenora  – Seattle, WA
---
Partners Asia // Bike in Burma
10 days of Adventure and Beauty
Experience a journey of a lifetime on Partners Asia 3rd Annual Donor Bike Trip in Burma.
Take an unhurried cycling adventure through the countryside of Burma-Myanmar. Meet local people and experience rural culture while cycling through heritage sites.
For more information, click here.
Date:
Feb 4 – 14, 2014
Location:
Burma
---
Announcements
ISIS 10th Anniversary Packathon
Please join ISIS'10th annual Packathon to sort, count and pack critical medical equipment & supplies to ship to Kiwoko Hospital in Uganda to help care for babies and mothers. To register, please contact Kara Russell at kara.russell@isisgroup.org.
Date:
Tue Oct 8, 2013 9am – 4pm
Location:
Courtyard Hall,
720 238th Street SE,
Suite H Bothell, WA 98021
Career Center
Highlighted Paid Positions
Consultant/ Writing USAID cooperative agreement for project in Central America, Seattle International Foundation
https://globalwa.org/strengthen/careers-in-development/jobs/view/-52/
Development Manager, Global Visionaries
https://globalwa.org/strengthen/careers-in-development/jobs/view/development-manager-4/
Regional Program Manager, South Asia, Vittana
https://globalwa.org/strengthen/careers-in-development/jobs/view/regional-program-manager-south-asia/
---
Highlighted Volunteer Positions
FOLA Volunteer, Landesa
https://globalwa.org/strengthen/careers-in-development/jobs/view/fola-volunteer/
Outreach Research Volunteer, Facing the Future
https://globalwa.org/strengthen/careers-in-development/jobs/view/outreach-research-volunteer/
---
Highlighted Internship Positions
Career Center Intern, Global Washington
https://globalwa.org/strengthen/careers-in-development/jobs/view/career-center-team/
Program and Communications Intern, Seattle International Foundation
https://globalwa.org/strengthen/careers-in-development/jobs/view/-53/
Journalism Internship, Borgen Project
https://globalwa.org/strengthen/careers-in-development/jobs/view/journalism-internship/
For more jobs and resources, visit https://globalwa.org/strengthen/careers-in-development/
GlobalWA Events
October 17
Monthly Roundtable for Executive Directors, Board Members & Program Directors of small NGOs
October 24
Monthly Change-Up Happy Hour with friends of GlobalWA & Humanosphere
November 6
New Member Orientation
November13
Register for GlobalWA's 5th Annual Conference!