"Kids in the developing world need the newest technology…"[1]
"Can the cellphone help end global poverty?"[2]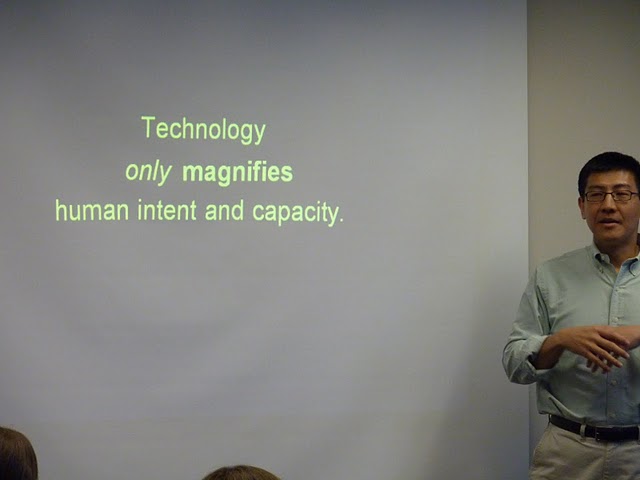 Amidst such buzz around technology's role in global poverty and human rights, Kentaro Toyama provided a poignant presentation on the myths of technology in international development to Global Washington members on Friday, May 6, 2011. Following the presentation was a lively discussion between Toyama and the audience, comprised primarily of Global Washington members with theoretical and field expertise in this area.
A visiting scholar at UC Berkeley and former co-founder of Microsoft Research India, where he designed electronic technology for international development, Toyama intimately understands technology's role in supporting poverty alleviation work. Throughout the presentation, he stressed that "technology magnifies intent and capacity" and cautions against looking to technology, in and of itself, as a solution to global poverty.
Toyama's presentation focused on countering seven myths regarding technology in international development.
Myth #1: Technology undoes the rich getting richer.
Toyama began with a question to the audience that went something like, "you and a poor Ugandan rural farmer are each given an e-mail account and asked to raise as much money for the charity of your choice. Who would be able to raise more money?" The room indicated that they would be able to raise more funds due to various reasons, from the relative affluence of their friends to their computer literacy skills to their education in articulating written concepts.  And thus began Toyama's presentation, highlighting that even with identical technology, other capacities and systems have to be addressed to gain equality.
Myth #2: Hardware and software are a one-time cost
Toyama reminded Global Washington members that the average American mid-size corporation spends approximately $7,000 per year on their IT budget. Thus, hardware and software are NOT a one-time cost. In contrast, there is a need to continue to invest in technology.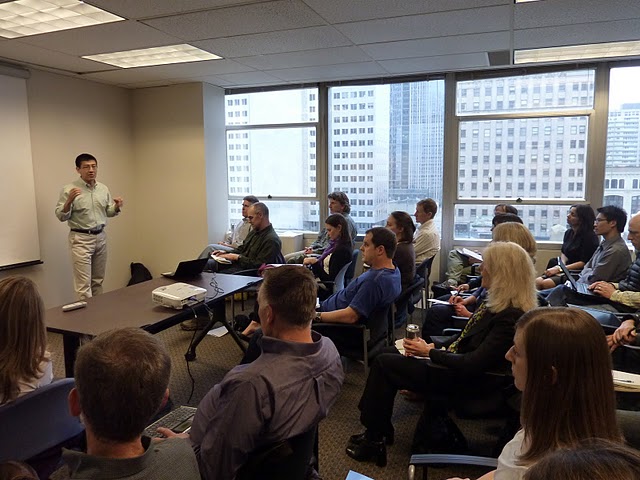 Myth #3: Needs translate to business models
Using the fact that Google does not make a profit from YouTube and Google Maps – services that we might consider quite useful in our lives – Toyama illustrated that people don't always pay for needs.
Myth #4: Automated is cheaper and better
Toyama highlights problems with full automation, particularly in the developing world: cost, literacy, lack of technological familiarity and errors within technology. 
Myth #5: Information is the bottleneck
In the developed world, and even more so in the developing world, time, effort, basic needs and a host of other priorities get in the way of obtaining all of the information that's available. For example, just because a person has access to the Internet, and thus educational resources, does not mean that person can and will obtain a full education.
Myth #6: Technology's impact is only positive
Because "technology magnifies positive and negative intent," technology may have positive as well as negative effects. For example, technology can easily further the negative effects of gender inequality, abuse and child prostitution.
Myth #7: Technology X will save the world
Contrary to popular belief at the time of their invention, radio, TV, landline telephones and PCs have yet to save the world. In fact, in places where we would most desire to see technology make positive change, we don't see this change because other key systems are missing: physical, social, financial and digital infrastructure.
So, how do we use technology successfully in global development work?
Toyama offered recommendations for successful use of technology, which include:
Apply technology to existing social trends or institutions, which are already making an impact.
Focus on nurturing human "intent and capacity."
The human component to any technology is critical.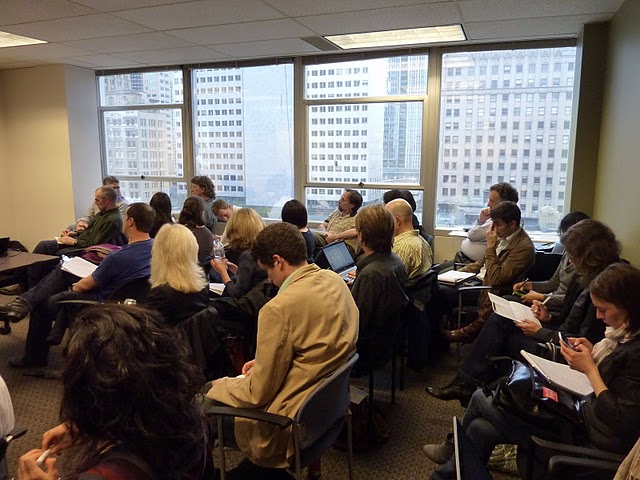 Global Washington members dug deeper asking about and commenting on their work in community readiness for technology, successes and failures in technology, public-private partnership models and the role of education.
Global Washington's mission is to convene, advocate, and strengthen the international development sector in Washington State, with an emphasis on the sectors of Global Health, Global Education, Environmental Sustainability, and Poverty Alleviation.  In this role, Global Washington brings together its members and the community to discuss critical global topics. Consider two upcoming events focused on technology and global development: Mobiles in Development on June 16 and the Dark Side of ICCT on July 14.
by Bridgette Greenhaw