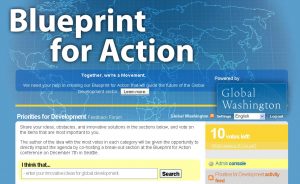 Global Washington just launched our crowdsourcing site, Blueprint for Action, a collaborative social media project dedicated to building a 'digital democracy'. We encourage everyone willing to share an innovative idea for tackling global development challenges to participate in setting priorities for the sector. Blueprint for Action is an inclusive forum for you to connect with other progressive thinkers dedicated to eradicating poverty, improving global health, promoting human rights and empowering women around the world. By fostering a community of creative participation and open dialogue, we all strengthen our power and resolve against social and economic injustice.
To strengthen our unified voice, contribute your priority for global development in our Feedback Forum at: www.blueprintforaction.org
To read about crowdsourcing as an emerging communication tool in philanthropy, take a peek at Kristi Heim's profile in the Seattle Times.