by Global Washington Policy Coordinator Danielle Ellingston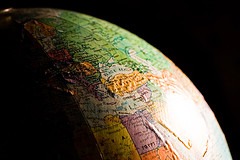 Welcome to development policy posts on the Global Washington blog! You may wonder why we need another development policy blog, since there are so many great global development blogs already out there.  Well, this blog is different- we will bring you the news and noteworthy ideas on a weekly basis, with a special emphasis on issues of interest to the development community in Washington State.  Our state is second only to the "other Washington" in organizations committed to global development, and now the many voices of development in Washington State have a venue to come together to discuss and influence policy.
Here's what you can look forward to in future posts to this blog:
·    Foreign Aid Reform status– progress with legislation and the administration's efforts, such as the Presidential Study Directive
·    Ideas for making aid work better
·    Development and Policy News from around the state
·    What's happening in other countries and the multilateral organizations
·   How you can become involved
First and foremost, the Presidential Study Directive is picking up steam and the Obama administration is looking for your input on where to focus foreign assistance.  We sent out a survey to our mailing list asking for input, which we will compile and send off to DC.  If you're on our mailing list and you didn't get this survey, you might check your email spam box.  We'll be looking for more input in the future, so please make sure to put Danielle@globalwa.org on your safe list!  (And of course, sign up to be on our mailing list if you haven't already done so.)
If you didn't get a chance to respond to our survey, you can still make your voice heard by commenting on the Center for Global Development's blog, where they are also collecting ideas.
Need more information? Check out this link to background information on U.S. Foreign Aid policy, with lots of helpful information and links, from the Puget Sound Millennium Development Goals Project.
And finally, some food for thought on aid – MCC chief economist Franck Wiebe writes about a new (and controversial) standard for aid effectiveness, making aid at least as good as cash from a helicopter. Read it here.
Globe photo by ToastyKen at Creative Commons