Global Washington volunteer Michelle Alten reports on our September 16th event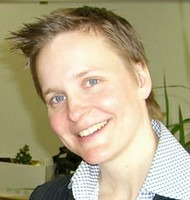 Kristin Hayden, Founder and Executive Director of OneWorld Now! spoke to a gathering at Global Washington's Salaam Maleukum Middle East Networking Event on Wednesday, September 16th.  The event was part of Global Washington's ongoing series of Global Socials the 3rd Wednesday of each month that convene development organizations around geographic regions or issue areas.  Kristin spoke about how she created OneWorld Now! and talked about her separate but related project, One World 2011.
Kristin came upon the idea of starting OneWorld Now! in 2002 when she returned to the United States after living and working abroad.  She recalled that at the age of 15, she went on a student exchange to South Africa when the country was still under Apartheid.  The sojourn was a life changing experience for her and led to a passion for learning languages.  Upon her return to the United States in 2002, after living overseas, Kristin was disturbed by the reaction in the United States to the events of 9/11.  Witnessing the fear and stereotypes that Americans showed towards Arabs and Muslims, Kristin started OneWorld Now!, a program that provides language and leadership training as well as study abroad opportunities for low-income and minority youth.
The program of OneWorld Now!, Kristin pointed out, deliberately focuses on Arabic and Chinese because these languages are strategically important but not typically offered in the public schools. Students also learn leadership by digging into underlying beliefs and stereotypes.  They commit to a year of the program, and then go abroad in summer to work on their language skills, participate in community service, and live with families.  Currently students go to Morocco, Egypt, and Jordan.  Upon their return they participate in a give-back project.
Proud of the impact the program is having on its participants, Kristin explained that 100% of the youth go on to college.  OneWorld Now! serves 150 youth per year and has arranged for students to receive credit for the program through Seattle Public Schools.  In the last year and a half, Kristin and her mentor, Bob Walsh, have taken the philosophy behind OneWorld Now! and the experience of the successful 1990 Goodwill Games to develop an important and large scale project called One World 2011.
Bob and Kristin are planning a month-long "mega-event" that will open in Seattle on September 11, 2011.  The goal of One World 2011 is to build a bridge between the U.S. and the Muslim world.  The extensive program will include a press conference on the Middle East, athletic events, a health summit, a trade bazaar, music, art, and film festivals, and a large youth exchange program with countries from the Muslim world.  Funding and support for the program are beginning to take form.
The U.S. government has shown support for the project along with Farah Pandith, the U.S. special representative to the Muslim world, and the Washington State Congressional delegation.  Kristin is hoping to have Michelle Obama, Melinda Gates, and Queen Rania of Jordan act as co-chairs of the event.  Seed funding has been provided by the Gates Foundation through the Tides Foundation and from philanthropist, George Russell.
Q&A
At a Q&A following her presentation, Kristin was asked about the organizations she works with to provide exchange programs abroad.  She explained that she arranges exchanges through American Field Service for Egypt, AMI for Morocco, and the Jordan River Foundation for Jordan.
When asked about further funding for One World 2011, she said that funding is being sought from corporations such as Nike, foundations, and organizations in the Middle East.
In further discussion about world language education in the U.S., Kristin pointed out that 1% of U.S. high school students study abroad, less than 1% study Arabic, and less than 3% study Chinese.  It was pointed out that Startalk is an organization that provides funding for their summer language programs for Arabic and Chinese.
Kristin was also asked about challenges she faces with planning One World 2011.  She feels that visas are frequently a problem and that visa complications are discouraging wealthy business people from the Arab world from coming to the United States.  She explained that they hope to push the visa issue in general with One World 2011.
Kristin also pointed out that many Arab and Muslim nations feel that they have lost a generation, because young people are being educated abroad.  She added that 60% of the Arab and Muslim world population is under the age of 25. This, she explained, means a large number of people who don't have positive feelings about the U.S. and OneWorld 2011 aims to change that!
Some of the other organizations represented at the Global Social who are also doing work or share an interest in the Middle East include:
International Organization of Folk Art, http://www.iovworld.org
Middle Eastern Legal Association of Washington, http://www.melegal.org
Associates in Cultural Exchange, www.cultural.org
EarthCorps, http://www.earthcorps.org
Arab Center of Washington, http://www.arabcenter.net/
Crooked Trails, http://www.crookedtrails.com
Growing with Books, http://www.growingwithbooks.org/
Brown Eyes Gallery, http://www.browneyesgallery.com/
Surge Consulting