Welcome to the April 2009 issue of the Global Washington newsletter. If you would like to contact us directly, please email us.
IN THIS ISSUE
Note from our Executive Director
Spotlight: Global Washington is Hiring
Featured Organization: OneWorld Now!
Changemaker: Washington Teacher of the Year Susan Johnson
Global Entertainment: The Blue Sweater
Announcements: Send Global WA Your Press Releases! Become a Business Associate!
Upcoming April Global Washington Events
Other April Global Development Events
NOTE FROM OUR EXECUTIVE DIRECTOR

Greetings-
I hope that all of you are enjoying the beautiful spring days.    I am happy to report that we continue to be extremely busy with many great programs and ideas for future programming.
Networking and Convening: Global Washington is convening global development organizations by country, region, and issue area that they are working in. These events increase communication and collaboration between organizations working in the same country or on the same issue, as well as provide a venue for informal best practice sharing of new and innovative models. On April 21 we will be convening groups working in Nepal, and on May 26th we will be bringing together groups working on environmental issues in the developing world.
Capacity Building: Global Washington offers capacity building programs that increase the visibility and impact of organizations and global development issues in Washington, and increase financial resources for our member organizations.   On April 28th we are facilitating a media roundtable for communications directors of our member organizations.
Special Initiatives: We are continuing to work on developing a set of guiding principles and values for delivery of foreign aid.   On April 27th, we will host the second event in our policy series, Redesigning Foreign Aid from the Group Up, which will contribute to this effort. Once these principles have been finalized through community participation, we will work to get endorsements from across the global development industry and propose them to our policy makers as principles to guide the delivery of foreign aid in the developing world.   Global Washington staff and members have already started meetings with our state policymakers to keep them engaged in this process.
For more information on any of our upcoming events, please check out our calendar.
Thank you all for coming to us with all of your great ideas.   I hope to see you at these or other upcoming programs.
In unity,
Bookda Gheisar, Executive Director
SPOTLIGHT: GLOBAL WASHINGTON IS HIRING!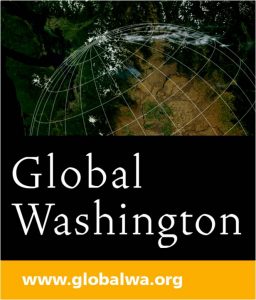 Global Washington announces a position opening for Communications and Administrative Coordinator.
ORGANIZATIONAL STRUCTURE:Global Washington promotes and supports the global development industry in the state of Washington.  A broad-based, statewide organization linking the private, public and civil society sectors, members include businesses, government agencies, associations, individuals, foundations, organizations, and educational institutions.
Global Washington focuses on four areas of global development enterprise: Economic empowerment and development; Global Health; Education and Global Engagement; and Food, Agriculture and the Environment.
The vision of Global Washington is to promote Washington as a recognized center of innovative, productive and collaborative global engagement.
FUNCTION SUMMARY:The staff includes: Executive Director, Research and Learning Coordinator, Media Relations Advisor and Policy Coordinator.  The Communications and Administrative Coordinator works closely with the Executive Director and other staff to increase the visibility of Global Washington through the website.  This is a part-time (32 hours per week),administrative position.
Please email resumes to bookda@globalwa.org
FEATURED ORGANIZATION: OneWorld Now!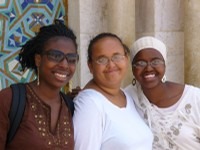 It sounds familiar, but hold your judgment a minute.  Like many organizations, OneWorld Now! encourages high school students to spend time in foreign countries doing a summer internship.  The difference is that these students are not privileged kids, but are primarily underserved youth.  And when they go abroad, they communicate in strategically critical languages, like Arabic or Chinese.
OneWorld Now! is the brainchild of Ashoka Fellow, Kristin Hayden.  As a high school student, Kristin studied abroad in apartheid-era South Africa on a Rotary scholarship.  In college, she earned a degree in international relations and Russian; and studied abroad in the Soviet Union.  She later learned that her language skills in Russian, a critical language during the cold-war era, as well as her experience abroad opened up opportunities unavailable to her many of her peers and allowed her to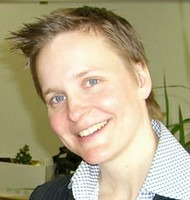 launch an international career that would take her from Moscow and Tblisi to London and Paris right out of college.  She returned to the United States in 2001.  To Kristin, the devastating events of September 11 created an atmosphere of fear that mirrored the attitudes many Americans held toward the Soviets during the cold war.  Her own life experience served as testament to the power of studying abroad to break down stereotypes, advance understanding and goodwill, as well as open the doors of opportunity to those willing to take the leap…The aftermath of September 11th provided the spark- and these ideas evolved into the program that is today OneWorld Now!
The US government identifies Arabic and Chinese as strategically critical languages for in the 21st century.  Yet few American high schools offer Chinese or Arabic language.  Students enrolled in OneWorld Now! study Arabic or Chinese language after school three days a week and receive academic credit.  Each Friday, the students meet in groups with adult facilitators to explore leadership in five important areas: personal development, intercultural communication, social justice, global citizenship and social entrepreneurship–the skills these students will need to maximize their time abroad and become leaders in their communities when they return.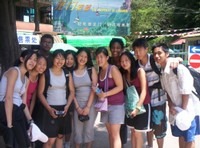 Students learn to suspend judgment; to listen in a way that emphasizes understanding, empathy, and compassion.  They uncover the stereotypes they themselves hold about other parts of the world, as well as how their own community connects to the world at large.  They begin to identify their own passions, the kind of people they want to become, and the kind of world they want to create.
By the end of the first year, the students are ready to spend the summer abroad in the Middle East, Central Asia, or China/Southeast Asia.  Living with host families, the students continue to work on their language proficiency.  They also work on team service projects such as planting trees, cleaning beaches or tutoring.  The transformation is reciprocal.  Almost invariably the stereotypes their hosts hold of American youth are challenged.  These are young Americans from many different races and economic backgrounds who actually speak the language of the host nation and perform useful work.
When the students return to the United States they are encouraged to conduct a project in their own community that shares what they learned abroad.  These projects might range from conducting a forum on the importance of water rights in global development or leading a global campaign around a topic such as food sustainability.
OneWorld Now! is currently working with state colleges and universities to institutionalize a concept, prominent in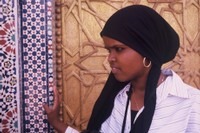 Australia, Canada and the UK, but not as well-established here–the Gap Year.  Gap Year encourages students to take the year between high school and college to travel abroad to work or perform community service.  OneWorld Now!'s primary objective is to ensure that the Gap Year will be accessible to all youth in America.
In just seven years OneWorld Now! has grown from one Seattle-Area high school, to eight, with satellite programs in New York and Los Angeles.  It sponsors summer language immersion camps at Seattle University and other schools, and also sponsors "Get Global", a student-led global leadership conference at the University of Washington each year.
For more information, including event dates and schedules, please visit www.oneworldnow.org.
OneWorld Now! is a project of the Tides Center.
Founder Kristin Hayden also writes blog about social justice in international
education: http://blog.kristinhayden.com/
CHANGEMAKER: Washington Teacher of the Year Susan Johnson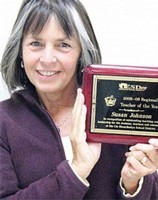 When Susan Johnson, a teacher at Cle Elum/Roslyn High School, was recognized as Washington State's Teacher of the Year in 2008, Global Washington presented her with a $500 Global Education scholarship.   Over the years, Susan's main message to students and other teachers alike has been about the need to prepare students to be literate, analytical and compassionate members of a democracy.   Her American literature course begins with early Native American legends, the Iroquois Constitution, which requires its members to consider the impact of their actions seven generations hence, the Middle Passage and Transcendentalism.  All weave the theme of what it means to be an American, how we are connected to Nature and each other, how we need to take responsibility for how our actions impact others.  This thesis carries over equally to the responsibilities we share as global citizens.
Susan's first global experience as an educator was in 1996 when a Ghanaian teacher (professor) at Central Washington University hosted members of the Central Washington Writing Project in Ghana.   Susan is part of the National Writing Project and Co-Director to the Central Washington Writing Project (CWWP).  The educators were immersed in Ghanaian culture, visited slave sites, where the interconnections of Ghanaian culture with America became vivid.  In fact, the headmistress of a high school in Accra visited Susan's classroom and also participated in the CWWP Summer Institute. One of Susan's current students is scheduled to work in a Ghanaian orphanage this summer.
Last year, as the faculty advisor for the Amnesty International, Susan took the students to the Seeds of Compassion conference which featured the Dahli Lama and Desmond Tutu.  Students were surprised to learn that world religions have much in common in that they recognize the divine essence in every person, teach looking at enemies as human beings and assume respect one for the other.   This year the group is trying to increase awareness of the genocide going on in Darfur, speaking at Basketball games and raising funds for Amnesty International.
At first Susan didn't really know how the funds that Global Washington gave her should be used.  But the Honor Society, another group she advises at the school, presented a plan.  The brother of the President of the Honor Society, Cori Sutton, had lived with a family in Paraguay a year in 2007 as an American Field Student.  Cori decided to follow her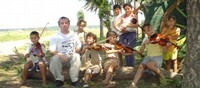 brother there and live with the same family.   That family happened to be involved in Sonidos de la Tierra, a program of social and community integration through music.  The movement seeks to prevent young violence through the useful employment of the free time of the youths, increasing their self-esteem, motivating their creativity, the work in team and the democratic attitudes.  The organization is in 62 countries around the world.
In Paraguay, Cori saw young students walking miles on a Sunday afternoon to meet for two hours with a volunteer teacher even though there may have been only six violins for sixty students to practice on.  Cori was fascinated by their work ethic, the almost universal appreciation of music she saw there.  So when she came home, the Honor Society decided to raise money to fund the purchase of violins for students in Paraguay who are studying violin but don't have an instrument.  They expect it will cost around $5,000 to raise a full orchestra of strings.  They are putting on a series of events including bakes sales and a Spotlight Assembly and fundraiser that includes local musicians. The Global Washington gift gets them 10% of their way.
Helping American youth learn that they are part of a larger community with attendant benefits and responsibilities been Susan's overriding objective as a teacher.   Extending this message to global citizenship has been the latest phase of her already illustrious teaching career.
GLOBAL ENTERTAINMENT: Readings and Reels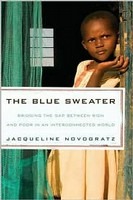 The Blue Sweater, Bridging the Gap between Rich and Poor in an Interconnected World, by Jacqueline Novogratz.
Ms. Novogratz tells the story of receiving from her uncle a sweater woven with two zebras in front of a snow-capped mountain.   She wore the sweater constantly until, as a developing adolescent, a young man commented on Mt. Novogratz.   Humiliated, she insisted that her mother get rid of the sweater that afternoon and went with her to take it the Goodwill.  About ten years later while jogging in Africa, she saw a young boy coming toward her with the same sweater.  She abruptly stopped the presumably terrified boy, pulled back his collar and saw her name still visible on the label.
The story tells dual messages. Clearly we live in an interconnected world, but the charitable impulse that made the sweater end up at the Goodwill has ramifications far beyond that intended.  The vast used clothing market coming from the developed world has devastated local cloth manufacturing facilities in the under developed world.

The Blue Sweater tells of Ms. Novogratz as a young finance major who leaves her first job out of college at the Chase Manhattan Bank to work in Africa in the mid 80's.  Her first post is in the Ivory Coast where she was sent to work with women. She quickly learns that her "expertise" is neither respected nor wanted by local women assigned to work with women's programs in the local ministry.  She ends up in Kigali, Rwanda, where she finds herself working with women to set up a microfinance program and later a bakery where local women, many of them considered prostitutes, make bread and treats for sale to customers on the streets and in local ministries.  The salesmanship lessons she tries to give to young women selling treats on the streets of Kigali are hilarious.  She insists that they walk up to customers, smile, look them in the eye and explain why they should want to buy a product, oblivious to social customs that would make such interactions unthinkable.
Ultimately the book traces what happened to five of the women involved in the microfinance program through and after the genocide in Rwanda.  These women represent all the forces that shook Rwanda, from innocents slaughtered to those urging the slaughter.
Ms Novogratz's writing brings alive the colors, shapes and smells of Africa in detail sufficient make any reader who had ever been there long to return and anyone who has never gone want to go. The book is replete with the recognition of feeling fully alive and contrasting rueful lessons of good intentions thwarted.
Ms Novogratz maintains that traditional aid programs don't work because they represent want the donor wants to do not what people want or even need.  An agency or donor starts a program it thinks is needed, it lasts a year or two, and then fades into obscurity, all because no one bothered to ask people if it was something they wanted.   Expatriate communities are full of cynicism about the people with whom they live, but have to live with none of the consequences of their actions there.   If there is one overriding mantra in the book, it is the lesson that John Gardner, her mentor and instructor at Stanford School of Business, and former Secretary of HHW under the Johnson Administration and founder of Common Cause taught about organizing: the importance of learning to listen.
Ultimately, three lessons follow from Ms. Novogratz's experience:  the market provides a valuable method of escape from poverty, low income people can be trusted to know what they want, and persistence is the quality only second most in demand to create social change in the developing world.  But the first is the ability to listen.
Ms. Novogratz completed graduate school at Stanford, created philanthropy workshops for the Rockefeller Foundation and ultimately set up the Acumen Fund, a non profit that started out providing financing and management skills to social entrepreneurs who set up programs in health technologies in India and East Africa, from eye sight programs to water purification.  Quickly Acumen learns that investing in technology is not as important as understanding how distribution, pricing and marketing systems impact health strategies.   She calls her development strategy "Patient Capital," tying development to capitalism with low profit margins and long return periods, not unlike Muhammad Yunus' idea of social businesses.
Ultimately the author asserts that neither aid nor markets will solve the problems of global poverty. The lessons of Rwanda are writ large in this book.  Only by looking at all human beings as part of a single global community that values human dignity can poverty be ended.

ANNOUNCEMENTS
KPLU Radio Spot Update: As part of Global Washington's effort to promote the impact our members are making around the globe, we are launching a number of media awareness programs in 2009.  The most recent example is the subsidized KPLU radio spot packages that we recently offered to increase awareness of global development issues and organizations among NPR listeners.  There are a few of these radio opportunities remaining for Global Washington members, so please let us know if you are interested.
Member Press Releases: In the coming months, we will be reaching out to local, national and international media sources in a variety of ways.  We are currently working on a profile study of the global development sector and plan to use the findings of this study as a major outreach and story lead for the media.   We will be putting together case studies to use for press events and would like to stay as up-to-date as possible on the work of Global Washington members.   Our goal is to bring greater visibility to the stories you are working to tell as well as raise awareness of the global development activity in Washington state. Please email your press releases, links to media coverage and anything newsworthy to media@globalwa.org
Looking for Business Associates: Global Washington is establishing a business associate category of membership. This category is available for individual consultants, firms, and other groups who provide technical assistance to organizations, academic centers, and businesses working in the global development industry in Washington State.  Business associates have the opportunity to be featured business associates of Global Washington by offering their skills and/or services to Global Washington members at a discounted rate. As part of building this membership category, Global Washington will be following up with potential associates.  Please forward this message to any individual consultants, firms and other groups who are currently undertaking work for you or to those who you believe may be interested in joining Global Washington as a business associate. Contact us for more information about this program.
GLOBAL WASHINGTON APRIL EVENTS
Global Washington presents the following events this month:
Networking Series:

Namaste Nepal! A gathering of groups working in Nepal on April 21st

Policy Series:

Redesigning Foreign Aid from the Ground Up on April 27th

Capacity Building Series:

Member Exclusive: A conversation between Communications Directors on April 28th. Email melissa@globalwa.org for more information
OTHER APRIL GLOBAL EVENTS
Click here to see a full list of international development events on the Global Washington calendar. April's events include:
12th Annual Continuums of Service Conference, April 16-18th
Wangari Maathai: The Challenge for Africa, April 19th
Microfinance and Microbrews, April 20th
The End of Food – With Best-selling Author Paul Roberts, April 21st
A Conversation Between Unitus Partners, April 21st
Coffee, From the Grounds Up Series, April 21st
What the New Balance of Power Means for the United States, April 23rd
Coffee, From the Grounds Up Series, April 28th
Passport to the World Breakfast, April 29th
The Future of Grassroots Development in the Majority World, April 29th
Cross Border Terrorism in the Shadow of Jihad: The India-Pakistan-Afghanistan Triangle, April 30th
Please submit your events to our calendar!