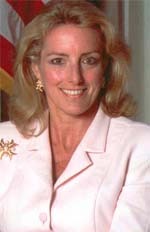 We are excited to announce the newest confirmed speaker at this year's annual conference, Ambassador Elizabeth Frawley Bagley.
Ambassador Bagley was appointed by Secretary of State Hillary Clinton to lead the Global Partnership Initiative as the Special Representative for Global Partnerships. At her swearing-in ceremony earlier this year, Ambassador Bagley set out her emphasis on partnerships, saying
"We must now make the transition to 21st Century Statecraft, engaging with all the elements of our national power – and leveraging all forms of our strength. That is where partnerships come in. Our private sector is an extraordinary source of innovation, talent, resources, and knowledge; and in the past, we have only scratched the surface."
Ambassador Bagley stated that through the Global Partnership Initiative, "we are making the Secretary of State's emphasis on opening our doors to the private sector a rallying cry for change and a platform for smart power." We are honored to welcome her and to learn about developing cross-sector relationships to further our global development work.