The Future of Sustainable Sourcing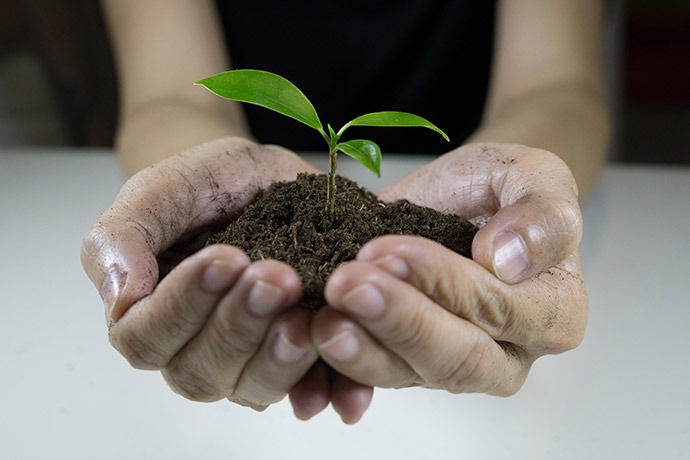 To move beyond subsistence-level farming, agricultural communities within developing countries often seek out export markets as a means to increase revenue and fuel local economies. Notable success stories have shown what's possible. In Ethiopia, for example, chickpea production increased dramatically in just four years, with earnings from export increasing from $1 million in 2004 to $26 million in 2008.
In the best of circumstances, when U.S. or European companies purchase their raw materials from developing countries, the people living in those countries can see enormous benefits – increasing incomes, improved local services, greater food security, and more. Under other circumstances, corporate sourcing can have catastrophic impacts on local communities and ecosystems.
Many corporations choose to work in partnership with non-governmental organizations that seek to improve working and living conditions for people who are impacted by corporate sourcing. Mercy Corps, for example, has worked for over a decade with its partner Tazo (now Starbucks) in the private tea estates of Assam and Darjeeling, and the families living there who have been cultivating tea for generations. With the support of Starbucks, Mercy Corps has been able to provide the workers and their families with education, vocational training, and other important services.
Perhaps one of the most notorious commodities sourced today is palm oil. To assist the palm oil industry in adopting practices that "help avoid deforestation, peat development, and exploitation of workers and communities," The Forest Trust (TFT), has developed an online platform. Though TFT notes the tool isn't sufficient on its own to promote supply chain transparency, what it can do is support verification efforts on the ground, including businesses' own efforts to verify their supply chain adherence to best practices.
Another organization that helps companies to bridge the gap with local communities is Resonance. The company helps businesses build strong local workforces and reliable local suppliers in frontier markets.
While export markets alone will not increase livelihoods and ensure environmental sustainability, companies and non-profits that adopt a shared values approach of protecting people and ecosystems, provide inspiring models of sustainable sourcing that can lead to a better future for all.
* * *
The following Global Washington members are working to improve sustainable sourcing practices around the world:
Agros recognizes the importance of agriculture as a profitable endeavor that helps families overcome poverty. Agros villages apply modern agriculture and climate-smart practices that increase yields, protect the environment and allow farmers to produce 2.6 times more harvests per year than the average smallholder farmer in Latin America. The non-profit does this in alliance with private sector allies, such as ECOM and Walmart, which partner in bringing technology and certification standards to Agros communities in Central America. agros.org
Fair Trade USA is a nonprofit organization and the leading certifier of Fair Trade products in North America. Their rigorous standards around the production of over 30 product categories – from coffee, cocoa, and sugar to coconut, seafood, and apparel/home goods – help protect fundamental human rights, ensure safe, healthy working conditions, protect the environment, and deliver additional economic resources to producing communities. In addition to these requirements, Fair Trade also ensures that producers earn additional Community Development Funds to address their pressing needs. Many groups vote to spend this money on projects that benefit women, like cervical cancer screenings, scholarships, child care centers and microloans for income diversification. fairtradecertified.org
The Forest Trust (TFT) is a global non-profit that helps companies and communities deliver environmentally and socially responsible products. TFT is active in the key nodes of the supply chain, and helps turn values into clear policies and guidelines. TFT's supply chain mapping and traceability work helps companies to trace products back to their source and identifies key social and environmental issues. TFT staff coach and mediate to help solve complex problems on the ground, working with suppliers, NGOs and regulators. They also help facilitate monitoring by international and local NGOs, not just as a means of independent verification but as a source of constant improvement and learning. tft-earth.org
The Initiative for Global Development (IGD) is a Washington, DC-based nonprofit that engages and harnesses the power of the private sector to advance sustainable development and inclusive growth in Africa through business investment. IGD brings together CEOs and senior executives from leading African and global companies through its Frontier Leader Network to catalyze greater business investment and impact on the continent. IGD envisions an Africa with thriving, impactful businesses that create inclusive growth, and where business leaders are a positive force in shaping Africa's future. igdleaders.org
Largesse is a mission-driven business that specializes in curating beautiful handmade, eco-conscious and/or fairly-traded corporate gifts. It provides corporate gift buyers with unique solutions for executive gifts, incentive rewards and promotional products that align with and reinforce their brand values. Largesse creates sustainable economic opportunities for marginalized and talented artisans across the world by giving them equal access to the marketplace of corporate buyers. In this way, it promotes and preserves centuries-old skills, artisan partners earn a fair living wage while working in safe conditions, and products are gifted that are kind to the planet and its people throughout their lifecycle. largessecompany.com
Mercy Corps works in partnership across the private, public and civil society sectors, promoting accountability, inclusive participation and mechanisms for peaceful change. To meet companies' increasing interest in leveraging their unique skills and assets to make a difference and give back, Mercy Corps has developed a partnership menu to enable corporate partners to tailor their engagement in a way that best meets both Mercy Corps' objectives and the objectives of the company. mercycorps.org/corporate-partners
Oikocredit US promotes and facilitates the global work of Oikocredit International, a cooperative social investor providing funding to the microfinance sector, fair trade organizations, cooperatives, and small to medium enterprises. Oikocredit has identified agriculture as a priority sector, investing in 180 agricultural partners in 35 countries. Oikocredit's dedicated agriculture unit invests across the value chain of many global commodities to strengthen smallholder farmers' and other partners' ability to participate in competitive local, regional, and international markets. In addition to loans, Oikocredit supports partners with capacity building grants, technical assistance, and education. Oikocredit US
Resonance helps its clients unlock opportunity in frontier markets by designing action-based strategies, forging strategic partnerships, and executing across sector boundaries. Since 2005, Resonance has built over 200 partnerships and delivered solutions that enable businesses to achieve their growth objectives, NGOs to fulfill their missions, and development agencies to reach billions of individuals born into poverty. From technology distribution in remote regions, to the development of insurance products for smallholder farmers, Resonance is committed to driving value for businesses that in turn addresses the challenges of global poverty. resonanceglobal.com
World Vision is a global development organization, solving the puzzle of poverty in developing nations and fragile states. To solve this complex puzzle, the organization takes a big-picture approach and employs a comprehensive, sustainable, and holistic model to address a community's unique needs. World Vision engages corporations through a suite of business solutions for needs ranging from ensuring sustainable supply chains; new market and new product development; providing reverse logistics product donations utilizing a best-in-class international supply chain and logistics platform; and internal and external customer engagements. The integrated development model ensures that World Vision's corporate partners' investments will continue to transform lives for generations by empowering families to improve their livelihoods while equipping entire communities to be self-sustaining. worldvision.org