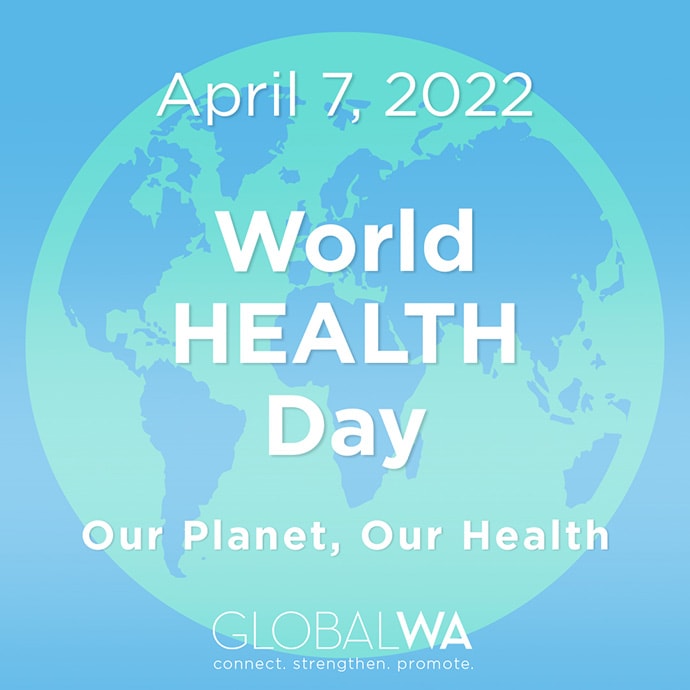 World Health Day is celebrated each year on April 7th, the day the World Health Organization (WHO) was founded in 1948. The celebration aims to raise awareness on a specific health issue judged important for the World Health Organization. This year's issue is Our planet, Our health and WHO will focus global attention on urgent actions needed to keep humans and the planet healthy.
Below are all our members who have programs focused on improving health in populations in domestic and international settings. We hope you will take a moment to recognize their amazing work and help us celebrate them.
Adara Development's mission is to bridge the world of business and the world of people in extreme poverty, and to support vulnerable communities with health, education, and other essential services. Adara Development has expertise in maternal, newborn and child health, and remote community development. Adara Development reaches 70,000+ people living in poverty each year and countless others through knowledge sharing.
Americares saves lives and improves health for people affected by poverty or disaster so they can reach their full potential.
Amplio's mission is to empower the world's most vulnerable communities through knowledge sharing. The Amplio Talking Book is an easy-to-use audio device that delivers hours of targeted, local language content to low-literate users in remote rural areas. Since 2007, Talking Book programs have reached over one million listeners, empowering people to transform their livelihoods and lives.
Bill & Melinda Gates Foundation
Guided by the belief that every life has equal value, the Bill & Melinda Gates Foundation aspires to help all people lead healthy, productive lives. The foundation is dedicated to discovering and disseminating innovative approaches to addressing extreme poverty and poor health in developing countries and improving the U.S. education system.
Burkitt's Lymphoma Fund for Africa (BLFA)
Burkitt's Lymphoma Fund for Africa is a Seattle-based nonprofit organization whose mission is to maximize survival rate from all pediatric cancers in sub-Saharan Africa. With multiple African and US based partner organizations, BLFA-funded programs improve all aspects of cancer care, including diagnosis, treatment, and social, economic, and logistical support for patients and their families.
CORE Group convenes global community health professionals to share knowledge, evidence, and best practices, and then translates these into the real world with a direct impact.
Days for Girls International is turning periods into pathways. Days for Girls increases access to menstrual care and education by developing global partnerships, cultivating social enterprises, mobilizing volunteers, and innovating sustainable solutions that shatter stigmas and limitations for women and girls. Days for Girls is creating a world with dignity, health, and opportunity for all.
Five Angels a 501 (c) (3) which assists with providing quality care and medical services to families in Shire, Ethiopia.
Fred Hutchinson Cancer Research Center, home to three Nobel laureates, is guided by the mission to eliminate cancer and related diseases as causes of human suffering and death. Fred Hutch conducts research of the highest standards to improve prevention and treatment of cancer and related diseases.
GAPPS – Global Alliance to Prevent Prematurity and Stillbirth
GAPPS seeks to improve birth outcomes worldwide by reducing the burden of premature birth and stillbirths. GAPPS is working to close the knowledge gap in understanding the causes of preterm birth and stillbirth and collaborating to implement evidence-based interventions to improve birth outcomes.
Kati Collective is dedicated to improving systems across global development by providing experienced, strategic and pragmatic action focused on three of the most important drivers of change: women, digital, and partnerships. Kati Collective is compelling and impactful, aligning resources from across its network with global and local expertise in order to provide clients with targeted, cost-effective project resources.
Life Science Washington is an independent, non-profit, trade association serving the life sciences industry in WA. As the center of influence for WA life sciences, it advocates for positive public policy and private investment, brings together research institutions, investors, and entrepreneurs to grow its economic sector, and create healthier communities.
Linksbridge helps organizations and leaders gain insight and understanding from complex information, and creates useful tools to effectively communicate plans and implement change.
Malaria No More envisions a world where no one dies from a mosquito bite. The organization's work has contributed to historic progress toward this goal. Now, Malaria No More is mobilizing the political commitment, funding, and innovation required to achieve what would be one of the greatest humanitarian accomplishments – ending malaria within our generation.
Medical Teams International is a needs-based humanitarian organization providing life-saving health services for conflict affected, refugee, and displaced populations. Medical Teams operates in eight countries supporting communities and local health facilities to ensure access to quality health services for the most vulnerable.
PATH is a global team of innovators working to accelerate health equity so all people and communities can thrive. It advises and partners with public institutions, businesses, grassroots groups, and investors to solve the world's most pressing health challenges.
Planned Parenthood Great Northwest, Hawai'i, Alaska, Indiana, Kentucky (PPGNHAIK)
PPGNHAIK draws upon its expertise as a leading provider of sexual and reproductive health services and comprehensive sexuality education to deliver capacity building support to partner organizations in low- and middle-income countries. Through these partnerships, PPGNHAIK's Global Programs department supports efforts to improve sexual and reproductive health outcomes for young people.
PRONTO International aims to optimize care during birth. The organization develops and implements innovative training strategies that act as a catalyst for health care providers to make individual, team, and systems changes. PRONTO envisions birth as a safe and respectful experience for all mothers, babies, and healthcare providers.
Save the Children believes every child deserves a future. In the US and globally in more than 100 countries, the organization gives children a healthy start in life, the opportunity to learn and protection from harm.  Save the Children does whatever it takes for children, every day and in times of crisis, transforming their lives and the future we share.
SIGN Fracture Care International
SIGN is a humanitarian organization that builds sustainable orthopaedic capacity in developing countries by providing relevant education to surgeons, then manufacturing and donating the instruments and implants needed to treat fractures.
Spreeha strives to break the cycle of poverty for underprivileged people by providing healthcare, education, and skills training. Spreeha envisions life without poverty where underprivileged people are empowered to improve their quality of life.
The Max Foundation delivers life-saving, targeted cancer treatments to people in low- and middle-income countries who would have no other way to access them. Its innovative model saves lives in more than 75 countries across the globe providing patient-centered treatment, care, and support. The Max Foundation's vision is a world where all people facing cancer live with dignity and hope.
VillageReach works with governments to solve health care delivery challenges in low-resource communities. Its programs focus on increasing access to quality health care at the last mile. VillageReach develops and implements new approaches and ideas to ensure vaccines and medicines are available, increases the capacity of health workers, and ensures they have access to data to improve health.
Washington Global Health Alliance
WGHA connects and informs Washington's global health community, creating a culture of collaboration at home so that its members can have more impact in the world. WGHA brings members together through events and conversations designed to advance common goals, share best practices, and foster collaboration across organizations and disciplines.
World Vision is a Christian humanitarian organization dedicated to working with children, families, and their communities worldwide to reach their full potential by tackling the root causes of poverty and injustice.