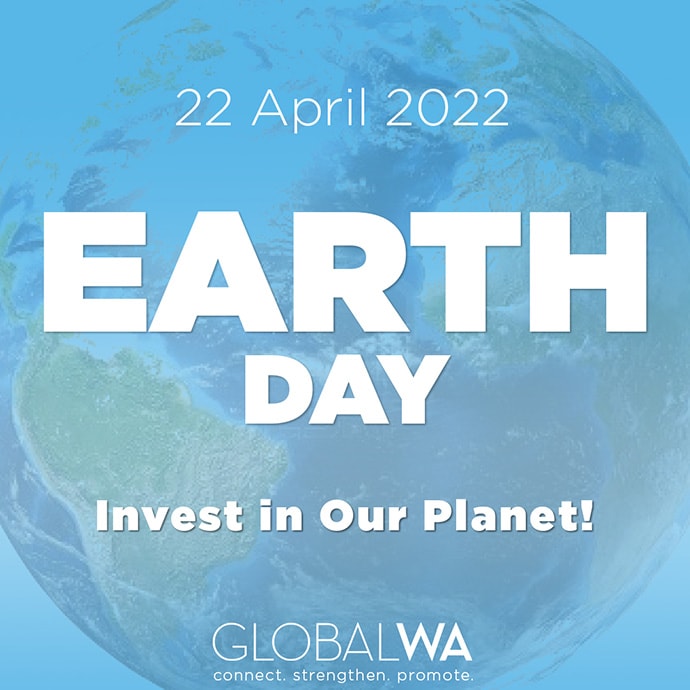 Earth Day, or International Mother Earth Day as it's called in some counties, is celebrated each year on April 22nd and is celebrated in over 190 countries. Initially Earth Day was founded in 1970 through the efforts of US senator and environmental activists Gaylord Nelson as a protest of our deteriorating environment. According to World Economic Forum, "The Earth Day demonstrations [of 1970] left an indelible mark on US policy. By the end of 1970, the US Environmental Protection Agency came into being and a stream of laws followed to help protect the environment. These included the National Environmental Education Act, the Occupational Safety and Health Act and the Clean Air Act. Further legislation was soon introduced to protect water quality, endangered species and to control the use of harmful chemicals and pesticides."
Yet now the movement has built awareness and is a driver of action, for example joint demonstrations, projects and efforts to help protect the planet.
This year the theme is Invest in Our Planet.
Below are our members who have programs focused on improving the environment in domestic and international settings. We hope you will take a moment to recognize their amazing work and help us celebrate them!
Inspired by the teachings of Jesus, Agros International breaks the cycle of poverty for farming families in rural Latin America through economic and social development. Agros creates paths from poverty to prosperity by advancing opportunities for land ownership, market-led agriculture, financial empowerment, and health and well-being.
Earthworm Foundation is a non-profit organization driven by the desire to positively impact the relationship between people and nature. With most of its staff operating directly on the ground where the issues are, Earthworm works with its member companies and partners to make global value chains an engine to drive positive economic, environmental and social impact.
EverVillage is a place that believes in a green recovery – a place where communities drive nature-based solutions, youth design sustainable systems, and water is managed holistically. Our intersectional work is focused within rural, indigenous, and refugee communities that face issues like climate change, environmental injustice and poverty.
FSC Investments and Partnerships
FSC Investments and Partnerships (FSC I&P) promotes environmentally appropriate, socially beneficial, and economically viable management of the world's forests.
Future of Fish is an international nonprofit that works to transform at-risk communities into thriving centers of coastal sustainability that can serve as replicable models for a just and blue economy. Future of Fish knows that one organization cannot shift the system alone. They currently operate in Latin America and the Caribbean, with partnerships serving South East Asia and Africa.
Heifer's mission is to end poverty and hunger while caring for the Earth
Landesa advances pro-poor, gender-sensitive land rights reforms through law and policy tools. These reforms have helped alleviate poverty, reduce hunger, and ease conflict over land for more than 180 million families. Secure rights to land boost agricultural productivity, improve health, nutrition and school enrollment, and have placed billions of dollars in new land wealth in the hands of rural people.
Indigenous peoples sustain many of the healthiest ecosystems on Earth: areas rich in biodiversity and systems essential to our global climate, fresh water, and food security. Nia Tero exists to ensure that Indigenous peoples have the economic power and cultural independence to steward, support, and protect their livelihoods and territories they call home. These places are vital to us all.
Remote Energy provides customized solar electric curriculum development, training, and educational programs. It partners with organizations looking to use renewable energy to address issues relating to jobs, health, clean water, education, gender equality, and poverty.
The Seattle Aquarium is a respected authority on the Salish Sea, Washington Coast, and greater Pacific Ocean, and serves as the largest platform for ocean conservation and engagement in the Pacific Northwest. Guided by its mission of Inspiring Conservation of Our Marine Environment, the Aquarium has reached over 27 million visitors including two million school children since opening in 1977.
Snow Leopard Trust aims to better understand the endangered snow leopard, and to protect the cat in partnership with the communities that share its habitat.
The Hunger Project is an organization committed to the sustainable end of world hunger. It has ongoing programs in Africa, Asia, and Latin America, where it implements programs aimed at mobilizing rural grassroots communities to achieve sustainable progress in health, education, nutrition, and family income.
Vista Hermosa Foundation invests in the growth of holistic, flourishing communities. As an operating foundation, we are both practitioners and partners, learning from our own communities of practice to inform how we engage with and invest in others.