By Leslie Tsai, Director of Social Investment, Chandler Foundation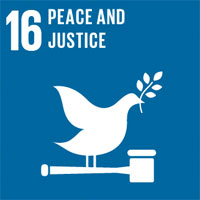 The United Nation's Sustainable Development Goal 16 focuses on "Peace, Justice and Strong Institutions", but what are "Strong Institutions"?
What are the qualities that make some governments stronger, better performing, and more responsive to their citizens' well-being? How do those inside and outside of government measure success? And what is the role of civil society to ensure that strong institutions actually result in better lives for the people institutions should serve?
As part of Global Washington's Goalmakers Conference (Dec. 8-9, 2021), the Chandler Foundation co-hosted in partnership with the Pacific Council, a conversation to explore these questions. Panelists Elizabeth Andersen (Executive Director, World Justice Project), Laura Chinchilla (Former President, Costa Rica), and Nancy Lindborg (President & CEO, Packard Foundation) spoke with Leslie Tsai (Director of Social Investment, Chandler Foundation) to share their experience and diverse perspectives on why good governance is critical to achieving the Sustainable Development Goals (SDGs) and how to help governments more effectively and accountably deliver upon the development agenda.
Here are a few takeaways from the discussion:
The meaning of "strong institutions" can be misused or misunderstood. What we really want are effective, accountable, and inclusive institutions.We need to move away from the bumper sticker version of Goal 16 "Peace, Justice & Strong Institutions" to the actual language of the goal as written in the SDGs, which is more clear and focuses on building "effective, accountable and inclusive institutions at all levels." Why? Because we need to distinguish between "strong" as in "effective," and "strong" as in "powerful." Institutions that are powerful or authoritarian can be characterized as strong, but obviously, this is not what Goal 16 is meant to achieve. Institutions enforce laws and hold people accountable, but they are also accountable under the law. Strong institutions are not synonymous with concentration of power, but rather require inclusion, accountability, adherence to rule of law.
Goal 16 is the backbone of the 2030 Agenda for Sustainable Development.Building effective and responsive institutions is not simply a goal in itself. Instead, these effective and responsive institutions are also the mechanism through which all of the SDGs are delivered. Indeed, what separates the SDGs from their predecessor, the Millennium Development Goals, is Goal 16. This builds on the recognition that good governance, built upon effective, accountable, and inclusive institutions, allows citizens to participate in democratic processes. These processes uphold human rights and enable lasting development gains.As stated by President Chinchilla during the panel, "Only through effective, accountable, and inclusive institutions will we meet our goals."
If you want to make progress on Goal 16, you have to measure it. "If you want to change it, you've got to measure it," said Betsy Anderson from the World Justice Project. Tools that measure good governance or the rule of law like the Chandler Good Government Index and the Rule of Law Index, are important diagnostics, and help build political will and trust when they're integrated into countries' development plans.People-centered data that takes into account how governance and justice are experienced in people's lives, is just as important as measuring the systems and outputs of government. Disaggregated data is essential to measure how different groups, especially the most marginalized, experience institutions. Institutions can only make gains if they take into account the experiences of the people they serve.
Goal 16 gives us a systems approach to achieving the development goals."When the system itself is unjust or unequal, you have the seeds for future conflict and violence, and you cannot maintain your precious development gains," shared Nancy Lindborg from the Packard Foundation, who speaks from experience having spent much of her career working in fragile states. Afghanistan is a costly recent example – it was never able to develop institutions that delivered for the people of Afghanistan. The government was corrupt, ineffective, and unable to establish credibility with the Afghan people.
The international and multilateral system has a powerful role in shaping institutions for peace and justice. When the capacity of sovereign state institutions to uphold peace and justice fail, regional and multilateral institutions have levers of influence. But the current state of multilateralism is concerning, with a trend towards nativism, autocracy, protectionism, treaty withdrawal, and military coercion. Particularly for small, developing nations, international law and the multilateral system are important tools for advancing democracy and human rights. Speaking from the experience of Costa Rica, President Laura Chinchilla challenged us to repurpose our global institutions towards new ends, and build more inclusive and dynamic multistakeholder approaches that are equipped to tackle the biggest challenges of our time.
You can view the full session in the above video, and download the full conference report here (PDF).