First-of-its-kind coalition of leading relief organizations launches Hunger Relief Fund
Washington, DC – July 17, 2017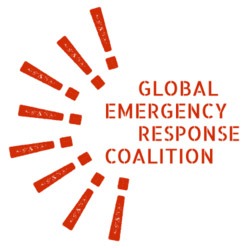 For the first time, eight of the leading U.S.-based international relief organizations have joined forces to urge the American public to donate to the new Hunger Relief Fund in response to looming famines and persistent hunger threatening millions of people in South Sudan, Nigeria, Yemen, Somalia and neighboring countries. More than 20 million people face starvation in the coming months and, without immediate help, 1.4 million severely malnourished children could die.
"Drought, displacement and conflict have converged with alarming consequences," according to the chief executive officers of the organizations in the Global Emergency Response Coalition. "In the 21st century, innocent children should not be dying from hunger. People caught in this crisis are generously opening their homes and sharing what little they have, but they have run out of time and resources — they need our help now."
In Yemen, a child under five dies every 10 minutes because of the lack of food and basic resources. In South Sudan, families have been forced to flee their homes and are surviving on water lilies alone while hiding in swamps. In Somalia, teenagers walk for hours just to get enough water to last their families one day. In Nigeria, there have been reports of people eating sand to ward off starvation. Families are dying not only from hunger, but also from diseases such as cholera and measles because they lack clean water and sanitation.
The Global Emergency Response Coalition will use Hunger Relief Fund donations to help those already going hungry and on the brink of famine survive and lay the groundwork for recovery. The coalition is comprised of CARE, International Medical Corps, International Rescue Committee, Mercy Corps, Oxfam, Plan International, Save the Children and World Vision. Together, these organizations are working in 106 countries to reach millions of the world's most vulnerable people with urgent assistance such as food, water, shelter, education and medical care, as well as resources to build resilience to future food crises.
"We can make a difference together and give people who are suffering more than food and resources. We can give them hope and show them they're not invisible — and they're not alone," said Sheryl Sandberg, Chief Operating Officer of Facebook.
Partners including BlackRock, Google, PepsiCo, Twitter and Visa are working with the Global Emergency Response Coalition to help raise awareness and funds during the two-week appeal. The PepsiCo Foundation and BlackRock also will each generously match donations up to $1 million.
"We are proud to help combat a hunger emergency the U.N. has called the largest humanitarian crisis since 1945," said Indra K. Nooyi, Chairman and CEO of PepsiCo. "Companies and foundations like ours must lend a hand when communities are in need. And I urge others to join us and do what they can to bring humanitarian assistance to the millions of men, women and children who desperately need it."
"The magnitude of this humanitarian crisis demands cooperation and action. These international relief organizations have responded forcefully by joining together to fight hunger," said Laurence D. Fink, Chairman and CEO of BlackRock. "BlackRock applauds the work of the coalition and we are proud to support their efforts to provide aid in the region and to mobilize on a massive scale."
The appeal lasts through July 28, 2017 and donations to the Hunger Relief Fund can be made at www.globalemergencyresponse.org. The public service announcement voiced by actor and humanitarian George Clooney may be viewed on YouTube. Broadcast-quality video and radio versions in several lengths are available for download upon request.

CEOs of the Global Emergency Response Coalition:
Michelle Nunn, CARE
Nancy Aossey, International Medical Corps
David Miliband, International Rescue Committee
Neal Keny-Guyer, Mercy Corps
Abby Maxman, Oxfam
Tessie San Martin, Plan International USA
Carolyn Miles, Save the Children
Rich Stearns, World Vision
Contact: press@globalemergencyresponse.org