On June 7th 2017, Global Washington hosted a panel discussion with experts in global reproductive health. The result was a candid conversation that touched on the current status of reproductive health programs globally, as well as the impact of the current political environment on the health and well-being people in developing countries.
The panelists included Rufaro Kangai, director of programs at Global Fund for Women; Diane Bushley, global programs manager for Planned Parenthood of the Greater Northwest and Hawaiian Islands; and Julie Tempest, advancement director at One By One.
Kelsey Noonan from Camber Collective moderated the event.
Teeing up the discussion with the three panelists, Kelsey Noonan noted that "reproductive health is a necessary precursor to gender equity," as it impacts all aspects of our lives.
Reproductive health problems are a leading cause of death for women of childbearing age worldwide. Few women have access to reproductive health services, such as family planning, maternal health care and HIV prevention services, and each year, 287,000 women die from complications related to pregnancy or childbirth. Nearly all of these deaths occur in the developing world. (Read more about this issue in our June Newsletter).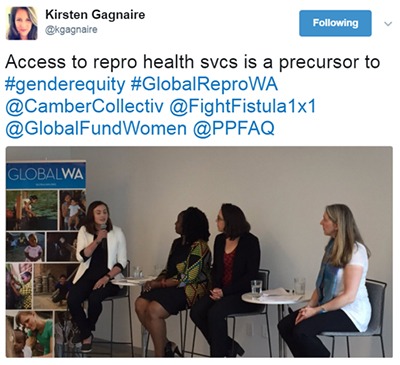 Rufaro talked about how her organization, Global Fund for Women, identifies, funds, and strengthens global partners that are working with the most marginalized women in the world. She also spoke at length about the expanded Mexico City Policy, also known as the "global gag rule," which is estimated to apply to over $9 billion worth of U.S. global health funding. Recently, a broad coalition of organizations, including several GlobalWA members, came out in opposition to the expanded policy.
Speaking for Planned Parenthood of the Greater Northwest and Hawaiian Islands, Diane talked about the parallels between global and domestic issues that affect reproductive health programming. She also mentioned their partnership in Malawi with another GlobalWA member, Village Reach, to help reduce HIV infection in girls and young women. (Read more).
Rufaro responded that this was a very positive sign, noting that it wasn't long ago adolescents were practically "invisible" in reproductive health education.
Julie spoke next about One by One, a Seattle-based non-profit that supports Kenyan women affected by obstetric fistula. She gave a moving account of how this devastating birth injury not only impacts women's physical health but also their mental health and their acceptance in society.  By way of example, she talked about Sarah Omega, One by One's program manager in Kenya, who is herself a fistula survivor and advocate. (Read Sarah's story).
For their closing thoughts, each of the panelists was asked to provide suggestions on how people could support women's reproductive health globally. Rufaro said that people should continue to learn about reproductive health, and support grassroots initiatives, both at home and abroad.
Diane reiterated how important it is for people to stay informed, and also to share with others what they are learning about the topic.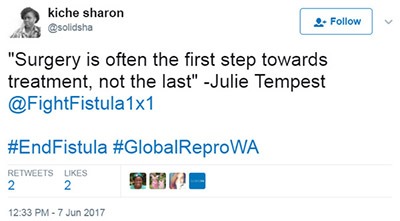 And finally, Julie reminded the audience that at least one devastating reproductive health challenge is solvable. "A world without fistula is achievable," Julie said. As such, she encouraged the GlobalWA audience to help raise both awareness and funds to eliminate it.
Watch a video of the panel discussion